ChaosMen Amateur Guy, Ransom
Years Active: 2008 – 2015
BRIAN OCKERT / CHAOS MEN INFO:
Start Age: 23
Debuted: August 20, 2008
Height: 5'7″
Weight: 150 lbs
Cock: 6″ Cut
Ransom has come a long way since first appearing in August of 2008, and has been a key part of Team Chaos ever since. He initially came in to do a solo, thought that would be boring, and that he would much rather get his dick sucked by me. How could I say no?
   He was a skinny guy back then, but sexually intense. He has Heterochromia, one blue eye and one green, that I find incredibly sexy. He is a single dad, and his son has the same genetic trait. Clearly he spends a lot of time working out at the gym.
   He is "mostly" straight, spending much of his time looking for women during his free time. Occasionally a guy will come in to do video, and he will to be really into them. He and I also get along "very well" and he and I have always had a something going on between us.
   Over the years he has performed in many sex films. Ransom is completely versatile, but does tend to like bottoming since it is the one thing he can't do with girls.
   In recent years, he has primarily done oral videos, as I have trained him in 'cock whispering.' He is very good at making the guys feel comfortable and has about a 85 percent success rate at making them cum.
   Ransom also now helps film interactive videos, acting to help me man the various cameras and make all the shoots go smoothly.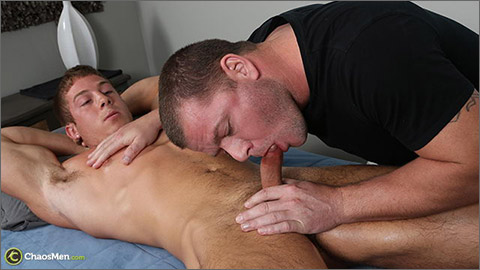 SERVICED: CHANNING & RANSOM
As I mentioned last week, Channing has done video work before, but I thought I would put him through his paces.
   I love how passive he is, and though I know he can take charge, I wanted him to sit back and let someone totally play with his hot muscly parts! His body looks amazing all oiled up!
   Ransom gives him a quick massage, but soon focuses on his amazing bubble butt. Because Channing is so muscular, Ransom had a tough time spreading them, but he managed to show us his hot hairy hole.
   He gets rimmed and while Ransom stroked his cock and licked his hole, he came close to cumming too soon.
   Ransom flips him on his back, and his hot oiled-up body just looks amazing- all spread out and waiting for hands to stimulate his hard rod.
   He looks at the video playing for him now and then, but once Ransom starts sucking on him, he is in the moment, loving his cock being worshipped.
   Ransom works hard to pull the nut out of Channing. He is not a big cummer, but you can tell it was a super intense ejaculation!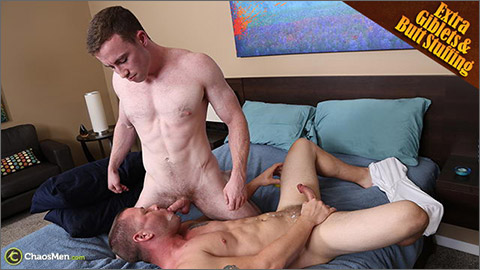 SERVICED: RANSOM & SAM
Sam said he had never had any contact from a guy before, and I tend to believe him.
   He was pretty nervous to get started. Ransom dives in and works hard at keeping him erect. Sam is one of the most expressive models I have had in a good long while. Whatever Ransom is doing, he seems to enjoy it!
   It is touch-and-go with Sam. He wilts a couple times, but each time Ransom brings him back to hard. Normally Ransom uses his hands, but it seems that all Sam needed was good old-fashion sucking action.
   Sam watches himself get his ass eaten, and I do believe he liked it!
   Because Sam was so expressive, Ransom got turned on by sucking on him. He wanted to do a facial and try timing his own cum shot with Sam, so he gets on his back so Sam can feed him his load.
   Sam busts a huge nut into Ransom's mouth. Cum oozes out of his mouth and Ransom starts to suck on Sam's spent cock. With cum drooling from his face, Ransom busts his own nut!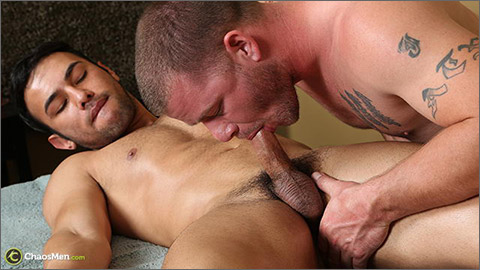 SERVICED: DORIAN FERRO & RANSOM
SERVICED: RANSOM & SAM
LIVE: RANSOM
SERVICED: CHANNING & RANSOM
SERVICED: LINCOLN & RANSOM
RAW: RANSOM & WAGNER
SERVICED: KATO & RANSOM
SERVICED: DORIAN FERRO & RANSOM
SERVICED: PALMER & RANSOM
SERVICED: RANSOM & ROBY
SERVICED: GRAHAM & RANSOM
EDGE: RANSOM & SANTIAGO
SERVICED: LIAM & RANSOM
SERVICED: COLT McGRAW & RANSOM
SERVICED: RANSOM & SAGE
EDGE: RANSOM & WREN
SERVICED: LOCKE & RANSOM
SERVICED: JOE & RANSOM
SERVICED: RANSOM & ZACHARY
EDGE: JEREMY ACE & RANSOM
SERVICED: RANSOM & TRISTAN
SERVICED: CHRISTIAN & RANSOM
SERVICED: MAC & RANSOM
EDGE: RIDGE
SERVICED: MYLES & RANSOM
RAW: BRYAN & RANSOM
SERVICED: LARS
RANSOM SERVICES FABIAN
TAGTEAM RAW: PATRICK & RANSOM & TROY
SERVICED: CARTER JACOBS
CORT: EDGE
ISAIAH: EDGE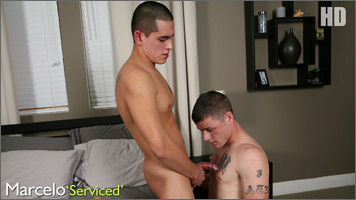 MARCELO: SERVICED
RANSOM & WILL
RANSOM & ZANE: RAW
JAGGER & RANSOM
RANSOM & SILAS: RAW
BRAYDON: SERVICED
RANSOM & SANTANA
SANTANA: SERVICED
RANSOM & TEO
CLICK HERE TO GO TO HIS CHAOSMEN BIO PAGE