American Beefy Bear Gay Porn Star, Randy Eliot
Years Active: 1999 – 2004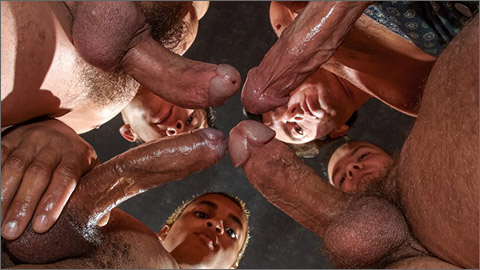 BACK TO BARSTOW: Joe Sarge, Joey Russo, Marc Sterling, Randy Eliott, Ricky, Tim Tucker, Toby Tyler, Troy Banner
Troy Banner and Marc Sterling introduce Joey Russo to the neighbors — young 'uns Tim Tucker, Toby Tyler and Ricky, and dads Randy Eliot and Joe Sarge. It's Russo's coming home party. In a small town, that's what you'd call a mixed group. Hot headed young kids like willowy Toby Tyler and blond-tipped Ricky are bound to pig out, but they get some mentoring from husky Eliot and gray haired Sarge — who's brought his camera of all things. Forbidden photography brings out the exhibitionist in the kids, who service all of their elders in a hot chain suck. Troy's a great host, providing a glory hole for sloppy, spit-flying cocksucking. When he brings out a couple of dildos, the boys' eyes light up, and their knees are soon tucked under their ears for some greasy, rubber toy, ass loosening. Nasty Russo's struttin' his electrifying boner, shovin' it cruelly into mouth after mouth, and shooting his jiz to the moon, spurring the other men into countless rounds of sweaty, balls-out man sex. Then he's riding the biggest cock in the room, pluggin' his ass like a house afire, and exploding a load that sprays thick cum across the room. No wonder "Mike" is legendary in Barstow. When you come Back to Barstow, you'll find it's a small town with a big fuckin' payoff.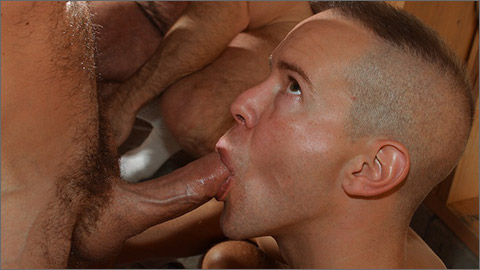 BACK TO BARSTOW: Joe Sarge, Randy Eliott, Troy Banner
3-way oral scene with cumshots featuring Randy Elliot, Todd Maxwell and Troy Banner.
CLICK HERE TO GO TO HIS TITAN MEN DETAILS
BEAR SKIN
BATHHOUSE BEARS
THE BEST OF HANK HIGHTOWER
FURRY MEN DO!
BIG BEAR TRUCKING CO. 2