Ripped Handsome Tattooed Czech Gay Porn Star, Petr Herman
Known Aliases:
Years Active: 2015
WILLIAM HIGGINS INFO:
Age: 20
Home Town: Plzen
Height: 178cm/5'10"
Weight: 77kg/169.4lb
Foot Size: EU42/US8.5/UK8
Penis Size: 17cm/6.69″
Profession/Student of: University student
Hobbies: Sport
Favorite Sports: Athletics
Active Sports: Ice-Hockey
Movie/Music/Sport Stars: Ben Affleck
Visited Coutries: Croatia
Want to Visit Coutries: Australia
Dream of My Life: I don't know.
Zodiac Sign: Leo (July 23 – August 22)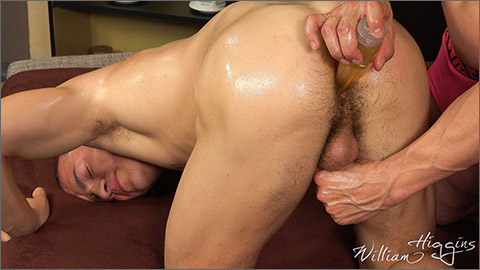 MASSAGE: PETR HERMAN
Petr Herman is a very good looking guy, with a great body too. He came in for a massage and stripped down to his underwear, showing just how good that body is, laying on the sofa to wait for the masseur. He doesn't wait long until masseur has joined him and gets to work. Taking oil the masseur massages Petr's back and his shoulders. The hands works all over the back and down the arms too. The expert masseur is Mattias Solich and he does a good job relaxing Petr as he massages the back, his strong hands getting deep into the muscles. Mattias lowers the waist band of Petr's underwear to massage the basse of the spine. As he pulls the underwear down further we see Petr's sexy ass. The cheeks so nicely round, and the crack is visible too. Mattias' hands work the back and onto that sexy ass. Petr lifts his body up, giving a quick glimpse of cock as Martin removes the underwear. Then his hands work all over that hot ass and up and down Petr's legs. His body looks so good all coated in oil as Martin start to concentrate on that sexy ass. The cheeks are parted to show the hairy hole. Mattias moves Petr up onto his knees, which opens his ass cheeks nicely too. He reaches between Petr's legs to take hold of his cock as he rubs that ass too. He wanks on the cock and rubs the balls with one hand as the other runs all over the ass. With Petr's cock growing some under his expect touch Martin takes a vibrator and pushes it up against that sexy ass hole. he gently slips the vibrator into that tight hole, gradually going in quite deep. Petr moves his ass and the vibrator slips out, leaving us to enjoy the hole. He turns over, onto his back for Martin to oil that sexy body. He begins to play with the cock again and gets it nice and hard as he wanks it. With one hand feeling over Petr's sexy chest Martin keeps wanking the cock with his other hand. Petr jerks slightly and his cock explodes with his hot cum. It shoots up his hot chest and Mattias continues milking the dick to get very last drop. Then he leaves Petr alone, to relax. Petr's eyes open wide and he gets up and goes off to teh shower to clean up.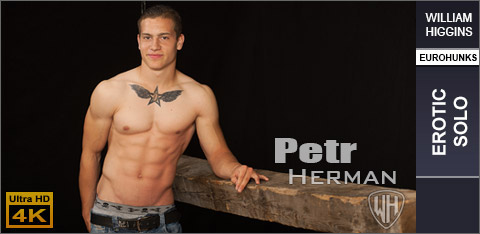 EROTIC SOLO: PETR HERMAN
Petr Herman is a very good looking straight guy. He is a student who enjoys sports, athletics and ice-hockey. He has such a handsome face and looks great as he starts to pose for the camera. As he lifts his tee-shirt we see some awesome definition in his abs. Then the tee-shirt comes off and his chest is bared and looking so good. After posing to show off that chest Petr turns and lowers his jeans to reveal a very sexy ass. He turns around and displays his soft cock and his balls. He flexes his biceps and does some more posing to really impress with his hot body. As he does so he gets his cock rock hard too. Then he turns again and bends over to show off that ass, reaching back to spread the cheeks so that we get a good look at his tight hole. Then he gives us more of that beautiful hard cock. A final look at that sexy ass, as he lays on his back with his legs in the air ends a lovely shoot.
CLICK HERE TO GO TO HIS WILLIAM HIGGINS BIO PAGE