Handsome Tattooed Czech Gay Porn Star, Petr Cisler
Known Aliases: James Huck, Corey Locke (Tylers Room), James King, Mark Braun
Years Active: 2012 – 2018
WILLIAM HIGGINS INFO:
Petr Cisler is from Ricany. He is a very good looking guy, with an excellent body. He looks great as he gets naked and shows his ass, with a nice, hairy crack. He also makes very good wood with a nice big cock. Very impressive indeed.
Age (2012): 20
Home Town: Ricany
Height: 183cm/6'0″
Weight: 80kg/176lb
Foot Size: EU44/US8.9/UK8.4
Penis Size: 17cm/6.69″
Profession/Student of: Unemployed
Hobbies: Girls and drinks
Favorite Sports: Athletics
Active Sports: Fitness
Movie/Music/Sport Stars: Ondrej Brzobohaty
Visited Coutries: Portugal
Want to Visit Coutries: Croatia
Dream of My Life: Have fun!
Zodiac Sign: Gemini (May 21 – June 20)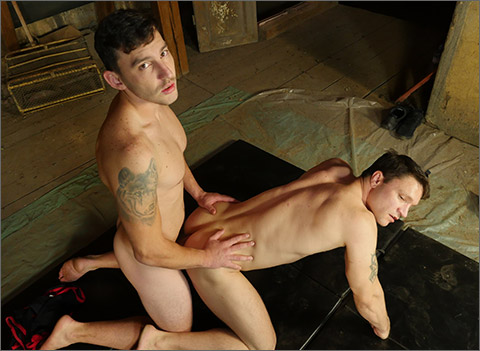 JAMES HUCK vs ERIK SPECTOR
James Huck and Erik Spector are featuring in this new FightAndFuck.com episode. These 2 hot guys have shot with us before and it's always been a pleasure to have them around. This time, they are both in the studio. Little did we know that James and Erik have been friends for years but never fucked so they wanted to make it happen right here in our studio. Who's gonna fuck who? Watch the video to find out!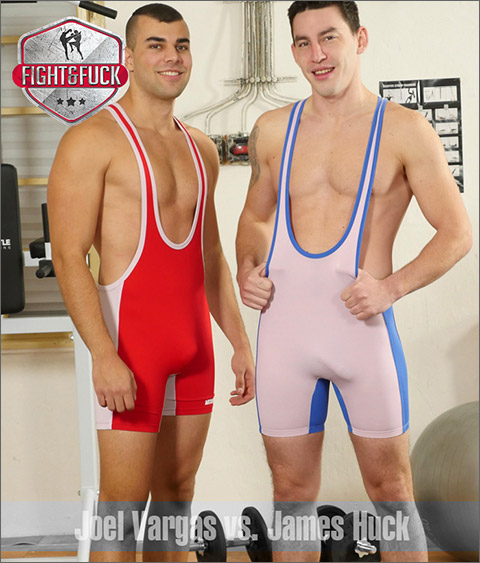 JOEL VARGAS vs JAMES HUCK
Joel is back in this new FightAndFuck episode and this time, he brought James Huck, his best friend. Even though they've only known each other for a couple of years, the 2 dudes are inseparable. They do everything together… Well almost everything! They haven't fucked yet! But hey, we are here to help them and they both know it. Whatever happens, they know that one of them is going to get fucked in the end 🙂 As usual, we had the studs on the mat for a wrestling match. Whoever loses gets the dick in the ass. We made sure to repeat that to them, just for fun hehe From the get-go, James had no chance. Joel took over James' body in no time, and whatever James would do just didn't work. Joel was the strongest and it was time for James to give up.
   Joel got James to suck on his uncut meat, James obliged. Then it was Joel's turn and he sucked that cock really nicely but the moment we were all waiting for was about to come. Joel got on his back and James, slowly, sat on his cock, taking the dick inch by inch. Let the fucking begin… bareback! James took it like a champ until Joel spewed his juice all over James' stomach. It was then James' turn to cum and he got Joel to suck on his cock to completion… mmmm delicious!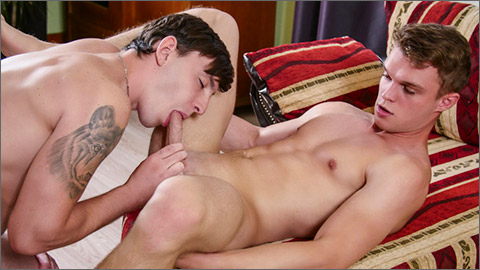 BLONDE TWINK JUSTIN JAMES TAKES HIS FIRST RAW DICK FROM JAMES HUCK
James Huck comes to the door and knocks. When Justin answers, James gives no time for small talk. He slams Justin up against the door and they start to make out. Before they get naked, Justin takes James inside his apartment and that's when things get dirty. They take off their clothes and as their hard uncut dicks get pulled out, they begin to take turns suck each other off. The dick sucking continues until finally James pushes Justin's legs back over his head to reveal the blonde fuzz on his hot hole. Justin hasn't gotten fucked before and he knows that this is going to hurt, but he also loves the feeling of James on top of him and is so curious of what it's going to feel like. It definitely hurts as the tip of James' uncut cut cock presses into his ass. But soon the pain turns to pleasure as Justin lets James slide it all the way inside of him. They fuck hard until they both need to cum. Justin lays back and as he cums he lets James nut all over his face. Be sure to watch the free gay porn trailer of the hot bareback action here at Randy Blue Universe.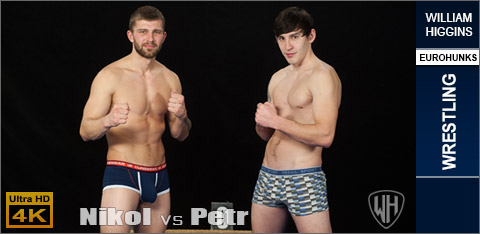 WRESTLING: PETR CISLER vs NIKOL MONAK
Petr Cisler and Nikol Monak are paired for a submission wrestling match. They start,wearing just underwear, doing some exercises to warm up. Then they start the match, quickly rolling all over the mats as they strain to get a grip on each other. Nikol manages a good neck hold and quickly forces a submission. Then they remove their underwear to wrestle naked. With cocks and asses on show it is Petr who gains the next point. Their sexy bodies look so good as the grapple with each other, and Nikol manages another good neck hold to win round three. They each takea drink and then it is back to the wrestling. Cocks flail and asses spread as they roll over the mats grappling with each other. They both work hard, straining to get a decent hold and it takes a while for Nikol to begin to open up a lead, and then start to extend it. Petr resorts to some ball grabbing as a response to falling behind and that gains him another point. But it doesn't continue that way as Nikol opens up a five point lead to 8.3. Then then take a break to oil each other all over. When the match resumes, with bodies glistening with oil and sweat, they both gain another point before Nikol manages to complete the victory. Then they settle down for a wank off, getting their cocks nice and hard. The also and wank each the other ofr a whiel too. Then wanking hard and fast it is Petr who manages to shoot his load first, dumping his cum on the wrestling mats. Nikol keeps wanking until he too shoots his hot load. Then they clean each other's cock and go off to the shower to clean up.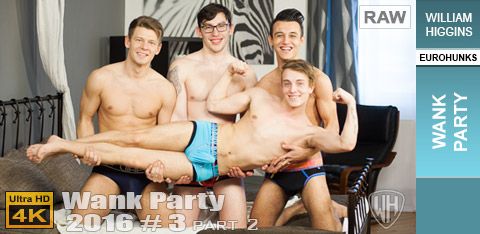 WANK PARTY 2016 #3 RAW
WANK PARTY 2016 #3 features features Petr Cisler, Rosta Benecky, Petr Plodner and Mirek Madl. We find the two Petrs and Rosta sitting around bemoaning the fact that Mirek is late back from a modelling session. Mirek then arrives, with a box. He explains that he has been given some new underwear. He is already wearing some and strips down to show it off. Then Petr P goes into the box and finds a pair that he wants to try on. He strips too and tries on the new ones. Then Rosta and Petr C decide to do the same. Soon everyone is wearing the new ones and checking out each other and how they fit. They start to feel each other and Petr P kisses Mirek. Mirek leans over and kisses Rosta's body as Petr C kisses Rosta on the mouth. They all rub each other's crotches and kiss and Mirek soon has Petr P's rock hard cock out and is wanking it. Then Petr C's and Rosta's big cocks are out too. Mirek's follows quickly and all four guys are wanking each other. Mirek goes down and starts to suck on Petr P's cock and then turns his head and sucks and wanks on Rosta's big cock too. Then he moves on to Petr C's. he has three throbbing cocks in front of him and sucks each of them in turn. As he sucks the others kiss each other. Then Mirek stands and is replaced by Rosta whos eager mouth gets to work on the hard dicks. Then it is Petr P's turn, he sucks the dicks eagerly and it soon joined by Mirek, so Petr P sucks Rosta and Mirek sucks Petr C. Their mouths work all over the cocks as Roast and Petr C kiss each other again. Then Rosta and Petr C lay on the bed with their legs in the air. Petr P and Mirek kneel, side by side, and start to rim the holes of their friends. Roast and Petr C moan as they feel the hot tongues lapping at their holes. Then the moaning gets louder as fingers are slipped into those tight asses. The fingering and rimming continues, with everyone enjoying the action, setting things up for those holes to be fucked in part two.
IN WANK PARTY 2016 #3 PART TWO we join Petr Cisler, Rosta Benecky, Petr Plodner and Mirek Madl as Rosta's ass is in the air and being rimmed by Petr P. Petr C also has his hole available for Mirek's tongue, which laps eagerly at it. Then, almost in unison Petr P and Mirek stand and slide their rock hard cocks deep into the waiting asses. Rosta and Petr C moan as the throbbing cocks fuck deep into their holes. Mirek wanks on Petr C's cock as he fucks him hard. Petr P's dick works Rosta's hole, stretching is wide as he fucks with long, deep, strokes. Then Rosta turns over, onto his knees and gets that dick slammed back into his hole. Petr C moves as well and Mirek continues to fuck him hard. Mirek then sits on a chair and Petr C climbs on top, sliding his ass down on the cock for more fucking. Rosta lays down again for Petr P to spoon with him as they continue to enjoy the fucking. Petr C rides on Mirek's cock, taking it as deep as it will go. He wanks himself as he rides and Rosta wanks himself too, shooting his hot cum as Petr P fucks him. Then he wanks Petr P to a uce nice creamy load too, licking the cock and balls after thay have dumped the cum. Mirek keeps up his fucking as Petr C wanks hard and fast. He slides of Mirek's dick and starts sucking it. Mirek wanks himself and shoots his hot cum all over his belly and then Petr C sucks on the sticky, spent, cock. They all get on the bed, taking turns at sucking Petr C's cock. Then he wanks himself and shoots his sticky cum onto his belly. After a hot session they all go to the shower to clean up.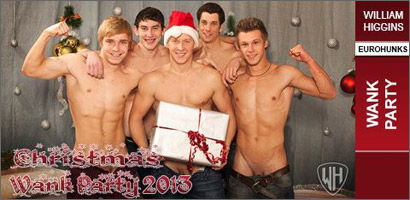 CHRISTMAS WANK PARTY 2013
For our Christmas Wank Party we brought in a stellar cast, Jan Sadecky, Petr Cisler, Jiri Tucek, Milan Hornik and Ivan Mraz. We find the guys sitting around and Jiri arriving with some presents. Jan gets new vibrator, as does Petr, Milan does too, but he also gets some underwear. Ivan gets underwear too. So they both try on the underwear which looks very good as Jiri inspects them in it. Then he gets Petr and Jan to check out their toys. Ivan and Milan remove their tee-shirts so show the underwear off properly. Jiri then does to and measure one of the vibrators against their cocks. He opens his jeans and we see that his dick is already quite hard. Petr and Jan get their cocks out too, and Jiri gets a feel as Jan strokes him a bit. Jiri starts kissing on Jan's nipples and reaches over feeling everyone's cocks. The guys all get naked and Jiri tries some of the underwear. Then he drops to his knees and begins sucking on Jan's big cock. As he sucks he wanks on Milan's cock too. Ivan follows the lead and starts sucking Petr's cock. Milan and Jan sit down and Milan sucks on Jan, who takes Jiri's hard cock in his mouth. Petr is hard in Ivan's mouth and then they change positions. Ivan's cock is throbbing as Petr takes it in his mouth. Milan swaps with Jan, and sucks Jiri. Jan's dick is massive and Jiri leans over and sucks it too. Then it is all change. With Jiri working on Petr's cock and Ivan sucking on Jan and Milan. With all the guys so hard it all looks very hot indeed. As Ivan continues to suck Milan Jan moves to join Petr and Jiri. Petr is sucking Jiri, who again is sucking that big cock of Jan. Jiri then drops down to work on Petr's dick and Milan swaps with Ivan, sucking him and also Jan. Ivan joins Petr and Jiri, With all the changing around it seems that each guy has been sucking everyone else. Then Jan kneels and pushes his ass out, so that Petr can rim his hole. Ivan lays on his back, legs up, for Jiri to work on his hole too. He tongues the hole and slides a finger deep inside. He wanks Ivan as he fingers him. Petr fingers Jan as well, going nice and fast in that hole before rimming it again. Then Jiri sucks Ivan and shoves a vibrator in his ass too. Next Jiri lays on the sofa and Ivan sits on his throbbing cock. Jan is on his knees taking Petr's dick in his ass and sucking Ivan's cock at the same time. Milan is under Jan working on his cock. Then Petr and Milan trade places, so Jan gets Milan's rock hard cock deep in his ass. They move around again, with Milan pounding Ivan's ass, as he lay on his side, sucking Petr. Meanwhile Jiri is fucking Jan nice and deep. Another switch has Jan and Ivan on their shoulders, next to each other with Jan getting his ass filled by Peter and Jiri shoving his dick deep into Ivan again. As they get fucked Jan and Ivan wank themselves. Milan gets to fuck Jan as Petr stands wanking himself until he shoots his hot cream. Jiri pulls out and dumps his load all over Ivan's balls. Milan continues fucking Jan who is also ready to cum and he unloads all over his chest. Then Milan pulls out his cum squirts over Jan's hot ass. Milan then stands up, in the middle of the guys and wanks himself to mighty fine climax. What a great start to Christmas they all had.
FIGHT AND FUCK
WILLIAM HIGGINS
STR8HELL
BADPUPPY
BOY FUN COLLECTION
SPRITZZ
UK NAKED MEN
RANDY BLUE
TYLER'S ROOM