Cute Hung Blond William Higgins Czech Gay Porn Star, Peto Mohac
Known Aliases / aka:
Years Active: 2019 – 2020
WILLIAM HIGGINS INFO:
Peto Mohac is from Prague. This sexy 19 year old str8 guy is a student who enjoys sports, basketball and fitness. He is a very handsome and exceedingly cute guy who looks so good as he sits on the edge of the bed for his interview. Then Peto lays on the bed and begins to feel his body. He lifts his tee shirt as he rubs his chest and abs. Then he takes off the tee shirt to show off that sexy chest, running his hands all over it. He gropes himself through his jeans too as he feels his chest and arms. Pushing his jeans down some releases Petp's stiff cock which he takes hold of and starts to wank. The stiff dick looks so good in his hand as he wanks it whilst rubbing his chest. Then he lifts his legs and shows off his ass and the hot hole. He pulls on the ass cheeks to stretch the tight hole as his cock is trapped between his legs. He wanks that dick too as he shows his hole. Then he moves, to kneel on the floor, leaning on the bed and showing that sexy ass some more. He reaches back to pull on the ass cheeks as he shows his hole, giving the ass a spank too. Then Petr lays on the bed again and wanks his beautiful cock, soon shooting a nice, creamy, load onto his left thigh and his belly. He milks the cock dry and then goes off to the shower to clean up.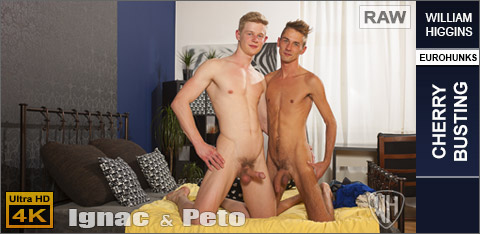 CHERRY BUSTING: IGNAC DLOUHY & PETO MOHAC RAW
We have seen Ignac Dlouhy in several scenes already, where he is fucked. But today we have his very first time taking cock in his hole. Peto Mohac is the guy who gets to do the honours. The guys sit on the bed as Peto asks Ignac some questions about his experiences. Then they start to kiss and let their hands reach out to feel each other. Peto removes Ignac's tee shirt and rubs his chest as they continue to kiss. Peto's tee shirt then comes off too and his chest is caressed by Ignac. Then Ignac lays back and is helped off with his jeans and underwear. That reveals his cock which lays on his belly as Peto begins to lick it. The cock gets quite hard as it is lick and the balls sucked. Then Peto takes the hard cock in his mouth and begins to suck it. His mouth works all over the rock hard dick as Ignac rubs his chest and Peto's shoulders. Peto's tongue licks around the head of the cock and then up and down the shaft in between his sucking. He does a great job on that cock and then he takes down his jeans too, releasing his own, rock hard, cock. With Peto on his knees Ignac takes the stiff dick in his mouth and starts to suck it. He cups the balls too as he sucks the cock. Peto pulls the head onto his dick and then Ignac licks the shaft as well. He goes back to sucking on the big cock as he wanks himself at the same time. His own cock is rock hard as he wanks while Peto fucks his dick into the eager mouth. Then Peto lays down so that Ignac can climb over, head to toe for a hot 69. They suck each other well and Peto spreads Ignac's ass too. Ignac works on Peto's dick as he feels the hot mouth on his own. After enjoying the 69 they move again so that Ignac as sit his ass dwon on Peto's stiff cock. He moans as he feels that cock working into his tight hole. His own cock stands proud as he rides up and down taking Peto's pole deep in his ass. Peto fucks his cock upwards, into the hole. He thrusts hard as he fucks the tight hole and still Ignac's cock is rock hard as he bounces up and down. That cock goes all the way into the tight hole as Ignac continues riding. He strokes his own dick as his hole is fucked. Then Peto wanks Ignac's dick for him as the ass bounces on his own cock. They change position, with Ignac on his back with his legs spread to get that dick in his hole some more. Peto pounds the hole hard and fast as Ignac wanks himself. His hot hole is stretched wide as the cock fucks deep. Ignac keeps up his wanking working it hard and fast until it gives up the creamy cum as Peto's dick bangs deep into his ass. He keeps wanking to milk every last drop from his cock as Peto's continues to fuck hard and fast. Peto then pulls out and quickly moves up to shoot his hot cum into Ignac's open mouth, and over his tongue. Ignac takes all that cum in his mouth, sucking the cock head and licking the shaft to ensure he gets it all.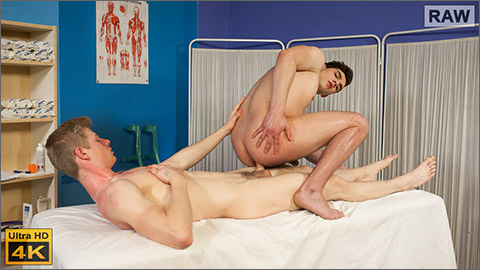 CZECH UP: PETO MOHAC & DR IVANEK UKARA RAW
Peto Mohac is visiting Dr Ivanek Ukara, due to some pain in his shoulders. Ivanek decides to massage the affected area, so Peto removes his tee shirt and he sits on the table. Ivanek begins to massage the right shoulder and bicep. Then he moves over to do the other shoulder and bicep. He uses oil as he massages Petro, working up his neck as well. Ivanek lets his hands move onto Peto's hot chest too as he works. The hands actually gently caress rather than massage. Ivanek is clearly enjoying his patient's hot body. Peto lays on his back so that Ivanek can massage that sexy chest. His hands run all over the torso and arms., rubbing Peto's nipples too. As he works Ivanek notices that Peto's jeans seem to be moving up and down. A closer inspection exposes Peto's hard cock. Ivanek takes hold of it and then he begins to lick and suck it. Peto's cock is so hard as the hot tongue and mouth works on it. Peto reaches for Ivanek to feel his arms as the hot mouth sucks the big cock. Ivanek kisses Peto's chest too and then his mouth before helping him off with his jeans. He strips himself too and then climbs over Peto so they can 69. Peto sucks on Ivanek's hot cock as his own is sucked too. Peto's hands spread Ivanek's ass, showing his hot hole too. Then Ivanek sits sexy eager hole down on Peto's rock hard cock. He rides up and down on the cock, taking it deep into his hole. Peto's hips thrust as he fucks up into Ivanek's ass. That cock works the hole so well and they move to spoon. Ivanek wanks himself as Peto pounds his ass as hard as he can. That big cock slams in and out of Ivanek's hole as he wanks until he shoots his hot cum. Peto continues to fuck that ass as cum drips from Ivanek's cock . Then Peto pulls out of that ass and untoads his cum too, wanking his cock to release every last drop. Then he leans over to kiss his doctor.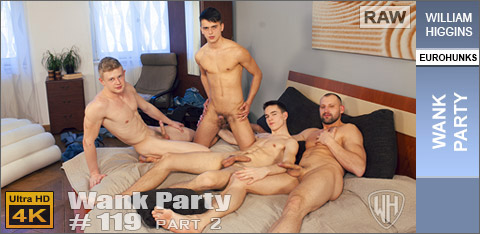 WANK PARTY #119
Milos is having a great time sucking Pavel's rock hard cock. Igor is doing the same to Peto's big dick. Igor then kisses Peto and then returns to sucking on that cock as Peto fucks it into his mouth. He kneels up and Peto kisses his way down the hot body, to suck Igor's dick, briegly. Pavel kneels too and kisses Milos. In fact they all start to share kisses. Then Peto and Milos presents their sexy asses and soon each feels a cock deep inside. Pavel's dick opens Milos' hole as he fucks deep inside. Igor's cock slides easily into Peto's hole too. The big dicks fuck those sexy asses as Milos and Peto take them so well. Pavel's higs thrust fast as his dick fucks deep into Milos' ass. Igor's cock fucks Peto at the same time, as he gives the butt a spank or two as well. Pavel pounds Milos' ass as hard as he can, stretching the hole wide as he fucks deep. Igor grabs Peto's hips for levereage as he also fucks deep into the hole. Then partners are changed as Peto sits his ass down on Pavel's huge dick and Milos takes the recumbent Igor's too. Both asses slide up and down on those throbbing cocks, taking them balls deep. Igor and Peto are stiff too as they each ride a cock. Then Milos is on his back being fucked some more by Igor's rock hard cock. Next to him is Peto, also on his back, being fucked again by Pavel's huge pole. Peto wanks himself as he takes Pavel's cock all the way. Milos wanks too as Igor's dick pounds his hole. With Peto wanking hard he soon shoots his hot cum onto his body as Pavel keeps banging his hot hole. He milks himself dry as Pavel's dick is soon ready too. Pavel pulls out and shoots his cum over Peto as Igor continues fucking Milos. Then Milos and Igor kneel and wank themselves over Peto and soon unload more cum onto his hot body. With all the cocks spent they guys kiss again to end a great Wank Party.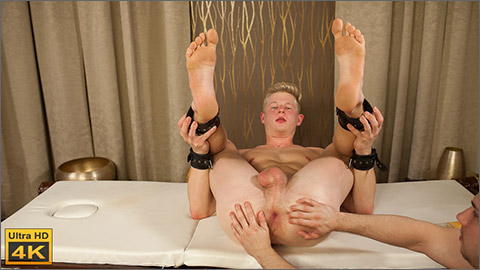 MILKING MEN: PETO MOHAC
Our sexy Peto Mohac is wearing just his underwear as he is gagged, blindfolded and shackled on the massage table. He feels hands running over his hot body and groping his underwear. The hands release the cock from the underwear. Then the balls are out as well and oil is dripped on them. One hand rubs the cock and balls to coat them in oil as the other hand runs over Peto's sexy chest, tweaking his nipples too. The underwear is removed and Peto's cock is wanked har as his hair is pulled too. That cock gets rock hard as it is wanked. The gag is removed from his mouth and then oil is dripped onto his thick, hard, cock. The dick is wanked hard taking him right to the edge. His hips lift as that cock throbs in the helping hand. Peto's blindfold is removed too and that cock is teased, not allowing it to cum yet. His balls are pulled too as the cock stands stiffly to attention. Peto is then moved and his wrists are shackle to his ankles, showing off his hot ass hole too, as that cock is wanked again. The hands rub over the ass and the tight hole. That hole feels a finger tapping against it and then pushing inside as the cock is wanked fast. The finger fucks Peto's hot ass hole nice and deep. The hole needs more and soon a vibrator is pushing deep inside fucking hard. The cock is rock hard too and is wanked fast. Then Peto is laid on his back and his cock is wanked again. This time the wanking continues until the cock gives up the creamy cum.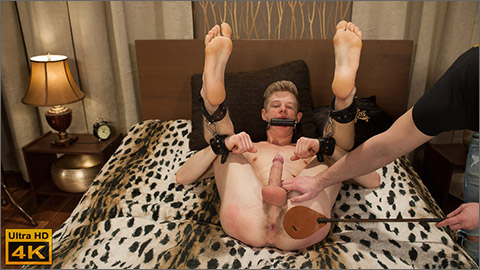 SPANKING: PETO MOHAC
Peto Mohac is a beautiful guy. He is so hot and handsome, as we saw in his casting. Today he is naked apart from his underwear and he is shackled, gagged and blindfolded too. He struggles as he lays, facedown on the bed, trying to release himself. His tormentor has other ideas, straddling Peto and spanking on his ass. Peto moans as the heavy hand lands resoundingly on that ass. The underwear is pulled up into his ass crack as the cheeks are spanked hard. Peto keeps up his maning as he feels the hand. His sexy ass cheeks colour before being covered again. Then he feels the riding crop as it, too, lands on his ass. The underwear is pulled off the ass, showing the colouration caused by the spanking. That beautiful ass is nice and read and the heavy hand continues to spank it hard. Peto's back is spanked as well and the riding crop is used some more. His blindlfold is removed as he takes his punishment. Then Peto is turned onto his back, his legs in the air. That shows off his hot, tight, hole as well as his cock and balls. He feels the hands spanking his ass and then spreading his cheeks even wider to expose the hole more. His cock is felt too and then oil is dripped on his balls. The oil is rubbed all over the cock and balls and then onto his sexy ass as well. Fingers rub oil over his tight hole as well. Then his balls are squeezed and his cock is wanked before his ass gets spanked some more. Even more oil is rubbed over his hot hole and wanked into his cock. With his cock hard oil is dripped onto the head and rubbed in. His cock is spanked by the hand as well. That sexy ass hole is spread wide and spanked too. Peto's ass cheeks are so red from spanking and he moans as he feels every hit. His tight hole is just so inviting and as he is moved onto his shoulders with that ass high in the air it is spanked. A finger rubs over the tight hole as well and his cheeks are pulled apart to open the hole a little. Then a finger slips into the hole and fucks all the way inside before pulling out so that ass can be spanked some more. Then Peto is released to lay on his back and wank himself. His chest is spanked and rubbed as Peto wanks hard and dumps his creamy cum onto his hot body.
CLICK HERE TO GO TO HIS WILLIAM HIGGINS BIO PAGE
CLICK HERE TO GO TO HIS STR8HELL BIO PAGE
VIDEO ON-DEMAND: WILLIAM HIGGINS @ AEBN SMUTJUNKIES THEATER
ENDLESS STREAMING MEMBERSHIP: WILLIAM HIGGINS @ NAKEDSWORD