Hung German Kristen Bjorn Gay Porn Star, Peter Coxx
Years Active: 2015 – 2019
KRISTEN BJORN INFO:
Nationality: Germany
Height: 5'11
Weight: 185 lbs
Dick: 8.5" (21.59 cms) uncut
Position: Versatile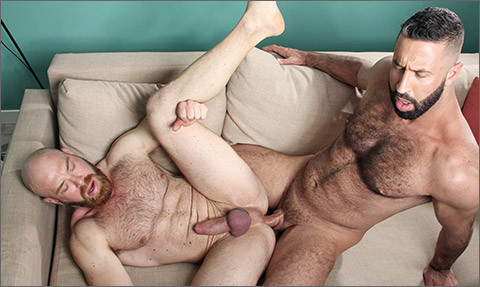 AFTER POOL: LEX ANDERS FUCKS PETER COXX
After some sun and fun in the pool, Lex Andres takes Peter Coxx back to his flat. Although the package has been nicely wrapped in their KB swimsuits, its time to unleash the beasts. These two hairy, bearded men love to kiss and feel the other's cock expand in anticipation. Peter drops his swimsuit as Lex moves in and begins feasting on Peter's engorged cock. Lex gives Peter's cock a thorough cock sucking before swapping positions with him. Peter's pink pucker hole is on overtime as it winks with excitement as his lips quickly approach the throbbing head of Lex's cock. With his lips maneuvering up and down Lex's cock shaft, it is his own fingers that pry his sweet ass open as he fills his ass with pleasure as Lex's cock takes care of his mouth. Lex sees the full extent of pleasure that Peter is giving himself and gets behind him and rams his raw cock deep into that hot, pink hole. As Lex pumps pure pleasure into Peter's ass, Peter cries out to not stop and fuck my ass and Lex continues to fill his ass with cock and pleasure. Peter is flipped onto his back and Lex continues to fuck his ass as Peter's balls are inflamed and engorged with passion, pleasure and a huge load that keeps building. Peter takes control as he lowers his hot ass down onto Lex's straining cock. Peter takes all of Lex's cock in one swoop of his thrust downward and begins a gyrating action that builds with each advance of his hungry ass. Peter has ground his ass and Lex's cock into oblivion as his thick cock spews its thick load of cum all over Lex's hairy chest. Peter's ass muscles are working overtime as they are clench tight around Lex's cock as his cum flies, which of course milks Lex's heavy load right out of his cock and all over Peter's pink ass. With Peter's ass creampied, both men have reached that exhaustive state of ecstasy.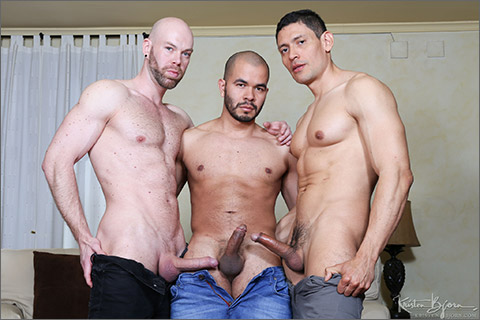 BARE TO THE BONE #8: JOHN RODRIGUEZ, PETER COXX & RICK DE SILVER
Rick has hooked up online with Peter and text his friend, John to join them. As all three cocks are unleashed, Peter realizes that this is going to be a good day. Peter gets his fat cock sucked and swallowed by John, who is having his hot cock serviced by Rick. Each of the guys is a hungry cock sucker and eagerly devours the cock in front of him. Peter's huge balls are drawn up tight in anticipation of blowing a huge load as John continues to inhale that huge cock. Rick wants a piece of that enormous cock and he and John tag team Peter's cock with their drooling mouths. John can't wait any longer and he offers his ass up for Peter's throbbing cock. Rick lubes it up good with his saliva as Peter slides his cock deep into John's raw hole. As Peter fucks John's ass, Rick licks his cock and then Peter pulls out so that Rick can lube his cock up more with his eager mouth. Peter loves the sensation of fucking John's raw hole and Rick's mouth that he alternates between the two. Rick then slides himself under John and he and John begin to 69 each other as Peter continues his onslaught of hardcore fucking. John flips Peter and has him ride his raw cock hard and deep as Peter sucks on Rick's straining cock. Peter rides John's cock so hard that John blows his creamy load and plants the remaining shots in Peter's ass. Peter continues to ride John as hard as he can until his huge ball sac erupts with a huge load of cum as Rick feeds him his thick load. Peter concludes that being fed cum in his ass and mouth does make for a good day.
CLICK HERE TO GO TO HIS KRISTEN BJORN DETAILS
VIDEO ON-DEMAND: Kristen Bjorn @ AEBN SMUTJUNKIES THEATER
DVDs & ON-DEMAND: Kristen Bjorn @ TLA VIDEO