Czech Blond Jock Gay Porn Star, Paul Fresh
Known Aliases / aka: Kart (GayWarGames), Dave Coyle, Derrick Vandal, Justin Lukas (Breed Me Raw)
Years Active: 2010 – 2016
WILLIAM HIGGINS INFO:
Paul Fresh is originally from Zbuzany, though he now lives in Prague. He is aged 21 and works as a waiter. In his spare time he enjoys sports, particularly fitness. I think Paul looks very good, and is rather aptly named as he is certainly very fresh-faced. From the tattoo on his back it seems that he likes to be thought of as inimitable. Well I cant be sure of that, but I think he is very good indeed.
Model Name: Paul Fresh
Age: 21
Home Town: Zbuzany
Height: 180cm/5'10"
Weight: 75kg/165lb
Foot Size: EU43/US8.7/UK8.2
Penis Size: 17cm/"
Profession/Student of: Worker
Hobbies: Sport
Favorite Sports: Fitness
Active Sports: Fitness
Movie/Music/Sport Stars: Will Smith
Visited Coutries: Slovakia, Austria, Poland
Want to Visit Coutries: Italy, Kenya
Dream of My Life: I don't have any yet.
Zodiac Sign: Aries (March 21 – April 19)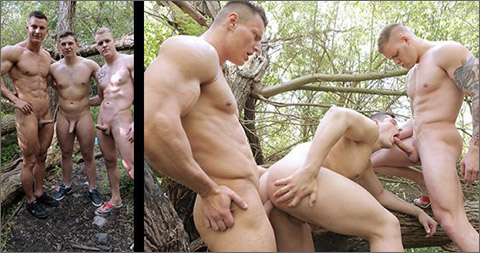 PAUL FRESH & LUKE WARD BAREBACK ARON ROS
Sex is more fun outdoors. Just ask Aron Ros who strokes himself in the woods. As the birds chirp Paul Fresh and Luke Ward walk by and start making out. The shirtless muscle hunks kiss and grope each other while, in the far background, a hiker stops to look, then goes on his way. Too bad, this could have been a four-way! Luke gets on his knees and sucks Paul's big uncut cock. Aron watches stroking his lonely meat. The studs call Aron over and the fun begins. Luke sucks two cocks while Aron and Paul kiss and touch. Luke and Paul sit on a log and Aron takes a turn sucking both hard rods. Paul squats with Luke and Aron on either side and blows them both. Aron bends over to suck Luke and Paul barebacks his ass with his raw cock. Aron turns around pointing his ass at Luke's pole. Luke rams his raw cock bareback into Aron who gets face fucked by Paul. After Paul sits on the log, Aron straddles and rides him bareback. Luke takes his turn sitting and Aron rides his raw cock too. Both Luke Ward and Paul Fresh stand on either side of Aron and shoot their loads onto his face. Aron Ros busts his nut stroking and they end with a three-way kiss.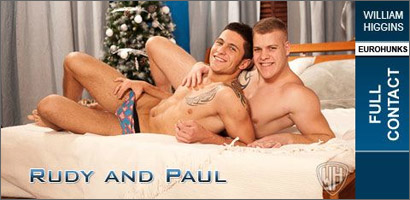 FULL CONTACT: PAUL & RUDY
Rudy Bodlak is a great looking guy who we did a Broke Czech Boys shoot with, which also featured his friend. He was so good in that and readily agreed to more work, so the very next day we had him into the studio again, for this Screentest, with Paul Fresh. After a brief interview Rudy shows us just how ready he is by getting into kissing with Paul and feeling his body. They kiss each other and very quickly their hands move to the other's groin. Paul dips his hand into Rudy's underwear. Rudy takes the hint and does the same to Paul. The guys remove their underwear and start to kiss again. Then Paul leads, by taking hold of both cocks and starting to wank them. Then he leans over and starts to suck on Rudy's cock. He doesn't get an immediate reaction from his sucking so Rudy reciprocates and Paul's dick rapdily gets very hard. Rudy clearly wants to do a good job, as he sucks and wanks very well. Paul then holds Rudy's head and fucks his cock into his mouth, while wanking himself. His cock has grown so Paul starts to suck it again, this time getting a much better response. That cock is very hard now as Paul sucks on it and licks all up and down the shaft. Then he lifts Rudy's legs in the air and rims his ass. He laps at that tight hole and, spitting on it, starts to finger it. Then it is time for the big test, Paul gets Rudy on his knees and slides his dick into that hole and starts to fuck him. Rudy is really feeling it as that big cock fucks in and out, going nice and deep, but he takes it without complaint. Paul fucks that ass hard and fast and then changes position, with Rudy's ass high in the air and Paul fucking him again. Rudy moans a lot as that dick slams into his tight ass, then Paul pulls out and examines a nice open hole. He then lays on the bed and Rudy sits down on that big, throbbing dick. He fucks himself onto that cock and rides it before Paul holds him still and fucks upwards. Paul is soon ready to pop his load and moves to Rudy's open mouth and shoots his load into it and over his face. Rudy then takes the cock in his mouth again to clean it off. Paul bends to kiss Rudy's cum infused mouth and then lays his head on Rudy's stomach to receive his load. Rudy shoots a very nice load and Paul sucks his cock dry before kissing him again, ending a really good Screentest, where Rudy proved his worth as a bottom. He will surely be back for more. Next up for him should be a Wank Party.
JAKE CRUISE'S COCKSURE MEN
WILLIAM HIGGINS
STR8HELL
STAXUS
BADPUPPY
GAY WAR GAMES
BIG DADDY
MILE HIGH MEDIA / MALE REALITY
COLT STUDIO / OLYMPUS
CLICK HERE TO GO TO HIS COCKSURE MEN BIO PAGE
CLICK HERE TO GO TO HIS WILLIAM HIGGINS BIO PAGE