Broke Straight Boy American Gay Porn Star, Paul Canon
Years Active: 2012 – 2020
MEN.COM INFO:
Hair Color: Brown
Sign: Taurus
Eye Color: Brown
Dick Size: 7 cut
Height: 5'10"
Weight: 160
Sexual Positions: Versatile Top
Favorite Foods: Popcorn,pineapple,pasta, pizza
Favorite Movie: Marley & Me
Favorite City: South Beach
Hobbies: Masturbating
What I like The Most: The beach
What I Don't Like: Disrespectful people and heroin
Best Thing About Me: My hair
Worst Thing About Me: I don't know when to shut up
How To Make Me Happy: Do as I say
Favorite Quote: Live now, not yesterday and the future will be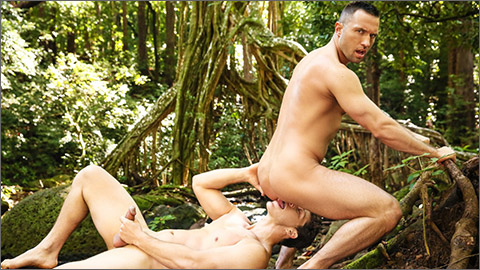 RISE OF THE SIRENS – PART 3
Colby Tucker feels like the only guy on the beach who hasn't had any dick yet, but he's still willing to help out his buddy Matthew Camp by looking into the siren attacks instead of cruising for cock. Colby consults a sexy scientist at the marine research facility for info. When he strips down to his skintight swimsuit to explore the scene of the crime, he draws the attention of siren Paul Canon. Paul tries to use his siren song on Colby, but Colby assures the merman he's cute enough that Colby will fuck him anyway! Colby swallows Paul's sea-cucumber, then sits on the siren's face before taking his dick in doggystyle in the middle of the forest. Colby rides Paul till he cums and then takes a huge facial… before remembering he's alone with a dangerous merman!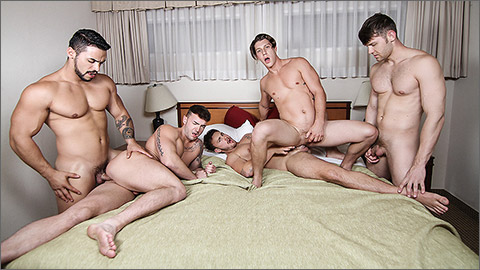 ON THE RUN – PART 3
Paul Canon and Arad Winwin are hot on the tail of the three outlawed hunks… but it could do them better to know what the guys on the run actually look like. Arad is tricked by Jacob Peterson, who gets down on his knees and sucks his beautiful cock. Paul Canon enters the scene and the seduction of the officers continues. The men worship each other's bodies, and it only gets hotter when the clueless cops invite the rest of the thieves to join them in a jizz orgy.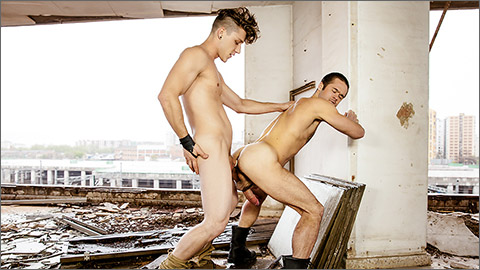 PART 2: Mike De Marko, Paul Canon
Ice meets fire In Part 2, where Iceman and Pyro's anger leads them down a path of viciously passionate plowing. These super-gay-heroes take turns worshipping each other's beautiful cocks before Pyro takes the plunge, filling Iceman with his throbbing member in deep powerful thrusts.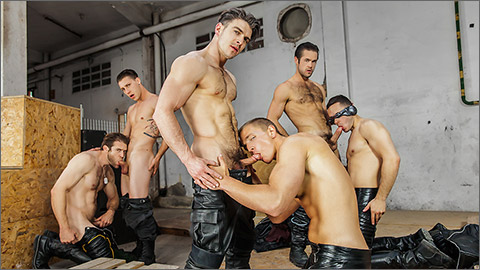 PART 4: Brenner Bolton, Colby Keller, Landon Mycles, Mike De Marko, Paddy O'Brian, Paul Canon
Cum will be spilt in Part 4, as the battle between the X-Men reaches a fever pitch. There will be more than one climax in this conclusion, as these six superheroes work out their differences with a mouth-watering jizz orgy that penetrates deep into their powerful orifices. The boys take turns sucking and fucking each other. Magneto rides Wolverine's cock as the rest of the X-Men jerk themselves off to completion into his open inviting hands.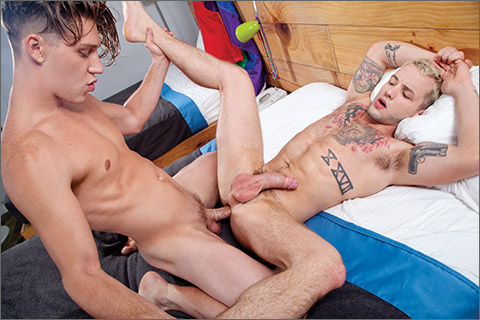 WILD WEEKEND – PART 2: Paul Canon fucks Colton Grey
It's the day of the San Francisco Pride parade, and the guys are out having fun all over the city. Paul Canon makes eyes with a hot stud on the street, Colton Grey, and gives him some beads. They hit it off instantly, and they seize the moment to have some sexy fun. They beat it back to the hotel room and kiss passionately, burying their tongues in each other's mouths. Colton quickly moves down to service Paul's rock hard dick. Colton fucks Paul's face, his balls swinging into Paul's chin. With plenty of spit, Paul services Colton's cock, then focuses on Colton's hot, hairy ass. He spreads Colton's cheeks and uses his tongue to reach deep down Colton's hole. Mounting Colton doggy style, Paul thrusts his meat inside with firm, vigorous strokes. His nuts slap against Colton's ass as they pick up speed and intensity. Flipping on his back, Colton jerks his cock as Paul pummels his hole. A sheen of sweat glistens across their hard bodies as things heat up. Reaching the edge, Colton unleashes massive spurts of cum that arc over his body, and Paul immediately ads his own thick, juicy load. They kiss, reveling in their afterglow, as their cum and sweat mix.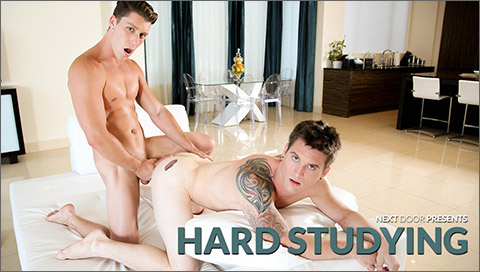 HARD STUDYING
Allen Lucas is such a studious guy. He's spending his Saturday afternoon studying for Monday's test. He knows all the hard work will pay off, but his buddy Paul Canon can't wait to hook up!
   As Allen takes a little nap break, Paul sneaks into Allen's house. He carefully approaches and gets close to snoozing Allen. When he knows the time is right, he licks on Allen's bulge, popping out from underneath his undies. Allen rouses a bit confused. But when he realizes it's his sexy friend Paul, Allen kisses Paul passionately and Paul takes it as a green light to pull out Allen's hardening cock.
   Wow, what a fat boner! It looks so good being sucked by Paul's caring mouth. Yes, this is exactly the type of distraction Allen needed from his books. After getting some of Allen's delicious dick, Paul decides to flip him over and lick that sweet hole. Allen spreads his cheeks apart to allow Paul to get the total experience.
   And once Paul feels Allen's ass is perfectly ready, he slides his stiff cock inside and works up a good pace. Allen knows that Paul likes to fuck hard, so after being pounded from behind for a while, Allen goes to his back so Paul can really dole out a hard pounding.
   Join these guys and find out why it's important to take occasional study breaks to blow off some steam!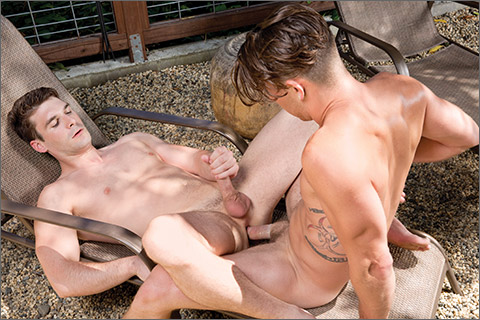 WILD WEEKEND: Paul Cannon fucks Dustin Holloway
Dustin Holloway and Paul Cannon have been making eyes at each other all weekend, but so far they haven't acted on it. As they strip down to their white briefs and step into the hot tub, they trade a knowing glance. Their feet touch at the bottom of the spa, and their cocks swell in their wet briefs. Paul, with his dirty-blond hair slicked back, leans in and locks lips with dark-haired Dustin. Pulling down Paul's briefs, Dustin unleashes Paul's rock-hard cock and deepthroats the entire shaft. Relaxing into the depths of the hot tub, Paul enjoys an underwater blowjob as Dustin relentlessly services Paul's throbbing meat. Dustin, emerging from the water, spreads his ass for a thorough rimming. Rising up, Paul rubs his cock in the groove of Dustin's perfect ass, and Dustin is eager to take things to the next level. Exiting the tub, Paul lies down on an outdoor lounge chair and Dustin straddles him. Lowering himself down, Dustin sits on Paul's cock and goes for a wild ride. Paul's huge balls, hanging low in the summer heat, rise and fall as his body throbs with sexual excitement. Flipping to missionary position, Paul grabs Dustin's cock while simultaneously fucking his hole, and the sensation brings Dustin to climax, drenching his stomach in puddles of semen. Paul then fires off rope after rope of cum, shooting all the way up to Dustin's shoulders in a spectacular orgasm.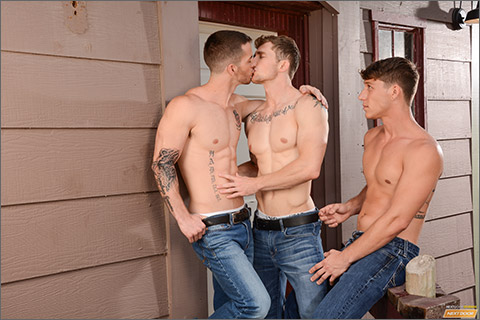 THE REUNION – EPISODE 1: PLAYFUL BOYFRIENDS
When Markie More and boyfriend Quentin return home for a reunion with their childhood mates, they do so with a big secret. Years removed from the group, Markie and Quentin have become exclusive, and it is Quentin's hope that this will be the weekend they tell the rest of the gang. They discuss this as they walk hidden paths and trails, which leads them to an old church. Quentin is all for exploring but Markie has reservations, so Quentin decides to loosen Markie up a bit with a little fun, and he presses Markie up against the building and they begin to make out.
   Fresh out of the shower after 3 days of driving, Paul Canon is ready to mingle, so he goes out after the guys in hopes of maybe catching up with them on their hike. Needless to say, when he stumbles upon them at the church, naked as jaybirds as Quentin sucks Markie off, Paul is surprised. Not only did he not know the guys were together… he didn't even know either one of them was gay. Paul hides around a corner and watches, getting hot and bothered in the process, so he takes out his wang and begins to stroke it.
   Unbeknownst to Paul, Markie and Quentin can hear him, and Markie catches him wacking it, so he takes Paul by the hand the three of them finish together, stroking, sucking each other off, and then running a train on each other as the rest of the guys begin to show up. Going to be one hell of a weekend, if this is how it starts.
CYBERSOCKET 2014 BEST PORN STAR NOMINEE