Owner, Producer of the website Maskurbate and expert cock sucker, Pascal
Years Active: 2008 – 2015
TWITTER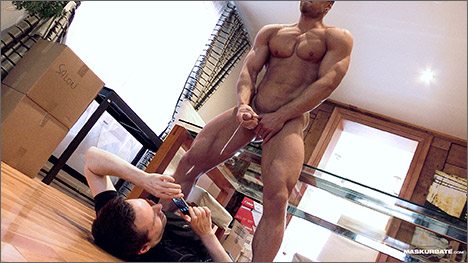 MOVING MUSCLES
I hired muscles to help me move to my new place. While my friend, the young bodybuilder Brad, helped me carry heavy boxes, I couldn't stop noticing his biceps at work. I wanted to see a lot more. So I offered him a little extra if he could loose his shirt. Surprisingly, he offered me another deal… Not only could I watch him strip but I had the opportunity to worship his body with my own hands! As he was stripping and I was touching, Brad's dick got harder in his underwear. So, I offered him more to see him butt naked. After a little while, Brad became really horny and asked me to go take a walk so he could finish himself off. I agreed but I had something in mind. I came back sneaking behind him while he was jerking off, crawled between his legs and filmed his cumshot with my cellphone without him noticing it. So hot!!! I had a front row ticket to the hottest show in town! Brad was in shock when he eventually saw me and asked for more extra cash… Nevertheless, it was so worth it!!!

OFFICE SUCK 3 – DEBOXER
I'm a strong believer that every mouth has its perfect cock. I found mine years ago when I met Manuel Deboxer. His large uncut 8 incher fits perfectly in my mouth and down my throat. The way Manuel guides me, grabbing the back of my head and forcing his shaft in and out while I watch every muscles of his body contracts, is an amazing feeling I rarely experienced before. So I couldn't think of a better way to start the year by performing with Manuel in an Office Suck episode. Hope you'll enjoy watching this, as much as we enjoyed ourselves making it. Have a great year my friends!
NAUGHTY AUDITION
NEED A HAND DERRICK?
MOVING MUSCLES
BLOWING ALEXANDRE
BLOWING JEREMY
OFFICE SUCK 4 – MIKE
OFFICE SUCK 3 – DEBOXER
NEED A HAND ZACK?
DEBOXER BAITS THE FOX
BLOWING NATHAN
ZACK UNMASKED
NEED A HAND MR STEEL?
SHOOTER MAKER
BLOWING KEVIN
ENRIKE RETURNS
WORSHIP ADAM
ON STAGE BLOWJOB
THE EYE
BLOWING ELIO