Hairy Hunk American Gay Porn Star, Parker Williams
Known Aliases / aka:
Years Active: 2003 – 2007
DIRK YATES INFO:
" … I discovered at a Mr. Nude San Diego competition."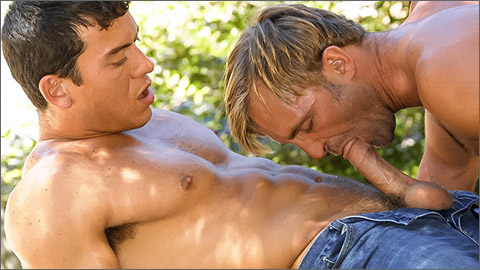 WOODSMEN: Parker Williams fucks Carlos Morales
That bastion of white men's sport, fly casting, gets a scalding dose of the Latin when hefty-hung Carlos Morales is the catch of the day for super hunk, Parker Williams. Parker's cock exceeds the weight limit, too, and it shoves the spit outta the sides of Morales' mouth. When Parker's steamy ass-eating makes Morales cum in the rough-hewn blonde's hand, the nasty top smears the thick manjuice into his buddy's ass so he can split it wide with his thick, perfectly-shaped prick.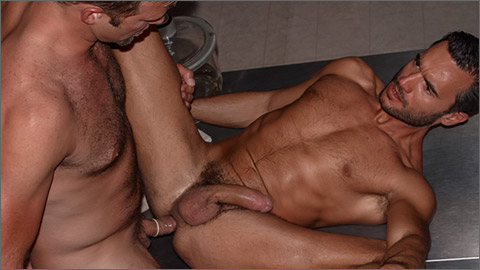 RX – WIDE OPEN!: Parker Williams fucks Marco Montana
Burning the midnight oil in the lab, ruggedly handsome Parker Williams and insatiable sex pig Mario continue to blow off steam with some truly kinky sex play. After Parker
beats off into a beaker and licks it clean, Marco Montana straddles Parker's lap, impaling himself on his master meat and taking a ride that leaves both studs howling, panting, and thoroughly spent.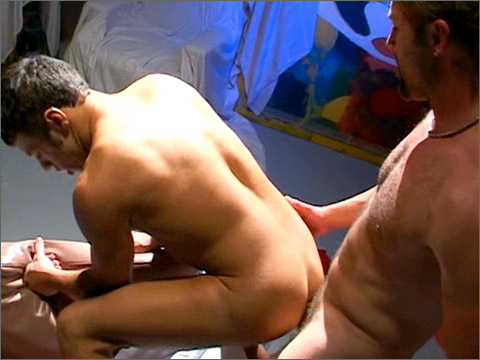 THE HAUNTED HOUSE ON SEX HILL: Parker Williams fucks Anthony Hollaway
Beautiful men, hot sex and an intriguing story add up to an arousing if sometimes goofy hour-and-a-half. Wolf's eccentric late aunt willed him her grand mansion on the condition that he spend 24 hours there to keep her old "friends" company. The occupants turn out to be ghosts and also haunt an adjacent cemetery. Out of work and strapped for cash, Wolf and boyfriend Casey take the risk of being spooked out of their skins. To thicken the plot the property's agent, Williams, conspires with the dead woman's lawyer, March, to frighten the nervous boys out of the house with phony ghosts. The will awards the house to Williams if the boys fail to stay the full 24 hours. What the villains don't realize is that the nutty broad really did have some spooks living with her, and to the delight of the visitors, they turn out to be remnants of pre-aunt days when the house was a male brothel. The sex scenes range from a sizzling cemetery three-way to a regrettably truncated shower pairing between Wolf and the delectable Casey. After getting his big dick sucked, Casey drops to his knees and feasts on Wolf's cock and balls until Wolf makes him stop so they can get to a job interview. The two are paired again at the end, but again it's disappointing that it stops with Wolf sucking Casey and finger fucking him to climax. The show biz adage "leave them wanting more" applies. I sure would have liked to see Casey fuck or get fucked. He's the most gorgeous of a good looking lot, followed closely by Fox. Fox plays a friendly ghost with an ultra stiff magic wand who finds Wolf naked in bed. He fucks the heir's muscular ass long and hard then face fucks him with his jawbreaker cock before unloading a bucket load of goo. Williams tops Hollaway in one daddy/pup pairing, and hairy caretaker Johnson (who's in on the plot for money but knows the ghosts exist) gets plugged by smooth Rhymes in another. In the 3-way, Addams plants his shapely butt on Latin Rios' upright tool for a very penetrating fuck, and they alternate sucking on Sanders' man rod. For ghosts they manage to spew some mighty lifelike cum. Wolf and Casey secure their newfound fortune with the help of a grateful Fox, who thoroughly enjoyed sampling Wolf's assets.
TITAN MEN
LUCAS ENTERTAINMENT
FALCON STUDIOS
RAGING STALLION
HOT HOUSE
CHANNEL 1 / RASCAL
ALL WORLDS VIDEO
CLICK HERE TO GO TO HIS TITAN MEN DETAILS

MEN MAGAZINE PRESENTS: TITAN MEN
VIDEO ON-DEMAND: Parker Williams @ AEBN SMUTJUNKIES THEATER