American Gay Porn Star & Director, Owen Hawk
aka: Owen Hawke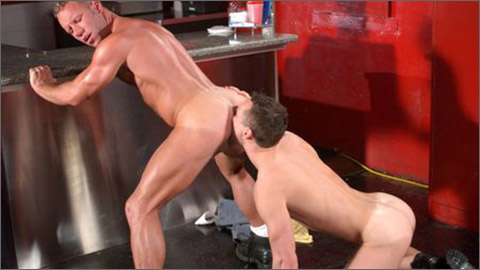 SCREW: RIGHT TO THE POINT: Troy Punk & Owen Hawk flip-fuck
Sexy, hung, confident Owen Hawk walks right up and grabs Troy Punk, Hot House's newest discovery who makes his debut in Scene Three. They dispense with the initial groping and kissing and get right to some really greedy oral service. Watch as beefy blonde Punk devours Hawk's cock, his own prick bobbing up and down between his knees. Then Owen slurps on Troy while his prick dances and flexes the whole time. The chemistry between these two is electric – it really shows as they begin to fuck each other in a flip-flop scene that will leave you wondering which side you're on. The camera seamlessly gets in there to show you all the tight close-ups of the action you crave. We love watching Owen get fucked from behind while his horse-dick swings from his sweaty crotch. First up, then down, then left – then right to the point.
HOT HOUSE CLUB INFERNO @ FISTING INFERNO