Staxus Czech Twink Gay Porn Star, Orlando White
Years Active: 2013 – 2014
STAXUS INFO:
Charming and quiet Orlando has made friends of everyone here at staxus. He is super helpful and kind and is a pleasure to have on set. He is a total top and has never bottomed. He prefers older hairier guys but is always hard for a hungry hole.
Date of birth: 2nd March 1991
Height: 6 feet / 183 cm
Cock size: 7.5″ / 19.1 cm
Ethnicity: Hungarian
Role: Top
Interesting Fact:
Orlando is trying to become a professional artist.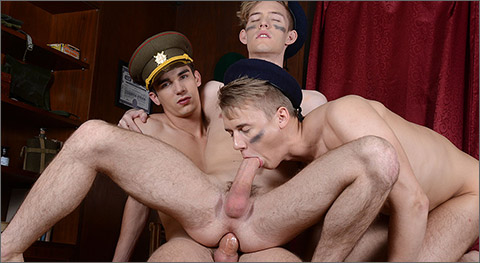 PISSING OFF YOUR COMMANDING OFFICER CAN GET YOU WELL AND TRULY FUCKED!
Life in the army can be very rewarding to those who are inclined to the military life, but get the wrong side of your commanding officer and there's every good chance that you're headed for a fall. As Chris Hollander and Jaxon Radoc very quickly discover when their somewhat insolent attitude annoys Orlando White.
   Not that White's punishment – forcing Radoc to get down onto his knees and suck both his and Hollander's dicks – is ever likely to upset our resident Aussie cock-fiend. In fact, not surprisingly given what we know about the fellow from past performances, the instruction is met with an unmistakable element of glee on Radoc's part – a sentiment that's clearly shared by Hollander, who for his part is soon positioning himself over White's desk and getting energetically spit-roasted! Then, clearly not wishing to be outdone, Radoc gets much the same treatment; before White forces both lads to lay down on their backs over his table so that he can take turns to fuck both their horny little ass-holes.
   Chances are, of course, that this is not a true representation of army life – even in the cesspit of morality that is the Czech Republic! – but we very much doubt you'll be too bothered as you reach for your zipper and slowly work out a load (or more!) in appreciation. No need for zippers here, however; as Hollander dumps the first wad, quickly followed by Radoc. Before White unleashes the contents of his heavy cum-sac, whilst his two subordinates kneel at his feet. Life in khaki has rarely looked so kinky or so fucking desirable as in this cumtastic threeway!
CLICK HERE TO GO TO HIS STAXUS DETAILS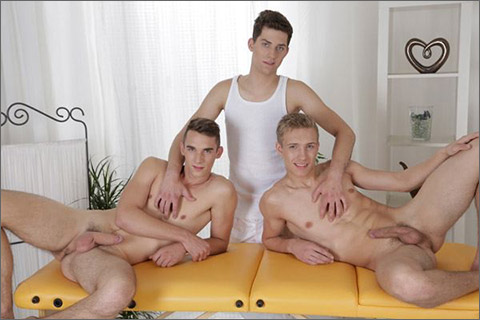 HOT, HORNY MASSEUR GIVES HIS CLIENTS THE RUB-DOWN OF THEIR LIVES. THE RESULT? OODLES OF JIZZ!
ORLANDO WHITE GIVES HIS KINKY SUGAR-DADDY A HARD FUCK & OODLES OF HOT JIZZ
TWO HOT TENNIS STUDS GIVE THEIR BUDDY A STIFF SPIT-ROASTING & A FACE-LOAD OF HOT SPUNK!
HOT, SWEATY WRESTLING SESSION RESULTS IN A HOT, SWEATY SUCK & FUCK SESSION!
PISSING OFF YOUR COMMANDING OFFICER CAN GET YOU WELL AND TRULY FUCKED!
SMOKIN' HOT JAXON RADOC GETS AN ASS-LOAD OF HARD HUNGARIAN COCK UP HIS SCHOOLBOY ASS!
HORNY JAXON RADOC TAKES EVERY HARD, HAIRLESS INCH OF ORLANDO WHITE'S THICK, UNCUT DICK!
GANG BANG: CHAV-BOY TRIO PROVES A COCK-SUCKING, SPIT-ROASTING, FACE-SPLATTERING DELIGHT!
BLOND-BOY BLAKE HANSON GETS HIS TIGHT ASS SMASHED OUTDOORS BY ORLANDO WHITE'S POLE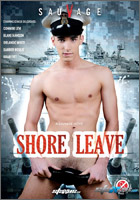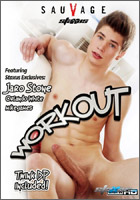 STRETCHED
AFTER LIGHTS OUT
DIRTY GAMES
UP NORTH
DADS DO LADS
MORE AND MORE
DREAMS CAN CUM TRUE
OFFICER'S MESS
OPEN RANGE 2: TWINKS UNCHAINED
BEACH BUMS
PAINT IT BAREBACK
SHORE LEAVE
TWINK MASSAGE DREAMS
ACED
UP AND UNDER
PIN DOWN
TWIN TAKEOVER
BEACH BUMS
WORKOUT