Sexy Blond William Higgins Czech Hunk Gay Porn Star, Ondra Taryk
Known Aliases / aka:
Years Active: 2017 – 2018
WILLIAM HIGGINS INFO:
Age: 24
Home Town: Prague
Height: 173cm/5'8″
Weight: 75kg/165lb
Foot Size: EU42/US8.5/UK8
Penis Size: 15cm/5.91″
Profession/Student of: University student
Hobbies: Sport
Favorite Sports: Soccer
Active Sports: Fitness
Movie/Music/Sport Stars: Priscilla Presley
Visited Countries: Poland
Want to Visit Countries: USA
Dream of My Life: I do not know.
Zodiac Sign: Leo (July 23 – August 22)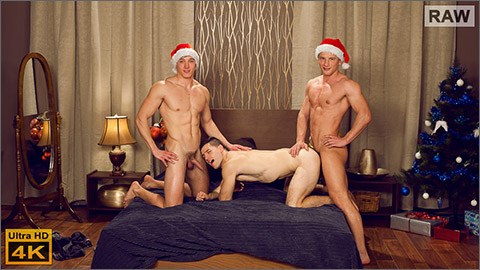 XMAS WANK PARTY #91
We have three fantastic looking str8 guys in Xmas Wank Party '91, Ondra Taryk, Tomas Salek and Alan Pekny. They are out enjoying the Christmas market in Prague, eating and drinking. Then they go back to the apartment. The three of them lay on the bed and Ondra suggests that it is time for some fun. He kneels and begins to show his muscles. As he removes his tee shirt to show his wonderful body he flexes his biceps. Alan and Tomas begin rubbing his legs and then reach over to kiss his chest. Then they each kiss Ondra too, all the while caressing that sexy body. Ondra then removes Tomas' tee shirt too and starts to kiss his body as Alan bares his hot chest too. Ondra turns and licks Alan's chest as Tomas flexes. They all flex, enjoying each other's hot bodies. They open the jeans and reach inside to grope each other. Ondra's jeans are pushed down and he takes them off as Tomas' stiff pokes out of his. He bends over and takes Ondra's dick in his mouth and start to suck it. Ondra's balls hang low as Tomas sucks on his throbbing cock. Tomas' head bobs on the stiff cock as Alan runs his hands over the sexy body. He kisses Ondra's chest and then he takes over from Tomas, sucking on the big cock. Ondra then sits and lays back so that both guys can take turns of his rock hard dick. Tomas then removes his jeans and soon has Ondra's hot mouth wrapped tight around it. Ondra sucks on that massive cock before giving way to Alan to have a taste too. Ondra and Tomas kiss as Alan sucks and then Tomas lays down for both guys to work on his cock and body. As they work on his cock Tomas' body writhes, which shows off his hot, hairy hole too. Raising his legs into the air that hot hole is shown even bettet and Ondra can't resist sliding a finger inside. Then he sucks Tomas' throbbing cock as Alan slips a finger into the hole. They swap again with Ondra's finger probing deep opening the hole nicely, ready for much more in part 2.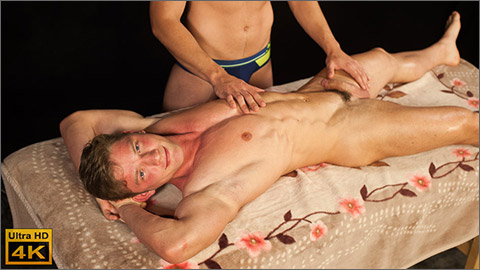 MASSAGE: ONDRA TARYK
Ondra Taryk is a very handsome and well built straight guy. He came in for a massage and quickly stripped to his underwear, showing off his hot body. Then he lays, face down on the table to await the masseur. The masseur duly arrives and takes some oil, getting to work on Ondra's back and shoulder. His hands move all over the sexy back as Ondra relaxes. Working down the back, Petr, the masseur, lowers the underwear from Ondra's sexy ass and works on the cheeks. Then the underwear is removed completely and more oil is used to massage Ondra's thick thighs, down to his calves and then onto the feet as well. With the feet well massaged the hands move back up to Ondra's sexy ass. The butt cheeks are parted, showing off Ondra's tight hole. The hands rub all over the ass, running along the ass crack and over the tight hole. Petr reaches between Ondra's legs to play with his cock too, but keeps returning to that sexy ass. When Ondra moves onto his knees his hot ass cheeks part to give a great view of the tight hole as a hand rubs all over it. The other hand pulls on Ondra's dick, between his legs. The heavy balls are rubbed as well and as he is wanked Ondra feels a finger slide into his hot hole. The finger fucks that tight hole, pulling out and then going back in again. Ondra takes the finger well, feeling it deep inside his tight ass. Then he turns over and lays on his back with his legs in the air. The finger works that hot hole some more. Then Ondra drops his legs and his cock is wanked again. It gets rock hard and Petr keeps wanking it until the hot cum is released, onto Ondra's hot body.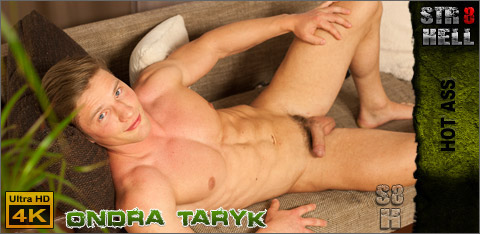 HOT ASS: ONDRA TARYK
Ondra Takyk is such a hot and handsome str8 guy. He looks so good as he sits on the sofa rubbing his sexy body. His dick is hard in the underwear and he soon releases it by getting fully naked. Ondra takes hold of that dick and starts wanking it. That cock is rock hard in his hand as we take in his hot body. Then he moves, raising his legs and showing off his ass. Reaching for the ass cheeks he pulls them wider apart to stretch his tight hole. A helping hand arrives and uses some lube to rub over that tight hole. Then a finger is slipped inside. The finger fucks Ondra's hot hole, going all the way in. That finger is soon replaced by a thumb that works deep inside the tight hole. The hands take hold of Ondra's stiff cock and wank it as two fingers really stretch his hole. Then a dildo is pushed into his ass, it is a tight fit but slides in and starts to fuck. Ondra feels it, as we see from his facial expressions, but he takes the dildo very well. Then it is removes so that we can examine that hot hole again. More lube is applied and a different dildo is slipped into the hole. It goes in easily and is fucked in and out. Ondra's cock stays rock hard as his hole is fucked deep. That toy is replaced by a butt plug that is pushed against the open hole until it goes deep inside. Ondra moans as he feels his hole stretched. When the plug comes out that hot hole stays open. The plug is shoved in again and fucks Ondra's hole. It is pulled out and shoved back in, all the way, and that hot hole stays open, ready to welcome the plug. The hole really gapes as the butt plug is pulled out and pushed back in, fucking deep. Then Ondra is left along and wanks his beautiful cock to shoot the hot cum up his sexy body to end a great video.
CLICK HERE TO GO TO HIS WILLIAM HIGGINS BIO PAGE
CLICK HERE TO GO TO HIS STR8HELL BIO PAGE