Sexy Lucas Entertainment Gay Porn Star, Oliver Hunt
Known Aliases / aka:
Years Active: 2021
Lucas Entertainment Stats / Info:
Position: Versatile
Dick Size: 7"
Height: 5'8
Oliver Hunt is young and fresh-faced, and he's as adorable as he is sexy. Oliver is also all about role-play when he's having sex, and has a weakness for some daddy/son action in the bedroom. But don't let his young and small body size (he's only 130 pounds) fool you. Sure, Oliver Hunt enjoys bottoming and is a champ at taking dick, but he also wants his turn, and will take command of his daddy and have him spin around. When Oliver wants to get his dick wet, he doesn't hold back when he fucks one of his daddies. Oliver Hunt loves to travel, and one of the craziest places he's ever fucked was on a beach while a small crowd looked (and cheered) on.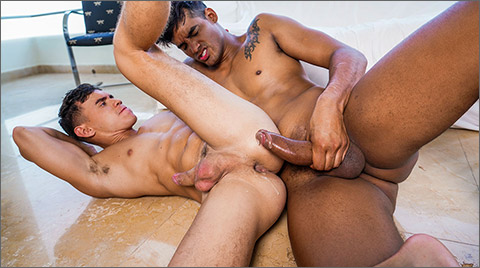 BAREBACK AUDITIONS 14: Marco Antonio Tops Oliver Hunt
Marco Antonio is a true top for all of the size queens out there. This elite member of the Lucas Men has an enormous nine-inch uncut cock, and he knows how to use it. Marco's hot and sexually charged personality makes him a strong and powerful fuck buddy, and he has his sights set on Oliver Hunt. Oliver and Marco both signed as exclusives at the same time, and now it's time for them to unite orally and anally on camera to seal the deal. You've got to hand it to him: Oliver Hunt is a trooper when he gets fucked in his booty. He always takes his pounding and it ready for even more! Out on the lanai of the Puerto Vallarta villa, Oliver Hunt rides Marco Antonio's cock until they are both squirting seed!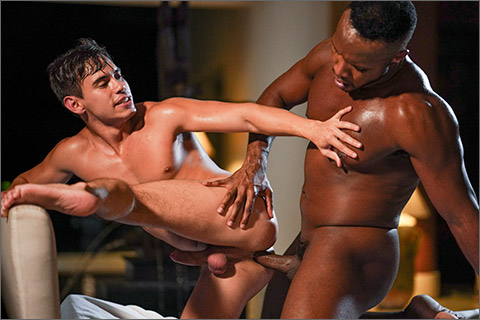 BATTERED BOY HOLES 2: Oliver Hunt Rides Andre Donovan's Big Black Cock
Oliver Hunt rides Andre Donovan's big black cock in this exclusive gay bareback sex scene on Lucas Entertainment! Oliver Hunt has made his way through many of the Lucas Men, but he's never met a guy quite like Andre Donovan. Andre is tall, handsome, charming, and looks utterly incredible when he strips down and shows off his hot body and huge black cock. Andre and Oliver spend a romantic evening together, but neither wants it to end. Back at Andre's beautiful villa, the heat turns up as Oliver makes his move. Oliver Hunt is all about making sure his man's needs are taken care of, and he works on Andre Donovan from head to toe (and nipples, too, since Andre loves having them played with). Andre shows off his strength by picking up Oliver and holding him upside down while they 69 each other. And before the night is over, Andre Donovan pounds and batters the boy hole of Oliver Hunt!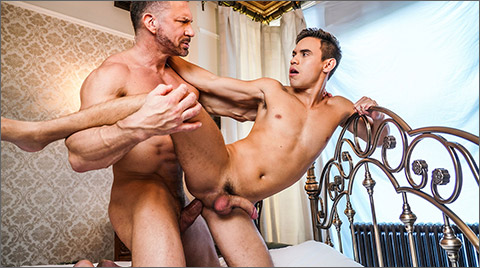 OPEN UP FOR DADDY: Tomas Brand Fucks The Hell Out Of Oliver Hunt
Tomas Brand fucks the hell out of Oliver Hunt on Lucas Entertainment! Out of all of Oliver Hunt's incredible features, it's his smirk youthful smirk that will grab your attention first. It's that devilish little smile of his that first pulled in Viktor Rom and Andrey Vic, leading to them both spit-roasting Oliver Hunt in the mouth and ass in his first Lucas Entertainment scene. Oliver has a strong attraction to men older than him in general… he has a fixation on daddies, and it's that fixation and his youthful good looks that draws the attention of Tomas Brand, the King of All Muscle Daddies. Tomas Brand strips down and reveals his Atlas-like physique to Oliver Hunt, who immediately starts working extra hard to open up for daddy! But Oliver soon shows a side many don't see, and with the cameras rolling, he spins his hulking muscle-daddy around and mounts him. After all, it's important for a daddy to know he's taught his boy well!
CLICK HERE TO GO TO HIS LUCAS ENTERTAINMENT DETAILS
VIDEO ON-DEMAND: LUCAS ENTERTAINMENT @ AEBN SMUTJUNKIES THEATER
DVDs & ON-DEMAND: LUCAS ENTERTAINMENT @ TLA VIDEO