Handsome Hung Black American Gay Porn Star, Nubius
Known Aliases: Anubis, Berlin
Years Active: 2007 – 2016
TWITTER @NubiusAdultStar
FALCON STUDIOS INFO:
hair: Black
body hair: Shaved Heavy
facial hair: Stubble / Goatee
height: 6ft 3in / 191cm
weight: 240lbs / 109kg
build: Muscular
skin: Black
tattoo: Deltoids
position: Versatile
Nubius (aka Anubis, Berlin) is a Miami stud born in 1978. He's been heating up the gay porn scene since 2000. This versatile performer tops and bottoms, but he does appear to have a special love of pounding a greedy bottom's ass with his black 9″ cock. At 6'5″ tall, he's naturally intimidating and that only adds to his dominant appeal. You can see some of his best work in Chocolate Cream's "Best of Nubius" and don't miss his other movies for Pitbull Productions, Flava Works, and Real Urban Men. To see him in a hot solo performance, check out Falcon's "Falcon Str8men 4."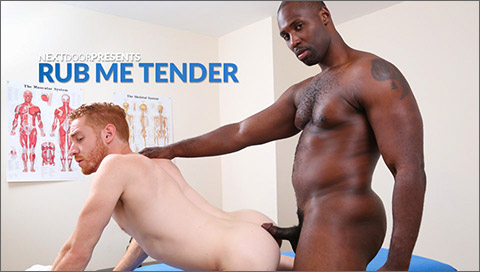 RUB ME TENDER
Leander is a rub-down aficionado. He's been to all the massage parlors in town and he's heard that Nubius's Nook is the best. Now he's stripping down, just after meeting proprietor Nubius, and preparing for what he's heard should be the rub of his life.
   When Nubius enters and begins lathering up his strong hands, Leander feels his cock swelling. As Nubius kneads and manipulates the tight spots, Leander becomes extremely aroused. Soon, Nubius's crotch area is right in Leander's face. Leander doesn't wait for any more signal than this. He's too hungry for firm dick. He pulls down the elastic on Nubius's shorts and lets that huge cock pop right out in his face.
   Leander sucks and Nubius works his fingers around Leander's tight, eager hole. After some good sucking from Leander, Nubius moves around to Leander's back side and has a taste of that wonderful ass.
   This, as Nubius knows, is perfect prep for that sweet hole to accept fat, swollen cock. Nubius takes full advantage and inserts his pulsating dong into his client's inviting butt.
   Join these two as Leander discovers his favorite new massage spot and Nubius enjoys an awesome day at work.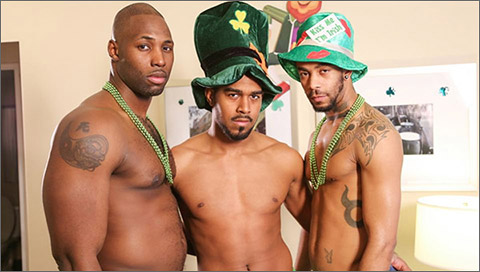 SAINT FATDICK'S DAY
There's a very special celebration that cums once a year. The Irish men who hang down by the corner pub know the occasion. It's a time to wear green, watch for little leprechauns, and also a time to enjoy large, meaty cocks. It's Saint Fatdick's Day! Nubius, XL & Jin Powers are three friends that just came from a Saint Fatdick's Day party at a friends. They had a few green beers and now they've retired to XL's place so they can get down to the reason for the season. Saint Fatdick's Day is all about hooking up with your pals. Jin has been waiting ALL YEAR to get his hands and mouth on Nubius and XL. XL has a strict rule that he only sucks cocks and gets fucked on this day. It's a joyous occasion! Jin and Nubius are each taking turns on XL. But first, Nubius is enjoying both his friends' large dicks at the same time. Watch him suck those fat dicks together. Then enjoy seeing Jin get fucked hard on his back, just the way he likes it each year on this wonderful holiday. Grab your pot of gold and your four-leaf clover hat. This is the time to revel in the wondrous, festive spirit of Saint Fatdick's Day!
NEXT DOOR STUDIOS
NEXT DOOR EBONY
ALL WORLDS VIDEO
LUCAS ENTERTAINMENT
CLICK HERE TO GO TO HIS NEXT DOOR STUDIOS DETAILS