Handsome Hung Blond Czech BelAmi Gay Porn Star, Nils Tatum
Known Aliases / aka:
Years Active: 2017 – 2019
BEL AMI INFO:
Nils is one of our new models with true star potential. Tall, blond, hung and handsome he really does have it all.
   Nils first appeared on Freshmen 2017 and is featured during our 'Summer Break' series in a scene with Hoyt and several photosessions and documentaries.
2018 will see a lot more of Nils as he is part of both our Viva Colombia series on Freshmen and our African special starting February on BelAmiOnline. In December 2017 he has his first feature DVD release 'My name is Nils', but we are sure that it won't be his last.
Eye Color: Blue
Zodiac: Aquarius
Dick Type: Average
Dick Size: 17
Hair Color: Brown light
Height: 189
Weight: 84

CONDOM FREE: NILS TATUM & NIKO VANGELIS
Wrapping up an all-star week here on BelAmiOnline we have the impossibly handsome Nils Tatum together with rising star, Niko Vangelis. This Niko's 2nd scene with us and you can still see that having sex in front of the camera is a bit of a strange experience for him. Luckily he has someone as experienced and caring as Nils to make the whole experience more enjoyable. Once the sex heats up a bit though he seems to even forget that Marty is there filming the whole thing. Niko will be back with us next during our Hungarian Heaven special partnered with Steve Harrelson.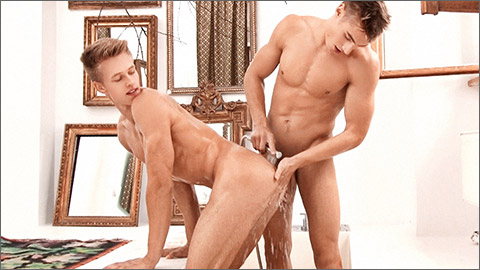 SUMMER BREAK: TORSTEN ULLMAN & NILS TATUM
As our Summer Break image set's come only every 2nd week, this is the penultimate set that we have for you. Two of our blond gods, Torsten Ulmann and newcomer Nils Tatum are in front of the camera for Rick Day today.
   Both guys are at their physical peak here, tall and statuesque, and Rick Day fully utilizes all areas of the castle and gardens for this shoot. I am not sure of the reason why, overwork, nerves, session taking too long, but for whatever reason the boys missed their 'money shot' for this shoot (don't worry, we still paid them) but we thought it was still fine to bring to you without.. We will see the pair of them together in a scene fairly soon anyhow.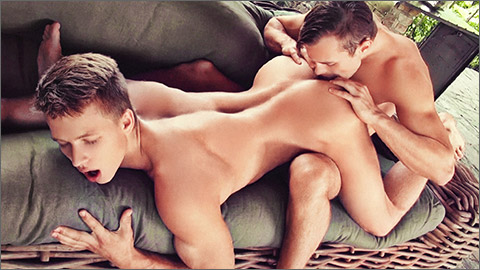 SUMMER BREAK 15: HOYT KOGAN & NILS TATUM
It took a lot to decide which of Nils' scenes we would bring you today as his premiere on BelAmiOnline. In the end, we opted for this one where he is bottoming for Hoyt Kogan. This was the first production that Nils was on and we knew it would be quite an ask for him joining in on a major shoot right at the start of his time with BelAmi, but we think he did rather well for a newcomer. You have seen him in backstage footage here also with Jamie, but you will have to wait a little while for that scene.
   By now I think that most of you will be just as familiar with Catello KInkyAngelo as we are and after a bit of watersports in the introduction, we retire to our much-loved barn for the main action.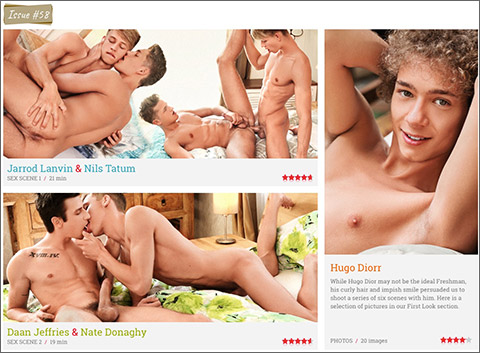 FRESHMEN ISSUE 58: Jarrod Lanvin & Nils Tatum
Here is a Nils Tatum scene with Jarrod Lanvin being the lucky recipient of his ardour. Both boys share blond good-looks and a ravenous sexual appetite making them a very compatible couple. Most of you are now Nils fans so, as usual, we are anxious to hear what you have to say about this scene.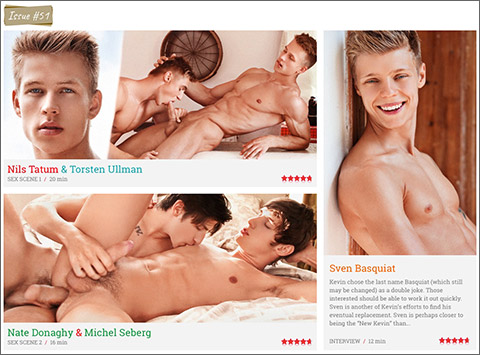 FRESHMEN ISSUE 51: Nils Tatum & Torsten Ullman
No matter how much we try to prepare models for the rigors of having gay sex on camera, there is some inevitable nervousness during a model's first few scenes. This can come across as aloofness. Trust me, with Nils and Torsten, it is the presence of a film crew and not the absence of chemistry that may make Nils seem apprehensive. They are a near perfect couple and we hope you enjoy them as much as they enjoy each other.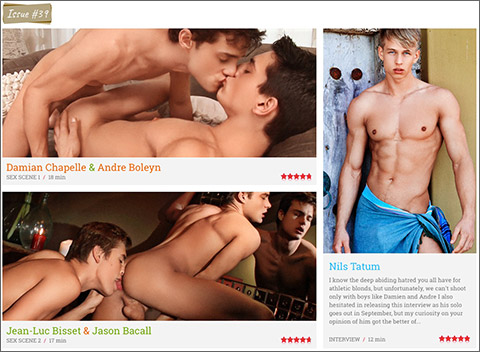 FRESHMEN ISSUE 39 – INTERVIEW: Nils Tatum
I know the deep abiding hatred you all have for athletic blonds, but unfortunately, we can't shoot only with boys like Damien and Andre I also hesitated in releasing this interview as his solo goes out in September, but my curiosity on your opinion of him got the better of me, so here he is in all his blond athletic glory. Hope you're not too upset.
Hot or Not? Let us know.
[Total:

114

Average:

4.1

]