Hairy American Gay Porn Star, Nigel March
Known Aliases:
Years Active: 2018 – 2019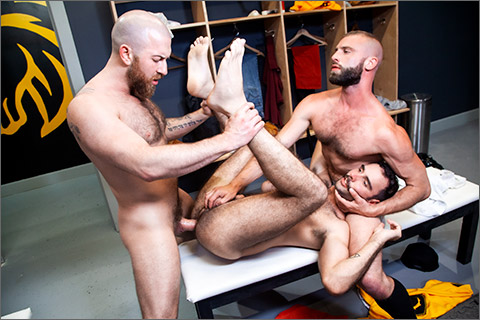 OUTTA THE PARK: Nigel March, Anthoni Hardie & Donnie Argentino fuck around
During the Stallions game Anthoni Hardie slips into the locker room to sniff the team's dirty jocks. He hits the mother lode when he finds a laundry bin stuffed to the brim with old smelly jocks. Ball players Nigel March and Donnie Argentino catch the culprit in the act. When Anthoni asks for a couple to take home, Nigel offers up his own sweaty sack for Anthoni to sniff. Anthoni gets on his knees between the two hung baseball players and goes back and forth sucking each of their musky dicks. Donnie wants in on the ball action and moves past first base to get Nigel's thick cock down his throat. The hunks form a rim train with Anthoni in the middle, both sucking ass and getting eaten out. All the ass eating gets Donnie in the mood to fuck bareback and he moves to the scoring position with his ass in the air. Nigel steps up to the plate and drills Donnie hard, sinking his cock deep into his teammate's open, raw ass. Anthoni feels left out and bends over under Donnie to give Nigel all-access to two tight holes. Nigel plugs both studs hard alternating holes until Anthoni flips over to watch his aggressor fuck him deep. Nigel hits just the right spot and makes Anthoni cum while he's getting fucked. When Nigel sees Anthoni's mess, he pulls out and blasts a load all over Anthoni's thick, black pubes. Nigel finishes and goes directly in for a double play when he slides his cock back into Donnie and fucks his buddy until Donnie slathers himself with his creamy white cum.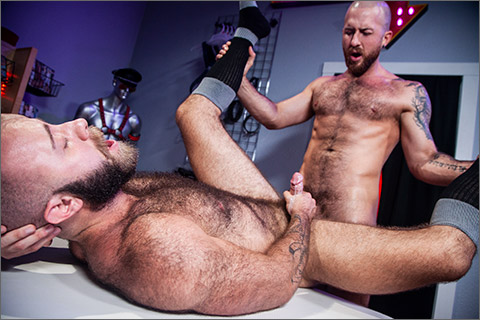 OTTER EROTIC: Nigel March fucks Teddy Bear
Nigel March is manning the front desk at the sex shop when Teddy Bear comes to the register seeking coins for the peepshow. Nigel finds Teddy irresistible and makes the first move when he steps around the counter to show his fat cock to Teddy. Teddy accepts the challenge and gets on his knees to try to cram the big dick down his throat. It's extra thick and barely fits but Teddy has an idea of where it will fit best. The hairy otter bends over and offers up his fuzzy hole. Nigel can barely contain his excitement as he bends down and munches on Teddy's hole. When Nigel is convinced that Teddy's ass is ready, he slides his fat dick deep into Teddy and starts pumping away. Teddy loves all of the cock filling his hole and wants to switch it up a bit. The horny stud rolls over on his back and lets Nigel slam his ass as the two hunks lock eyes. Nigel's thick cock hits just the right spot and Teddy can no longer hold back. He blasts his thick load as Nigel keeps fucking him deep. Nigel wants his turn now and pulls out to spray Teddy's hairy hole with cum.
CLICK HERE TO GO TO HIS RAGING STALLION DETAILS
VIDEO ON-DEMAND: Nigel March @ AEBN SMUTJUNKIES THEATER
DVDs & ON-DEMAND: Nigel March @ TLA VIDEO