Frisky Uncut Tattooed American Gay Porn Star, Nic Sahara
Known Aliases:
Years Active: 2018 – 2021
HOT HOUSE INFO:
Cock: 7.5″ uncut
Body Hair: Moderately hairy
Height: 5'11"
Hair Color: Dark brown
Eye Color: Brown
Position: Versatile
Body Type: Gymnast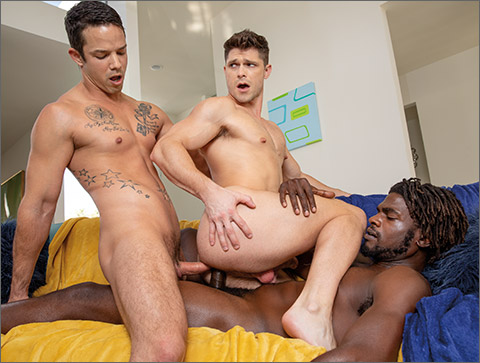 BORN TO PORN: Nic Sahara & Devin Trez DP Double Pentrate Devin Franco
As Devin Franco and Nic Sahara are about to get down to business, Devin Trez joins the duo to get his cock sucked by them both. Devin Trez savors every moment that Devin Franco and Nic spend, devouring his cock. After fucking their throats, Devin Trez lines up the studs to he can rim Nic's ass while Devin Franco gets his cock sucked. With Devin Franco's dick in his mouth, Nic takes Devin Trez's pole up his hole. When it's Devin Franco's turn to get stretched, he hops on top to ride Devin Trez's meat bareback while Nic licks them both from behind. Nic wants in on the fun and lines up to DP Devin Franco. After squeezing his cock into Devin Franco's tight ass, Nic switches it up to feed Devin Franco the cock that was just in his ass while Devin Trez keeps pounding away. Devin Franco keeps sucking Nic's cock until a fresh load is delivered right his mouth as he gets bred by Devin Trez. Franco sits back one last time to jerk his cock until his nuts while Devin Trez fingers his hole.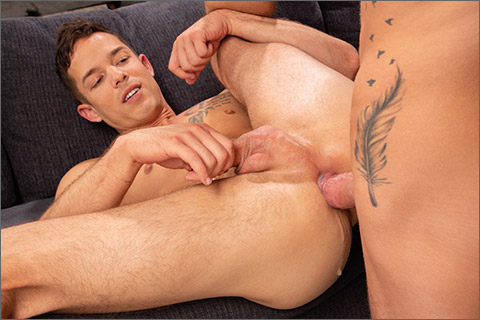 CASUAL CONNECTIONS: Steven Lee fucks Nic Sahara
Nic Sahara walks in after a long day and finds Steven Lee relaxing on the couch. After Steven asks Nic how his day was, Nic immediately gets excited and hops over the couch to lock lips with Steven. As the kissing gets more and more passionate, Steven is bulging thru his shorts. Nic quickly slides them down and immediately takes every inch of Stevens big cock in his mouth. Soon the two are naked and Steven returns the oral favor, pleasing Nic moving from dick to ass. Steven lays down on the couch for a 69 session with Nic riding his face, while Nic keeps taking Steven's inches down his throat. Nic is eager to take all of Steven's girthy cock inside him so he hops up and takes Steven's bare dick for a ride with his inviting hole. With Steven throbbing, Nic climbs on top to feel the massive pole all the way inside of him. When Nic wants to give Steven the reins, he bends over the couch to let Steven pound him from behind. Nic can't get enough and switches to his back so he can watch Steven go all the way in and out. Steven keeps drilling Nic's hole until Nic strokes a puddle of cum all over his abs, followed by Steven shooting his load all over Nic's sloppy wet hole.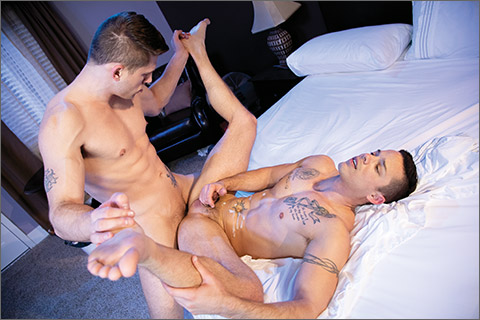 ROOM 106: Nic Sahara & Roman Todd flip-fuck
Roman Todd and Nic Sahara are getting back late to their room after a long day working. Exhausted and drained, Roman decides to hop in the shower to recharge, tossing his underwear to the other side of the room. Nic quickly snatches them up to inhale Roman's all-day man-scent. In middle of the night, Nic takes out Roman's dirty underwear and begins to rub his hard cock while deeply inhaling Roman's scent. Roman wakes up and catches Nic beating off. Sensing that he can get Nic to help him with his own cum-filled balls, Roman tells Nic a story of how he let a guy suck his dick. Interested and sheets tented, Roman invites Nic to his bed to swallow his cock. Nic's loving every inch of the initiation and takes Roman's thick dick down his throat and to the balls. After Nic is done deepthroating Roman's cock, he feeds his meat to Roman's face. Making sure he doesn't miss out, Roman slurps down Nic's uncut cock. For a hot 69, Nic gets on top of Roman, and sucks Roman's dick again while Roman rims Nic. It's not long before Nic's hole is ready, and he's bending over the bed to take his co-workers thick, bareback cock. Roman eases into Nic and quickly starts pounding the stud doggy-style. After Nic has had his ass slammed by Roman, they go for an intense flip-fuck, with Nic plowing into Roman and drilling the tatted hunk with his uncut, bare rod. They switch it up one last time with Roman pounding Nic to finish him off. Seeing Nic stroke a load out onto his abs sends Roman over the edge, so he pulls out and adds his own load to the mix, leaving Nic a wet, sticky mess. Roman slides his spent cock back into Nic's hole one last time and says, "you need to give me my underwear back."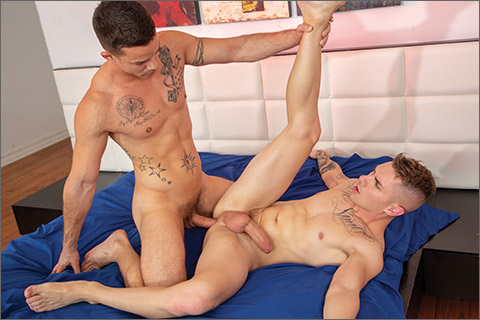 THE PLEDGE: Nic Sahara fucks Zak Bishop
Nic Sahara wants Zak Bishop to sponsor him to the fraternity, but Zak isn't willing to do so without some favors in return. Zak clearly has the upper hand with Nic and is going to take advantage of the pledge's offer to do anything it takes to get Zak's help. Having Nic's cock fill every hole bareback is Zak's sole desire. Nic quickly obliges by pulling it out, and Zak drops to the floor and takes Nic's big, uncut dick in his mouth. Zak works the big cock with his mouth and tongue getting the college stud hard as a rock before hopping on Nic's dick to ride it raw. Zak's love of cock kicks in even harder when he decides to let Nic have complete control and rolls over onto his side. Nic slides his bare cock into Zak once again and pounds the young frat guy's ass hard, making Zak yell out with each thrust from his thick, raw cock. Nic keeps drilling Zak's prostate and flips him onto his hands and knees to continue the relentless pounding. Nic doesn't stop until he's ready to blow and pulls out to blast his load on Zak's balls. Nic sticks his spent dick back into Zak's used hole and fucks the cum out of Zak, leaving the hunk covered. Will the hardcore fuck and a load up Zak's ass be enough for Nic to win his pledge?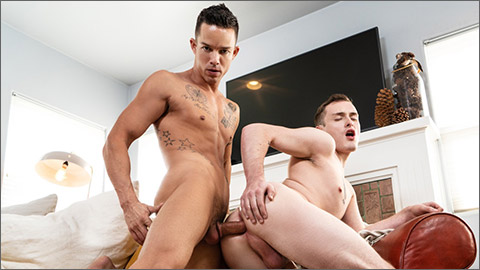 TOYS FOR GROWN-UPS
Nic Sahara and Josh Cannon have done their research before filming their first scene together, but both these guys agree that the other looks way hotter in person. The guys swap compliments and then swap spit, making out before they take turns sucking each other's hard cocks. Nic plays with Josh's hole and the bottom can't wait to get in the saddle and ride Nic's dick. Nic has his way with the cute bottom, fucking him nice and deep in doggystyle and spoon, then laying him on his back for romantic missionary till Josh cums, and Nic pulls out to jizz all over him.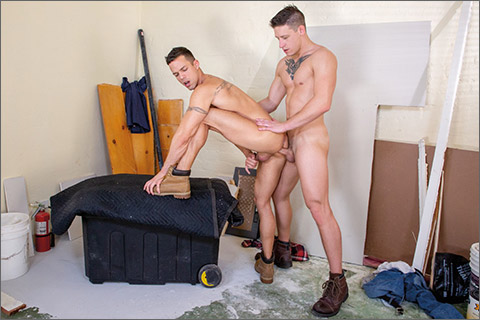 HOT HOUSE FLIPPERS: Dalton Riley & Nic Sahara flip-fuck
In a brief recap, the second episode of 'Hot House Flippers' catches up viewers on buyer Wess Russel's vacation home makeover as he and host Ryan Rose watch the crew on camera. Construction foreman Dalton Riley checks in on his drywall guy Nic Sahara, who is looking for studs. Slightly ahead of schedule, they take a break for hot blowjobs and a bareback flip-fuck, as Dalton whips out his thick, hard cock and Nic reveals his uncut monster meat. Dripping with sweat in the Palm Springs heat, Dalton sucks Nic's dick and rims his tasty hole, then fucks him raw and hard. Nic switches it up, and nails the boss and pounds his butt till they both spill their seed on the bossman's balls and abs.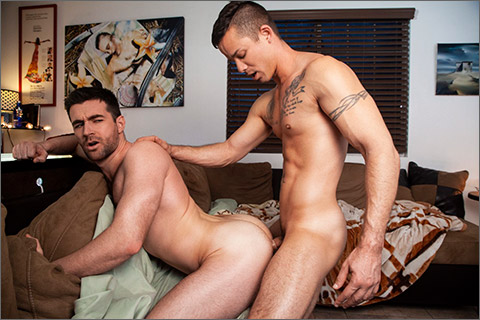 FIVE BROTHERS: FAMILY VALUES: Nic Sahara fucks Woody Fox
Its 3am on the Las Vegas Strip and everything is lit, including Nic Sahara. Nic stumbles out of a liquor store and heading to his car. Sexy Aussie Woody Fox sees Nic fumbling with his keys and looking like he's having a really bad day, so Woody offers to help drive the car and drunk Nic home. As soon as they get to Nic's, its on! Nic feasts on Woody's huge cock and Woody fucks his face with tears streaming down his face. Woody flips Nic over his lap and eats Nic's cute bubble butt. Woody sits back as Nic climbs on top of him and lowers his perfect ass on Woody's throbbing huge cock. Nic rides Woody reverse cowboy and the giant dick slams into Nic's hole. They Nic says "Now I want to fuck you!" Woody is hesitant "Uhhh, that's not really my thing, but ok" why not! Go for it. Nic bends Woody over and delicately eats Woody's virgin hole. Then Nic stands to fuck Woody doggie-style for the first time! He starts slow, then eases into pounding Woody's virgin white ass. Then Nic begs Woody to fuck him again with his gigantic dick, choking him until Nic blows his load all over then drops to his knees to suck down every drop of Woody's hot load. Woody's Aussie charm and huge cock are a wonderful distraction from the haunting troubles of Nic's dark world.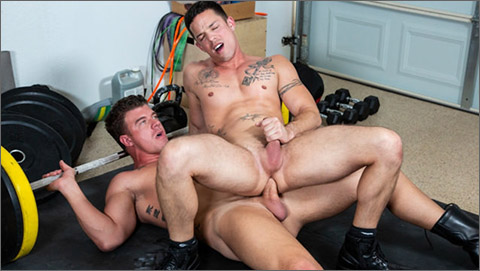 RAW WORKLOADS: JJ Knight fucks Nic Sahara
JJ Knight and Nic Sahara have been hired to organize a client's garage. After finishing the job, the two jocks play around on some gym equipment. As Nic shows JJ how many pull-ups he can do, JJ pulls down Nic's pants and starts eating his smooth hole. All the licking makes Nic rock-hard and he turns around to let JJ suck his long, uncut cock. With Nic's used-up undies pressed to his nose and Nic's dick in his mouth, JJ can't get enough of the hung stud. JJ needs his massive dick sucked too and pulls down his pants to reveal his mouth-watering monster cock. Nic can't resist the sight and gets on his knees to service JJ's pole to the base. After sucking JJ, Nic is ready for his friend in his ass and bends over to take it all. JJ slides his raw swollen dick all the way inside Nic, making the stud moan with each bareback thrust from behind. Both studs enjoy the fuck session and switch up their positions a few times until they settle on Nic getting banged on his back. JJ picks up the pace and brings the bare fucking to a frantic climax. Nic needs to cum soon and as JJ pumps his stretched-out hole, he blasts his giant load all over his ripped abs. JJ loves seeing the pleasure he's caused and pulls out to bust his nut all over Nic's spent cock and balls and then fucks the cream into Nic's throbbing ass.
CLICK HERE TO GO TO HIS HOT HOUSE DETAILS
VIDEO ON-DEMAND: Nic Sahara @ AEBN SMUTJUNKIES THEATER
NOW STREAMING: Nic Sahara @ NAKEDSWORD