SpunkWorthy American Gay Porn Amateur, Nash
Years Active: 2015
SPUNK WORTHY INFO:
Nash loves being naked. He was stationed here in San Diego a few years ago and was all about the local nudist scene– Blacks Beach being one of his faves.
   He had wanted to make a trip back to town and a mutual friend of ours suggested he get in touch to make some cash while he was here. Nash isn't new to the cameras, either. He'd done a solo video a few years ago and likes showing off and the idea that people are getting off watching him.
   After soaking up some rays at the nude beach, it was about time to head back to the studio. Nash had started getting a raging hard-on while hanging out there and we didn't think the lifeguards were going to be too happy about that.
   He normally jacks off 2-3 times a day and had saved up for a couple days, so no wonder he was ready to go!
   With Nash's thick build, I took him for a wrestler at first. But he was a football lineman. "A beast of one," as he put it. No doubt his massive legs helped there, and certainly made for one hell of a great ass.
   Nash mentioned that he doesn't hold back when he cums, sometimes waking up his neighbors, he joked. I wouldn't be too surprised, though. It was intense and explosive, even hitting himself in the face, armpit, and coating his chest in jizz.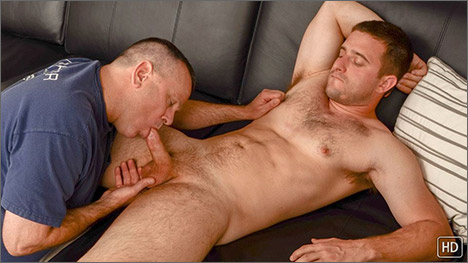 BLOWING NASH
There are lots of things to like about Nash. One of them is that he is always horny. The day he showed up for this shoot was no different– I swear, he was already pitching a tent in his shorts when he walked through the door, so I wasted no time getting to work.
   Nash wasted no time telling me how he wanted things done, either.
   "Right here," he said, pointing to his nipple. "Play with them." (That should be an answer to those of you who've emailed in asking if he likes his nipples played with!)
   He'd already mentioned that he loved getting rimmed which was music to my ears. I couldn't wait to push his legs back and bury my tongue between his cheeks. When Nash flipped over onto all fours, it was like a slice of heaven. Clearly, it was for both of us! Nash moaned in pleasure and appreciation.
   By the time he stood up, Nash was in full-throttle mode. He grabbed the back of my head and started jack-hammering my mouth with his cock. Nash might not have the biggest dick in the world, but he certainly knows how to use it.
   I took a cue, knowing that Nash's nipples were wired to his cock, and spent time making sure they weren't ignored. And it was one last tweak to them that pushed him over the edge. Cum time came in a super intense orgasm. Nash thrusted his hips and blasted his stomach in thick globs of jizz.
Tags: Oral, Hairy
BLOWING NASH
NASH'S MASSAGE
NASH
CLICK HERE TO GO TO HIS SPUNK WORTHY DETAILS