American Gay Porn Star Muscle Daddy, Myles Landon
Known Aliases:
Years Active: 2015 – 2020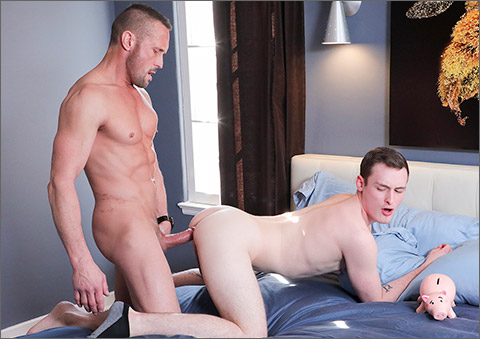 CHAPTER 1: TEEN DAD
Little Josh Cannon needs some money from his stepdad, Myles Landon, to pay for his girlfriend's abortion! To earn the cash, he sucks the old man's monster cock, bends over and enjoys a delicious rimjob, and then bounces on his erection before enjoying a load of the big guy's semen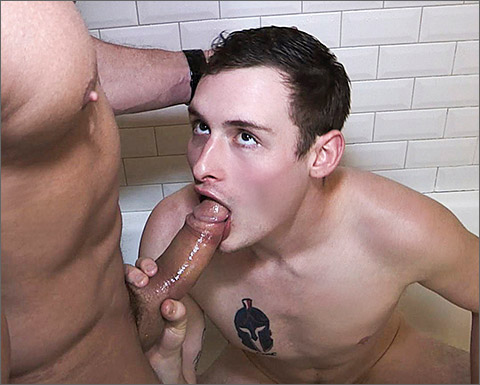 CHAPTER 2: THE HOLE STORY
When seductive Josh Cannon's stepdad, Myles Landon, catches him fingering his own asshole in the shower, sparks fly. The old man joins him in the shower, plows his puckering asshole, and covers his rim in jizz!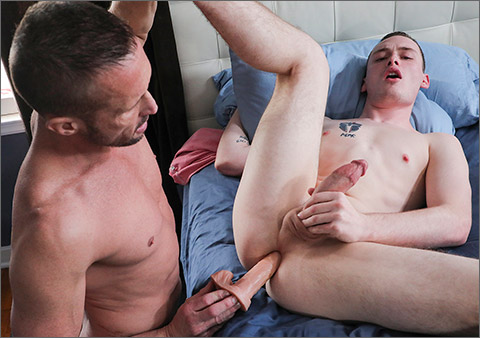 CHAPTER 3: TOYS FOR GROWN-UPS
Gorgeous Josh Cannon gets caught by his stepdad, Myles Landon, while he's in the middle of playing around with his mom's dildo. The old man shoves the toy in the boy's tight asshole and then replaces it with his meaty member, filling his bubble butt with sticky sperm.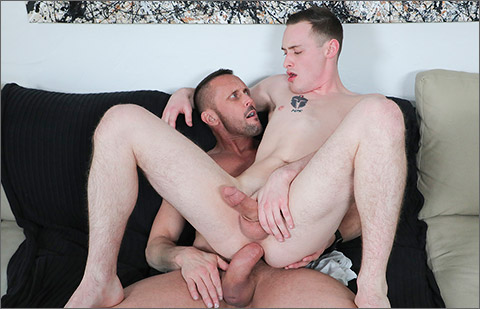 CHAPTER 4: TICKLE TORTURE
Cute Josh Cannon has been smoking too much pot, and his muscular stepdaddy, Myles Landon, is not happy about it. To punish the boy, he licks his feet lasciviously and penetrates the kid's delicious asshole until they reach a gooey climax!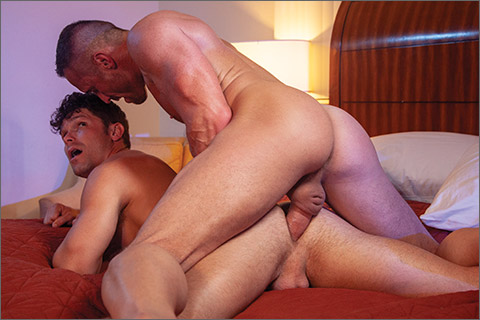 BEACH RATS OF LAUDERDALE: Myles Landon fucks Devin Franco
Devin Franco is chillin' by the beach when his buddies drop by looking for some weed. None of them have enough cash so they hatch a plan to roll a local hotel to get some money. After the heist, Devin is down on himself for being a part of the plan when he receives a text from muscle daddy Myles Landon and heads on over to his hotel for a quick fuck. The two meet with no words at all and Devin lies back on the bed while Myles pulls out his massive cock to cram it down Devin's eager throat. After face fucking the toned Beach Rat for a bit, Myles flips Devin over and shoves his tongue up his ass to open it up for his giant dick. When Myles has had enough of the foreplay, he slides his raw dick deep into Devin's ass. Devin receives the massive member with pleasure and loves the feeling of the muscle daddy pounding in and out of his hole. After throwing Devin around in multiple positions, Myles is ready to blow. He fucks Devin a little faster and drives a little deeper until he unleashes a geyser of cum all over Devin's hairy hole. Myles shoves his bare cock back inside and keeps Devin's ass full until Devin shoots a load of his own all over his muscled-up beach bod.

OVERPOWERED: Myles Landon fucks Micky Jr
Myles Landon is hard at work in the garage when Micky Jr stops in to deliver some parts. After Myles receives the package, he gets Micky to stay and give him a quick hand with a van he's working on. After Micky helps out, he heads for the door, but Myles grabs the delivery boy, pulls him into his throbbing package and gropes his firm ass. Micky's libido is 'Overpowered' by the ripped mechanic, Mickey drops to his knees deepthroating Myles 9-inch tool. Myles fills Micky's mouth with cock before returning the favor with a sopping wet hummer. Myles continues to please the delivery boy when he bends him over against the van and lathers Micky's hole with his long tongue. Myles uses his tank top as leverage around Micky's neck as he parks his big meat in Micky's open hole. Micky gets drilled doggy style until he falls to his knees one last time to catch Myles' thick load into his open mouth. Covered in cum, Micky uses the cum on his face as lube to shoot his load out onto the shop floor.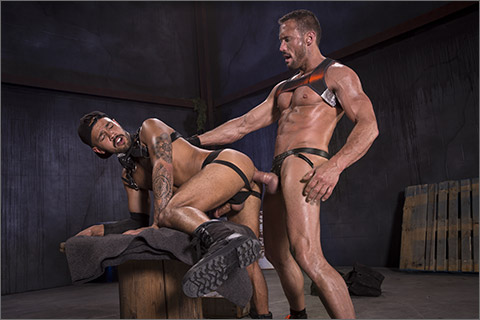 WASTELAND: Myles Landon fucks Talon Reed
Talon Reed is out on patrol in the post-apocalyptic 'Wasteland'. He stumbles across supplies – food rations and water – that must have been abandoned in a surprise attack. Talon brings the loot back to base and shows his find to Myles Landon. "You know what this means, right? It's reward time," says Myles as he removes his codpiece to reveal his fat, heavy cock. Grinning devilishly, Talon leans in and sucks Myles' rock hard cock until it's dripping with spit. Myles bends Talon over and rims his ass, parting the furry cheeks and pushing his saliva in with his tongue. With Talon's ass wet and willing, Myles stands up and fucks him doggy style. Grabbing Talon's harness, Myles pulls him backwards, which drives Myles' cock even deeper inside. Myles' six-pack abs ripple as he thrusts his hips, and Talon revels in every motion. Lying on his back, Myles invites Talon to go for a ride. Grinding up and down, Talon fucks himself on Myles' rod, picking up speed and intensity every second. Flipping into missionary position, Talon jerks out his load as Myles uses his throbbing cock to stretch Talon's ass. Pulling out, Myles strokes his cock and delivers a gushing stream of cum that drenches Talon's stomach.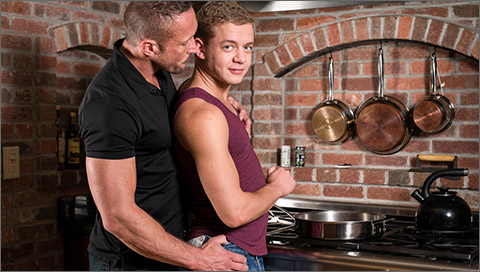 REAL COUPLES BAREBACK: Myles Landon fucks Ian Levine
Muscle Daddy Myles Landon and smooth muscle twink Ian Levine are nothing if not an unconventional pairing. Myles and Ian cuddle playfully, their taut muscular bodies pressing up against one another. Myles can't get enough of his smooth young trophy boy, his hands slick with massage oil, rubbing every inch of his body. Hands sliding down his toned back, his smooth bubble butt framed by his jockstrap are revealed. Myles strokes his thighs, servicing his boy, his tongue moving along Ian's chest and up to his ears. Kissing him passionately, Ian passively relishes the affection before Landon moved down to focus on his boy's tool and hole. Ian climbs on Myles, his cheeks spread, we see his smooth hole. Ian sucks on Myles' big uncut dick. Myles kisses Ian before, licks his ass, and sucks his dick while Ian is face down. His nose plunges into the young man's hole. Myles rubs his stiff cock on Ian's smooth hole, opening him up, he works him in and out.
   Ian moans in pleasure as the thick rod plunges into his submissive hole. Myles pulls his boyfriend close, kissing him as he pounds his ass harder and harder. Fucking in many positions before lifting Ian's ass to help position his hole, Myles fucks the cum right out of his his younger boyfriend, his hot thick load spewing onto his smooth stomach. Scooping the cum off his young friend before letting him tease himself off his tongue. Myles only increases in intensity, bringing himself closer to climax as he rails his boyfriend to bring himself to the edge.
   Holding his arms, he pounds his hole as Ian thrusts back into his throbbing dick, moving his bubble ass into his daddy. As Myles gets closer, he blows his load all over Ian's back. Ian relieved and happy that he made his boyfriend cum.
VIDEO ON-DEMAND: Myles Landon @ AEBN SMUTJUNKIES THEATER
DVDs & ON-DEMAND: Myles Landon @ TLA VIDEO