American Gay Porn Star & Director, Mr. Kristofer
Known Aliases: Steve Landess, Kristofer Weston
Years Active: 2009 – 2017
TWITTER @KristoferWeston
BOUND JOCKS INFO:
SIGN: Capricorn
HEIGHT: 5′ 11″
WEIGHT: 180 lbs
DICK SIZE: 8.75″ cut
POSITION: Top
BoundJocks.com is the brainchild of director Mr. Kristofer who has over 25 years in the BDSM world. He has worked for many fetish companies in the past including Drummer Magazine, RoB of Amsterdam and MASTA Entertainment before becoming a full time director at Falcon Studios Entertainment and later COLT Studio Group.
Mr. Kristofer has been a long time bondage enthusiast who got his start in 1990 in front of the camera as bondage boy Steve Landess. Now Mr. Kristofer brings all of his unique talents he has acquired over the years to BoundJocks.com. Mr. Kristofer and his crew tie up the world's hottest jock-type guys for you to watch up close and personal as they squirm and struggle for you to enjoy..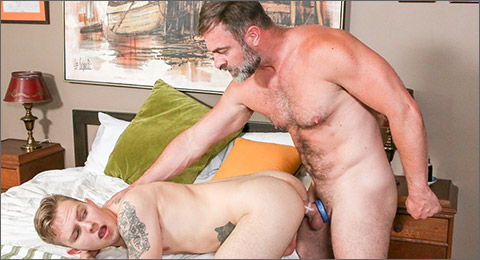 BONER
Kristopher has been waiting up all night for his stepson to come home. The sun is up and finally, Timothy comes walking in and Kristopher startles him by demanding to know where he has been and why he is home so late. Timothy disrespects him and so he gets sent to his room but his stepdad is hot on his trail. Kristopher grabs Timothy and they begin kissing. Timothy starts to enjoy it and becomes hard and his step-dad pulls his pants and begins sucking on his hard young cock. Timothy has been waiting for this moment for some time now and his moans of pleasure show just how much he loves his step-daddy worshiping his hard dick. Kristopher demands that he blow his hard cock and Timothy wraps his eager mouth around his cock and begins to gag on it. He takes it deep as his stepdad fucks his young mouth pumping him deep and pushing his face into his dick. Timothy spreads his legs wide and puts his ass up in the air so his step-dad can bury his beard and tongue in his tight young ass. Kristopher gets his ass dripping wet as Timothy's moans become louder and louder. His hole begins to open up for his stepdad and so Kristopher slides a condom on and pushes his hard cock deep into his stepson's tight hole. Timothy loves the feel of his stepdad's throbbing cock pulsating in his ass. Kristopher pumps his tight ass harder and harder making him squeal with pleasure. Soon enough his stepdad is fucking him all over the bed until he fucks all the cum right out of his young stepson. He pulls out and shoots his hot load all over Timothy's smooth young cock.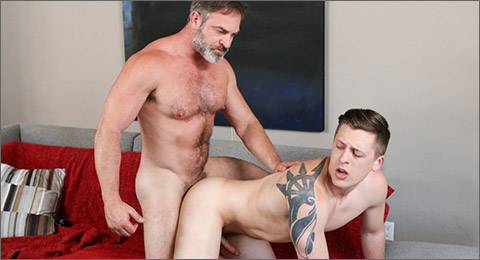 SWEATY PITS
Tyler is out for a jog before he begins the day. By the time he gets back home Kristopher is wondering where he was and why it took so long. Tyler told him he would be back soon but now they will be late for a prior engagement. Kristopher isn't too happy about it and begins to sniff Tyler's sweaty pits and from there they begin to kiss. Tyler drops to his knees and begins sucking on Kristopher's hard cock. He's gagging and deep throating his throbbing dick. Tyler loves sucking cock and it shows with the care he takes with every inch in his mouth. Kristopher doesn't want Tyler to get all the fun so they switch it up and he starts blowing Tyler's young eager dick. Tyler loves his older boyfriend's skills as he sucks on that hard smooth cock. They move the fun into the living room where Kristopher bends him over on the couch and rims his ass deeply licking his hole and fucking it with his wet tongue. Tyler can barely take it as his cock is oozing precum out. Tyler's hole is nice and wet now and Kristopher pushes his hard cock balls deep into him and starts fucking slow and soon enough he is pounding that young tight ass. Tyler loves being fucked by older men. Kristopher lays him on his back and fucks the cum out of him as he jacks his cock with every thrust. Kristopher pulls out and strokes his cock until every last drop of cum is on Tyler's smooth chest and then he feeds the cum to him with his hands.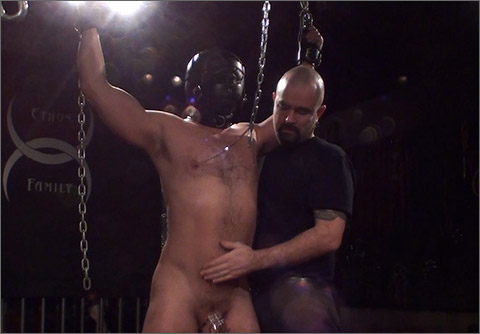 #12272015 SIR PAN ABUSES MR. KRSITOFER
PRIDE STUDIOS
BOUND JOCKS
IRON LOCKUP
CLICK HERE TO GO TO HIS BOUND JOCKS DETAILS