Next Door Studios American Gay Porn Star, Mitch Hanson
Known Aliases / aka:
Years Active: 2016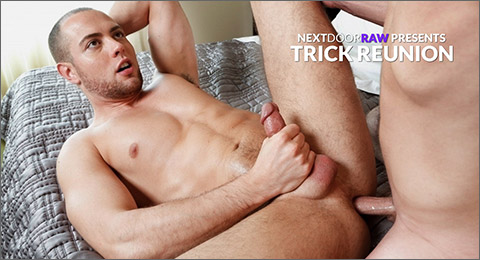 TRICK REUNION
As he goes about his delivery route, it's just another day for Mitch Hanson. That is, until his latest drop-off reunites him with a once familiar face. Brendan Phillips hasn't seen Mitch since their days together on the east coast, and now that Mitch is standing in front of him, he can't believe it. Mitch doesn't seem to recognize Brendan at first, but once reminded, a sly grin etches across his face, recalling the times they spent together. Brendan asks Mitch if he can help him with the package, and Mitch asks coyly which package he's referring to. Moments later he has his answer, as Brendan throws him down on the bed and picks up where they left off so many years ago. Sucking him off, Brendan gets Mitch hard as Mitch straddles his face and returns the favor. Mitch mounts Brendan's raw cock and rides him for old times sake, taking his old friend's pounding as he runs his hands down Brendan's chest. They switch up, and Brendan bends over as Mitch delivers a different sort of package, banging Brendan from behind as he smacks his ass, before flipping Brendan over and fucking the cum out of him. Brendan is a sweating hot mess as Mitch pulls out and blasts him with his load, coating Brendan for old time's sake, prompting both of them to wonder why they went so long between meetings. Nonetheless, Mitch makes a mental note to make Brendan's house a regular stop on his new route.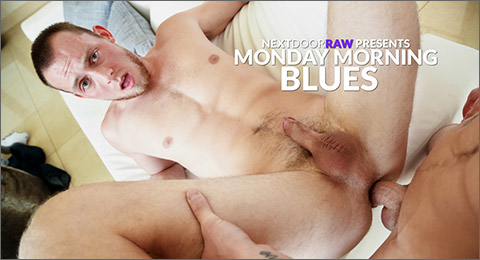 MONDAY MORNING BLUES
With another work week staring him in the face, Mitch Hanson needs all the inspiration he can get just to motivate himself. While he hates his job, he must admit that there is one perk to going into the office, and that perk is co-worker Quentin Gainz. Quentin's soft eyes and ripped frame dance in Mitch's imagination, and he throws his head back against the couch as he strokes himself off, fantasizing about all the things he'd do to Quentin if he were allowed to do so: slowly unzipping Quentin's jeans and going down on him, feeling his meaty cock fill up his mouth, eating Quentin's perfect ass before sticking it in, fucking Quentin from behind as he grabs him by the shoulders and pulls him closer, and then switching up and letting Quentin fuck him raw, watching Quentin's cock go in and out before nutting all over Mitch's hole. Luckily for Mitch, some fantasies do come true.
CLICK HERE TO GO TO HIS NEXT DOOR STUDIOS DETAILS