Blond Handsome William Higgins Czech Gay Porn Star, Mirek Belan
Known Aliases:
Years Active: 2015 – 2019
WILLIAM HIGGINS INFO:
Age (2015): 21
Home Town: Prague
Height: 180cm/5'10"
Weight: 75kg/165lb
Foot Size: EU44/US8.9/UK8.4
Penis Size: 18cm/7.09″
Profession/Student of: University student
Hobbies: Sport
Favorite Sports: Swimming
Active Sports: Fitness
Movie/Music/Sport Stars: Keanu Reeves
Visited Coutries: Portugal
Want to Visit Coutries: USA
Dream of My Life: I don't know.
Zodiac Sign: Sagittarius (November 22 – December 21)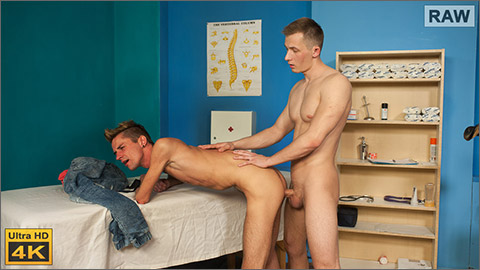 CZECH UP: IGNAC DLOUHY & MIREK BELAN RAW
Ignac Dlouhy is one very sexy guy. We brought him in for a Czech Up with Mirek Belan. Ignac arrives, to have some treatment on a damaged knee. Mirek tells him to strip down to his underwear so that he can check him out. Ignac lays on the examination table and Mirek gets to work checking his body. He oils the legs and massages them working his way up to Ignac's groin and, pulling the underwear aside, massages that as well. Mirek takes his work seriously, and likes to make his patients feel comfortable. Ignac slips a hand into Mirek's underwear and gropes him. Then he moves down and kisses his balls. Ignac's cock gets very hard and soon Mirek pulls it out and sucks on it. He removes Ignac's underwear and really sucks on that hard cock. Then Mirek moves Ignac again and begins to fuck him. Mirek's dick slides in and out of Ignac's ass, stretching the hole real good. Ignac turns over and wanks himself and Mirek fucks him some more. Soon Ignac shoots his cum as Mirek's dick is deep in his ass. Mirek continues his fucking until he is ready to blow too. It seems Ignac is fully rehabilitated.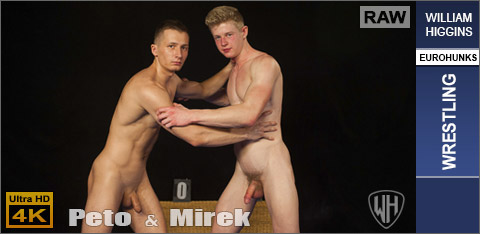 WRESTLING: PETO MOHAC vs MIREK BELAN RAW
Peto Mohac and Mirek Belan are paired in a submission wrestling match.They begin with some stretching to warm up. Then they start the match. In a playful match there is lots of ass slapping as they get each other naked. Cocks and asses on show as the grapple and roll over the floor, looks very good. They get to grips with each other too and both scores points, and take time to oil each other all over. Peto wins the match and then they settle down to wank. With hard cocks they wank and then suck each other a little too before Mirek delivers his cum. Peto keeps wanking and soon unloads his load too. Then the clean the dicks and go off to the shower to clean up.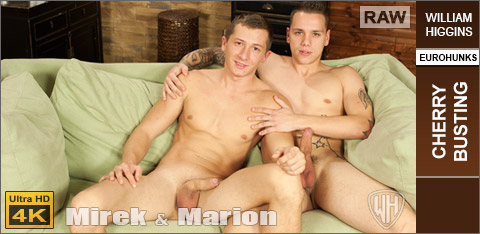 CHERRY BUSTING: MIREK BELAN & MARION ANEL RAW
Mirek Belan is one very sexy straight guy who gets his cherry busted by Marion Anel today. They start off sitting on the sofa with Marion having a brief chat with Mirek. Then he leans over and starts to kiss him. He quickly has Mirek's tee shirts off so that he can feel and kiss his sexy chest. Marion licks the nipples and kisses Mirek's chest as he starts to open the jeans as well. Mirek takes off the jeans and his big cock is already hard as Marion begins sucking it. His lips wrap tight around the head and slides the cock deep into his mouth. His head bobs on the big cock as Mirek enjoys the feeling. Then Marion takes his own tee shirt off and resumes his sucking. His pants come off too and Marion is rock hard as he keeps sucking Mirek's big cock.Mirek fucks his cock into the hot mouth then Marion sits up and kisses Mirek again. Mirek then leans over and starts sucking on Marions dick,showing that he can do a great job too. His mouth takes the cock deep as Marion fucks it. Then Mirek licks and sucks on Marion's balls too. He lays back on the sofa so his legs can be lifted in the air, exposing his tight hole. Marion rims that hot ass as Mirek moans with pleasure. Sitting up they kiss again and Marian asks if he can fuck that sexy ass. Mirek is not sure, saying he has never done it before, be he does agreed. He lays back and Marian gets between his legs, slipping his throbbing cock into the tight hole. Mirek takes it all as the cock fucks deep into his hole. He moans as he feels it, grabbing his own cocka and wanking. Marion fucks that ass hard and fast, opening the hole wide. Mirek keeps wanking his cock as he feels the dick pounding his hole. His wanking speeds up as Marion's dick works his well stretched ass. Then Mirek's cock delivers his hot, creamy, cum while is ass gets a good hard fuck. Marion leans over and kisses Mirek, then turns him over to fuck him again, this time doggy style. Mirek's hot hole really gets a good workout and soon Marion pulls out and dumps his cum all over it. Then they stand up and kiss again and go off to the shower with Mirek's cherry well and truly busted.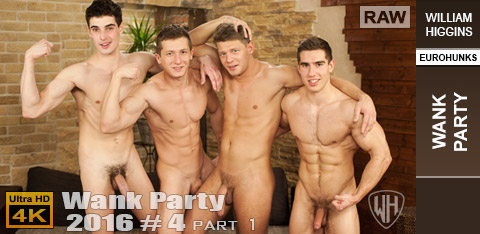 WANK PARTY 2016 #4 RAW
In Wank Party 2016 #4 we have Rosta Benecky, Erik Drda, Milan Belan and Marthin Dorcak. Firstly we see Milan and Erik on the sofa charring, and deciding to arm wrestle. As they get started Martin and Rosta come in and encourage them, but Rosta says it isn't all about strength but also about how the body looks. So Erik and Milan stand up and remove their tee shirts to compare chests. Rosta has other things in mind and he and Martin coat those chests in oil. Then Milan and Erik flex biceps for a comparison and Rosta leads the examination of the hot bodies. Then his plan goes further into action, he tells them to compare dicks. The guy readily comply, removing their jeans and wanking themselves as Martin and Rosta continue rubbing their bodies. They kiss on the necks too and the wanking swells the big cocks. Then Martin and Rosta take off their tee shirts. Milan and Erik sit down and are soon joined by a naked Martin and Rosta kneels before them. All four are good and hard and Martin kisses Milan and takes hold of his cock to wank it. Milan wanks Martin's massive dick as Rosta leans forward to kiss Erik's hot body. He takes hold of Erik's dick and wanks it as Martin bends forward to suck on Milan's. Rosta does the same to Erik's dick, taking it in his mouth as Milan takes a turn on Martin's. Martin's big cock fills Milan's mouth as his head bobs up and down on it. Rosta keeps sucking Erik and Milan gets onto his knees, presenting his ass to Martin who eagerly laps at his hot hole. He gets his tongue right into the hole as Milan kisses Erik's chest. Rosta's mouth continues to work on Erik's rock hard cock as Martin starts to finger Milan's hole. He fucks his finger in and out of the ass and then rims it some more. Milan takes a turn on Erik's cock as his hole is getting the treatment from Martin. Roasta licks Erik's balls as Milan continues to suck the cock. Then Rosat sucks on the cock again. Then he moves over so that Milan can suck him as Martin takes a turn on Erik's cock. Milan sits and leans back for Rosta to suck his cock as Martin's lips wrap tight around Erik's cock. As Rosta sucks Milan he slips a finger into his ass too. Then both Milan and Erik have their legs in the air, exposing their tight holes. Martin rims Erik's ass as Rosta fingers and then laps as Milan's hole.
In part two of Wank Party 2016 #4 we joing Milan Beran and Erik Drda as they have their legs in the air being rimmed by Rosta Benecky and Martin Dorcak. Milan sits up and kisses Rosta and then presents his ass. Rosta's big cock is lubed and slides deep into the hot hole. Martin continues to rim Erik's sexy ass as Rosta fucks Milan, stretching his hole wide. Then Erik sits up and Martin goes down on his cock and sucks it. Rosta's massive dick continues to work Milan's sexy ass. He pounds that ass so deep and hard. Then Milan lays on his back for more of Rosta's cock as Erik kneels over him wanking. Martin is behind Rosta encouraging him to fuck harder. Milan wanks himself as he takes the big dick deep in his hole. His wanking speeds up to match Rosta's fucking and soon he dumps his big load all over himself. Rosta is ready too and pulls out of that ass and shoots his hot load over Milan's balls. Erik keeps wanking as Miian and Rosta kiss. Martin is wanking hard too and slips his cock into Milan's ass for some hot fucking. That quickly sends him over the edge too as he pulls out and dumps his cum. Then, to complete the cum shots, Erik squirts his hot juice all over Milan's body, as Martin reaches up to kiss Rosta after a very hot scene.
CLICK HERE TO GO TO HIS WILLIAM HIGGINS BIO PAGE
VIDEO ON-DEMAND: WILLIAM HIGGINS @ AEBN SMUTJUNKIES THEATER
ENDLESS STREAMING MEMBERSHIP: WILLIAM HIGGINS @ NAKEDSWORD