Corbin Fisher Amateur College Men American Gay Porn Star, Miles
Known Aliases: Charlie Pattinson
Years Active: 2014 – 2016
In the great debate of who gives better blowjobs, Quinn puts his dick sucking abilities up with anyone. Around campus he' known for his proficiency in getting the biggest loads out of the hottest men. So we decided to put his skills to the test against our coed Tiffany, who's always up for some naughty fun and competition. In deciding who should be our lucky judge, we went with our new and oh-so-sexy freshman, Miles.
   Expecting just some one on one fun with Tiffany, little did Miles know he'd get two cock masters at his disposal. The surprise was well received though, as Miles is over the clouds at getting to experience one of his steamiest fantasies come to life in being the center of attention of two hot coeds!
   There's also some definite attraction between Miles and Quinn, with a teasing element between their interactions. Quinn lends his expertise and directs the action, jumping in at the hottest moments to get some of Mile's hot dick in his mouth. Later Miles admitted that both partners were so amazing he couldn't tell the difference, and with how hard he came, our verdict is- everyone wins!
AGE: 20
WAIST: 31
EYES: Green
HEIGHT: 5′ 10″
WEIGHT: 170 lbs
HAIR: Brown
BUILD: Muscular
COCK: 6.0″ Cut
SHOE: 11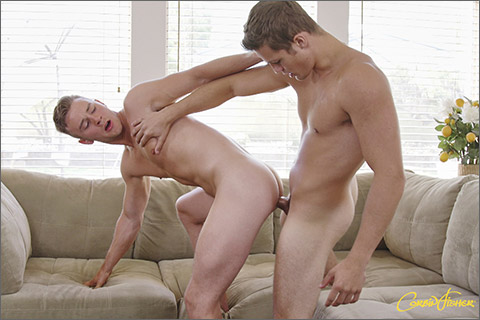 MILES CREAMPIES BRAYDEN
Miles is a dirty talking, lip biting, hard-cocked sex machine- and we love him for it! Today he puts that dirty mouth of his to use when he takes on Brayden!
   Brayden's blowjob is so good that he has Miles writhing in pleasure and begging him to slow down so that he doesn't blow his load right there and then!
   When Brayden jumps on the couch, Miles clamors for his dick to swallow. Sucking Brayden's nice dick makes Miles hot and his dick hard. Brayden just needs to sit on it! They passionately make out while Miles thrusts upward into Brayden. Then Brayden wants it doggy style. Wen they switch back to riding, Brayden fires off a massive load that looks so hot dripping down his gorgeous abs. After making his partner blow such a hard load, Miles finally allows himself to release his own shot of hot cum to creampie Brayden with!
CORBIN FISHER'S AMATEUR COLLEGE MEN