William Higgins Handsome Czech GayPorn Star, Milan Neoral
Years Active: 2013 – 2015
WILLIAM HIGGINS INFO:
Milan Neoral is aged 25 and lives in Prague. He is a student and enjoys sports, fitness and basketball. He is such a handsome guy and looks very good indeed as he poses for the camera. Quickly removing his tee-shirt Milan exposes his hot chest. His time in the gym has clearly worked very well. With that handsome face and gorgeous chest he looks wonderful as he poses. Then he turns and lowers his jeans to show off a very hot ass. Removing the jeans Milan poses some more, in only his underwear. That body looks great from front and back as he poses. Then the underwear comes off and Milan poses again, now showing his cock and balls too. He sits down and leans back, on the bed, so we can enjoy that hot body and flaccid cock. Moving onto his knees Milan gives a great view of his hot ass, with his balls hanging down between his legs. Then he turns over and lays back, playing with his cock and getting it nice and hard. Once hard Milan stands up and shows it off very well. Then he lays down again, bringing his legs up to expose his tight hole, before turning over onto his stomach and looking straight into the camera. What a lovely shoot from a very handsome guy.
Model Name: Milan Neoral
Age (2013): 25
Home Town: Prague
Height: 187cm/6'1″
Weight: 89kg/195.8lb
Foot Size: EU45/US9.1/UK8.6
Penis Size: 17cm/6.69″
Profession/Student of: University student
Hobbies: Sport
Favorite Sports: Fitness
Active Sports: Basketball
Movie/Music/Sport Stars: Chris Hemsworth
Visited Coutries: Austria
Want to Visit Coutries: Portugal
Dream of My Life: To be famous.
Zodiac Sign: Libra (September 23 – October 22)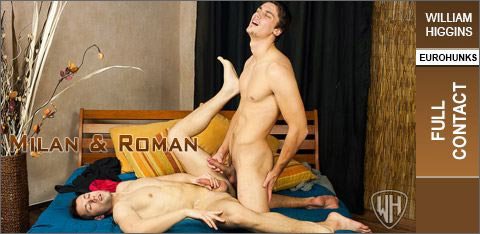 FULL CONTACT: MILAN NEORAL & ROMAN MADLEC
Milan Neoral and Roman Madlec, two very straight guys, are on the bed kissing at the start of a very hot scene. Then Milan unzips a banana and begins to slide it in and out of his mouth in a very provocative manner. He leans over and kisses Roman again and then passes him the banana. Roman repeats the process with the banana, licking and sucking it. Then this sexy pair kiss again before they decide to try it for real. They move onto their knees, kissing some more, and bare their chests. Then they lower their underwear, letting their already hard cocks slip out. Roman removes his underwear and lays on the bed, wanking himself, as he takes Milan's beautiful cock into his mouth. He sucks on the cock for a while. Then Milan takes off his underwear and sucks Roman, who stands before him. His mouth wraps tight around Roman's stiff cock. Then he licks up and down the shaft before sucking it back into his mouth. He does a great job at sucking and then lays on the bed, with one leg resting over Roman's shoulder. With his ass exposed Milan wanks himself as Roman inserts a toy into that sexy ass. He fucks Milan's sexy hole and leans forward to suck on his cock some more. He keeps working on Milan's hole as he sucks the dick and licks on his balls. Then Roman sits on the bed, with his cock big and hard, for Roman to slide his ass down on it. Roman rides that big cock so well, taking it deep into his hole. His own cock is rock hard and Roman reaches for it to give it a little wank. After riding Roman's cock for a while Milan moves, laying on his belly so that Roman can fuck him nice and deep. His big dick really stretches Milan's hole as he fucks him. Then Milan turns over, into missionary position, and wanks himself as Roman continues to fuck his hot ass. He keeps wanking as he gets fucked, with his breathing and moaning getting louder, until his cock explodes with his creamy cum. Roman keeps fucking Milan's ass until he too is ready to cum. He pulls out of that hot ass and wanks himself to release his cum as well. Then they finish, as they started, by kissing each other again.