Dutch Daddy Cazzo Film Berlin Gay Porn Star, Michael Selvaggio
Years Active: 2014 – 2015
TWITTER @MSelvaggioXXX

UK NAKED MEN INFO:
Lekkerding, thats Dutch for hot guy, and he certainly is, a born show off with a big, uncut cocks, a broad, hairy chest and a heavy, creamy load.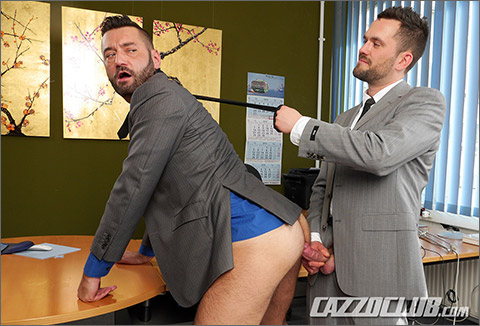 WOLF WAGNER & MICHAEL SELVAGGIO
Wolf is a German office worker who does everything by the book. Punctual, hardworking, and very ambitious. When his boss Michael asks him to take dictation, he sits opposite with nothing more in the head than climing the ladder of success. Michael however has lust on his mind. He gets his cock out of his pants and starts jerking off. Wolf tries to ignore this until the lust takes him as well. He goes to him and licks with his tongue over the pink gland, bringing his boss to an uncontrollable moan. Wolf's bearded face makes Michael sharp so that it hits harder and harder into the mouth of his subordinates. Out of gratitude, the tables will be turned and the boss becomes the servant. Wolf's balls clap violently against Michael's face as he shows his boss. The sweat runs as the two lick each other wet ass up. Now Michael wants to be fucked in the middle of the Office, between and on the desks of employees. Wolf runs up to the ladder of success as he fucks his hairy ass of his boss!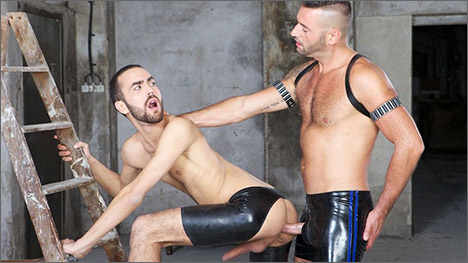 FOSTTER RIVIERA & MICHAEL SELVAGGIO
Portuguese sneaker pig Fostter Riviera returns with a vengeance to the Cazzo world. He proves sometimes a man's hole has needs and clearly has a few ideas on how to handle his hunger. In typical Berlin fashion Fostter found the perfect place for his desires: an abandoned storage room.
   Joined by Dutch newcomer Michael Selvaggio, he eagerly awaits something to stretch himself wide open with. Nothing is off limits for this dark-haired slut. Mohawk pig Michael warms up his servant up with a huge serving of piss which Fostter gladly laps up. One would think after an intense fisting session his ass would be satiated but who could say no to Michael´s brutal cock?

CAZZO FILM BERLIN
HARDKINKS
DARK ALLEY XT
UK NAKED MEN
BUTCH DIXON
CLICK HERE TO GO TO HIS CAZZO FILM BERLIN DETAILS