Gay Porn SuperStar, Director & Producer, Michael Lucas
Known Aliases: Michel Lucas (Falcon), Ramzes Kairoff (Cadinot), Dimitri, Alex, Nick The Greek
Years Active: 1996 – 2020
LUCAS ENTERTAINMENT INFO:
What is there to say about Michael Lucas? A good place to start is the beginning: Lucas Entertainment founder and president Michael Lucas was born in Moscow, Russia, on March 10, 1972. He was raised in Moscow and attended college there, graduating with a degree in law. In 1995, Michael Lucas moved to Germany, then to France, where he began modeling and appearing on several European television programs and covers of many European magazines. In 1998, Lucas opened his own production company, Lucas Entertainment, in New York City. Later that year, he made his directorial debut with the well-received Back in the Saddle. This first production sparked the Michael Lucas "renegade" vision that is indelibly New York. Additionally, basing his company in New York City, as opposed to the more traditional Los Angeles, enabled Lucas to showcase the diversity of types and ethnicities found nowhere else. MIchael Lucas started Lucas Distribution, Inc. in 2004 and LucasBlog.com in 2005. Both are pioneering ventures in the competitive realms of adult video distribution and online media, respectively. In the summer of 2005 he released GayVN's Best Picture of the year, a high-budget adult film remake of Dangerous Liaisons, featuring celebrity cameos from RuPaul, Boy George, Graham Norton, Bruce Vilanch, and Michael Musto. In 2006, filming began on his most buzzed about film ever, Michael Lucas' La Dolce Vita. The production included a big-budget fashion show, a sextra-filled club orgy scene, a headline-making fountain scene with Vivid star Savanna Samson. On November 12, 2004, Michael Lucas was proudly sworn in as an American citizen.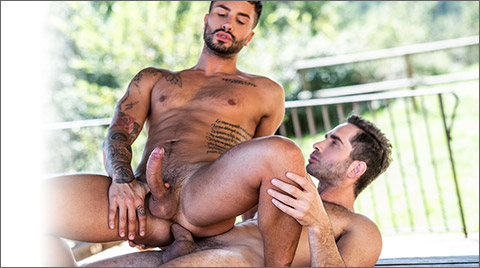 SEEDED MAN WHORES: Andrea Suarez Bottoms For Michael Lucas
Andrea Suarez has one hell of a heartbreaking smile — if he flashes those pearly whites, then any guy will swoon for him. Even brighter than Andrea's smile is his fiery Latin sex appeal, and he shows it all off when he's servicing Michael Lucas' 10-inch uncut cock. Andrea swallows Michael's cock first, getting ready to feel it plunged up his ass.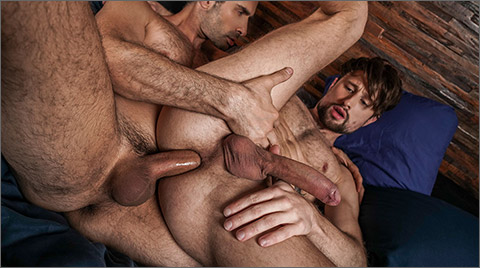 ROCK HARD & RAW: Drew Dixon Bottoms For Michael Lucas
The bigger the cock, the happier Drew Dixon is. Drew is always on the hunt for the next huge dick to plow his ass. Drew is ready and waiting when Michael Lucas is ready to slam him with his 10-inch uncut Russian cock!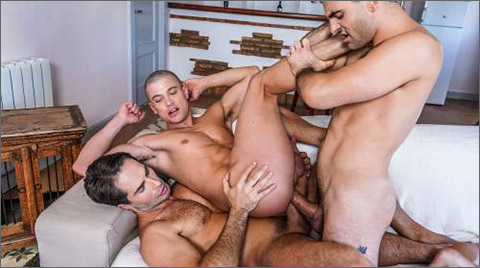 BANGING RUSLAN'S BUBBLE BUTT: Michael Lucas And Max Arion Double-Team Ruslan Angelo
When we're dealing with Ruslan Angelo's sexual appetite, he's never full enough and he's always cruising for more dick. He's about to take in his bubble butt more than he bargained for, because Michael Lucas gives him his 10 inches of uncut Russian cock to services. Michael wants to make sure Ruslan is left exhausted and used, so he invites over the Aussie book-smart stud Max Arion to help out. Ruslan Angelo is stuffed to the max as Michael Lucas and Max Arion take turns fucking him down his throat and up his ass. And when his ass couldn't be opened up any more, the two tops sodomize him in his bubble butt at the same time for one of the hottest double-penetration sessions ever!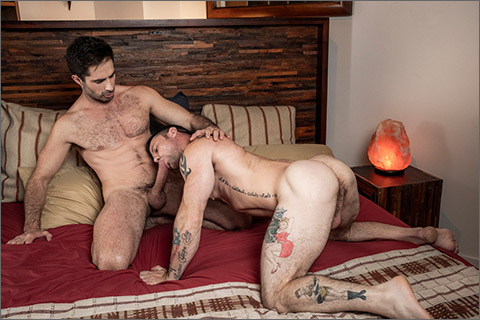 READY 4 DICK: Sergeant Miles Bottoms For Michael Lucas
Sergeant Miles has a well-earned reputation of being a macho guy. He has a military history, a strong body, an incredible cock, and masculine good looks. But sometimes Sergeant likes to take on a submissive role in bed. He does so here in this gay bareback sex encounter, where he goes total bottom for Michael Lucas' uncut 10-inch Russian cock!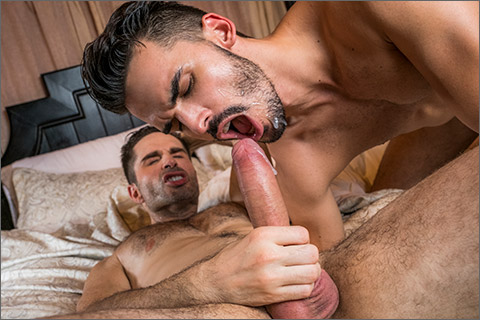 BAREBACK AUDITIONS 9 – EAGER TO PLEASE: Aaden Stark Debuts With Michael Lucas
Aaden Stark is a young up-and-coming gay porn model from Hungary, and he's excited about his debut scene with Lucas Entertainment. Michael Lucas returns to the camera to introduce Aaden to the world of adult entertainment. First Michael gets to know Aaden during a "Bareback Auditions" interview, and after that he familiarizes himself with Aaden further by fucking him raw in his mouth and ass.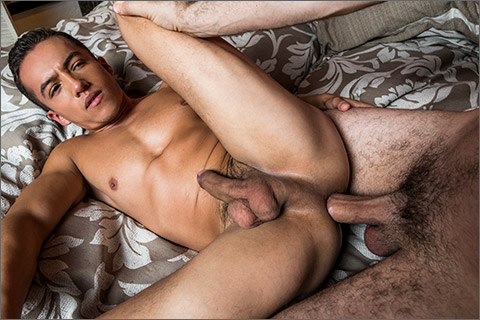 DADDY'S PLAY THING: Dante Lauro Bottoms For Michael Lucas
Nothing turns Dante Lauro on more than being a good little boy and behaving for a hung top. When Dante sees Michael Lucas' 10-inch uncut cock is ready to be serviced, he opens up his throat and starts pleasuring him. At 12:25, Dante demonstrates that he knows how to buck up and take raw dick, because Michael goes balls deep inside the well-behaved bottom!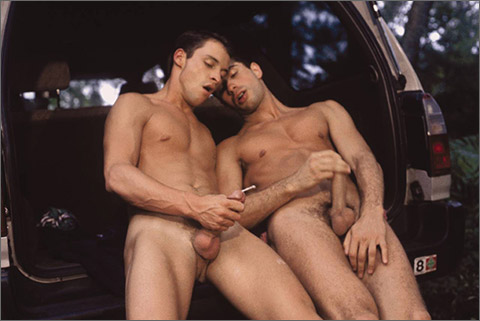 HIGH TIDE: Colby Taylor, Matthew Anders and Michel Lucas
Hiking through a tropical forest, Matthew Anders happens upon two other travelers-Michel Lucas and Colby Taylor. The two stunning young men are out enjoying the sights and each other…asking Matthew to snap their photograph amidst the natural splendor of a tropical forest. As soon as Matthew leaves, the couple decides to enjoy their own respective beauty. Colby services his eager friend, taking Michel's stiff uncut cock into his mouth, savoring the tool from tip to shaft, finally bathing his balls with broad sweeps of a soft but insistent tongue. In no time at all, Michel is on his knees returning the Colby's oral affections, his tongue wandering over the balls and into the crevice of Colby's ass, his finger probing the pucker of his hole. Raising him up, Michel fucks Colby hard and fast; he continues the erotic rhythm as the pair lay nestled in the back of their car. Frenzied, anxious for release, the two taut men stroke themselves to orgasm, blasting each other with their thick hot loads.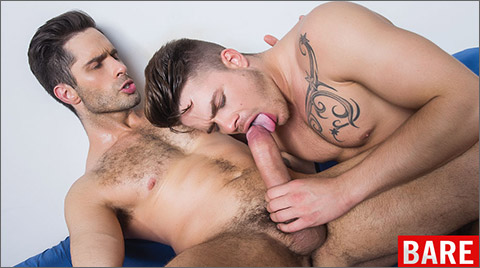 RAW MEAT PACKERS: Fabio Lopez Takes Michael Lucas' Raw Uncut Cock
It's been several months since we've seen the sweet face of Fabio Lopez in one of our scenes. That's changing, as he's returned to Lucas Entertainment in a bareback sex scene with Michael Lucas. And Fabio works hard for his return to the studio: in the encounter he swallows Michael's cock before getting his ass pounded. But Fabio can be a needy bottom at times, so it's good for him!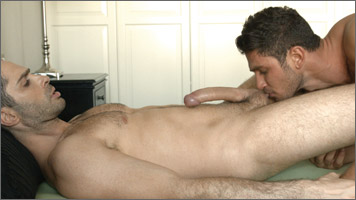 DATO FOLANDS BAREBACK PREMIERE: Watch Dato Foland's Bareback Premiere With Michael Lucas
In Dato Foland's premiere gay bareback sex scene with Lucas Entertainment, he debuts with Michael Lucas. The encounter begins with the couple in a hotel room kissing and undressing from their cleanly tailored suits. Once their shirts are off Michael unbuttons Dato's pants and sucks on his thick uncut cock. The oral sex continues as the two men switch positions and Dato wraps his lips around Michael's uncut dick. After some sensual foot play, Michael licks and fingers Dato's tight hole, teasing it before he slips his dick deep inside. Dato particularly enjoys getting fucked on his back — just listen to his moaning! Michael wets his hole more with some extra rimming, and then he grabs hold of him tight and fucks him until he cums. Afterward Michael sucks on Dato's cock until he shoots his load in his mouth!
CLICK HERE TO GO TO HIS LUCAS ENTERTAINMENT DETAILS
VIDEO ON-DEMAND: Michael Lucas @ AEBN SMUTJUNKIES THEATER
DVDs & ON-DEMAND: Michael Lucas @ TLA VIDEO