Slender Smooth Bodied American Gay Porn Star, Michael Jackman
Known Aliases:
Years Active: 2019 – 2020
MEN.COM INFO:
Height: 6′
Measurements: 7.5″ cut
Hair Color: Brown
Eye Color: Blue
Dick Size: 7.5
Sign: Pisces
Favorite Foods: Mediterranean, BBQ, Chinese
Favorite Movie: Lord of the Rings, Star Wars
Favorite City: Orlando
Hobbies: Working out, off roading, hiking, camping
Likes The Most: I love adventure and travel
Doesn't Like: Politics
Best Thing About Me: Outgoing, funny, like to have fun
Worst Thing About Me: I can disconnect from people easy
How To Make Me Happy: Food and Jeeps
Favorite Quote: "Send it."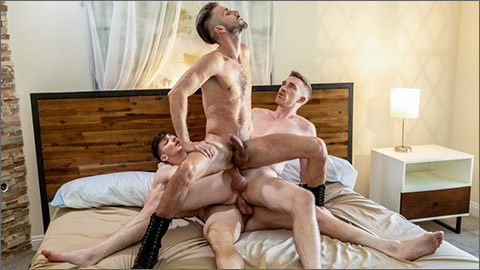 UNCLE RANDY – THE THIRST IS REAL: Nick Fitt, Michael Jackman, Ian Frost
When these three men aren't satisfied with each other and want more, the thoughts and feelings become too much to handle, so they have to take care of each other. Big dicks are coupled with tight throbbing assholes, hungry mouths, deep throats, train fucking, Eiffel towers and blistering cum shots. Award-winning performance by all three.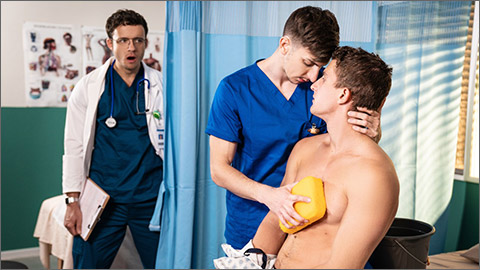 INTENSIVE CUM UNIT: PART 1
Doctor Nate Grimes can't concentrate on his own patient when hottie Zane Williams is getting a sponge bath from Nurse Michael Jackman just on the other side of the curtain. Nate sneaks over to find Michael giving Zane's cock some special attention. Dr. Nate takes over the handjob, then sucks the patient's cock with his nurse assisting before they line up to eat each other's holes. It's the doctor's turn to get fucked by Zane first, then Michael rides Nate's cock before getting fucked doggystyle by Zane. Nurse Michael then gets to penetrate Dr. Nate till he pulls out and cums, before the sexy nurse takes a facial from both Zane and Nate!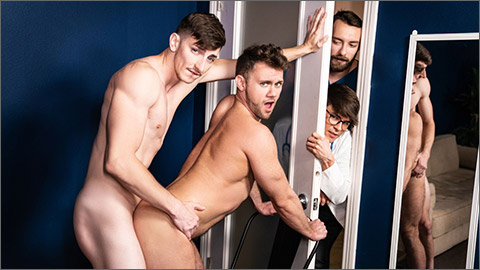 INTENSIVE CUM UNIT: PART 3
It's been a hard day at the hospital for nurses Michael Jackman and Blaze Austin, and it's only with each other's support that they've made it through. The nurses share a tender moment in the on-call room as they thank each other for being there, then start passionately kissing as things start getting McSteamy! Michael bars the door as he bends Blaze over and pulls down his scrubs to pound him in doggystyle… until a tired doctor tries to come in and catch some winks. Blaze quickly gets into the bottom bunk and Michael hides under the blanket so he can suck Blaze's dick as the doctor is none the wiser. Once the other man is ensconced in the top bunk, Michael fucks the bottom spoon, and the guys even risk some doggystyle before Blaze rides Michael's cock and takes a big facial!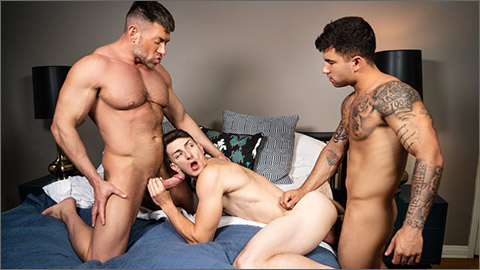 SMALL THINGS CUM IN GOOD PACKAGES
Vadim Black is a cute delivery boy who needs to get tall, muscular hunks Bruce Beckham and Michael Jackman to sign for a package. What the compact stud finds out though, is that the only package they're interested in is his rock hard cock. The two towering titans grab Vadim and bring him into their bedroom where they take turns draining his cock with their hungry holes, ending with explosive cumshots all over Bruce and Michael's faces.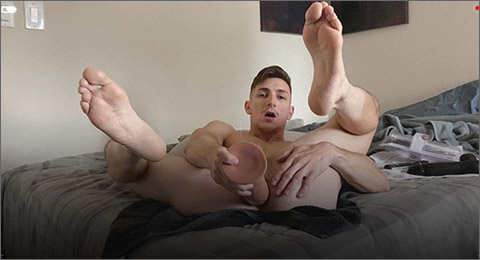 JACKMAN TAKES A HUGE DILDO
Michael Jackman is used to a certain size of big cock and big toys, but just for you he's going a size bigger and bought himself a huge dildo he's going to try for your viewing pleasure.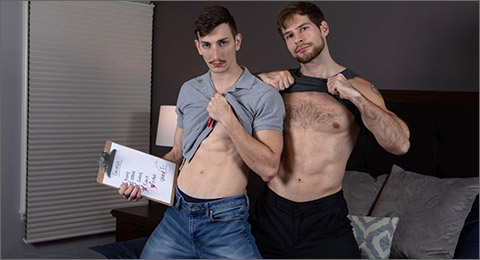 SEX INSTRUCTOR
Michael Jackman evaluates David Skylar's sex prowesses and it starts on a very bad note. David shows how he usually acts and Michael is overwhelmed by how much needs to be improved. Since it's a special case, Michael decides to drop the theory and starts directly with practice. The results are surprising.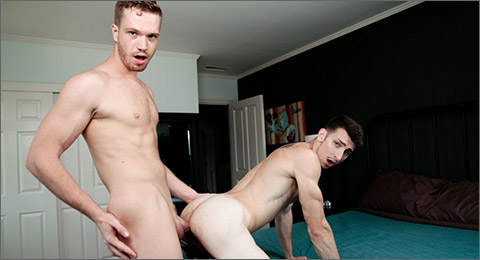 DEEP INSPECTION
Before Michael Jackman sells he wants to make sure everything is in order so there aren't any surprises. He calls Dacotah Red over to take one last look over some details in the bedroom. Once there, Michael points out some areas in need of some caulking. Dacotah has, of course, never heard this one before and starts to feel his pants get tighter. When Michael grabs his hand and asks him if he's into a cocking, Dacotah smiles and throws him on the bed. If it's an inspection he wants, it's an inspection he'll get… a nice, long, deep inspection. Dacotah makes sure every inch is explored as he deep dives and gives Michael's concerns the thorough attention he deserves. Michael soon realizes why Dacotah cums so highly recommended in the field.
CORBIN FISHER / AMATEUR COLLEGE MEN
CLICK HERE TO GO TO HIS MEN.COM DETAILS
CLICK HERE TO GO TO HIS ICONMALE DETAILS
CLICK HERE TO GO TO HIS NEXT DOOR STUDIOS DETAILS
VIDEO ON-DEMAND: Michael Jackman @ AEBN SMUTJUNKIES THEATER
STREAMING ON-DEMAND: @ NAKEDSWORD