Cute Uncut American Gay Porn Star, Michael Boston
Known Aliases / aka:
Years Active: 2018 – 2021

MOUNTAIN TOPS: Max Konnor fucks Michael Boston
While Michael Boston is taking a nap by the fire, Max Konnor is shoveling the snow out of the driveway. When Max finishes, he comes in to find Michael in just his undies. Michael wakes up and notices Max's growing cock and pulls down his briefs to entice Max to have a taste. Instead, Max whips his cock out and Michael crawls over to service the massive member. After Michael gets Max throbbing, he bends over in front of Max to give him a face-first taste of his smooth hole. Max takes his time tongue-fucking Michael's hole before standing up and fucking it raw. It takes a big cock to make it past Michael's cheeks, but Max dicks him down and stretches the ass to the max. Max keeps up the relentless bareback pounding after Michael gets on his back spread-eagle, stroking his cock until he cums all over his stomach. Max keeps pumping until he reaches the edge and covers Michael with his load.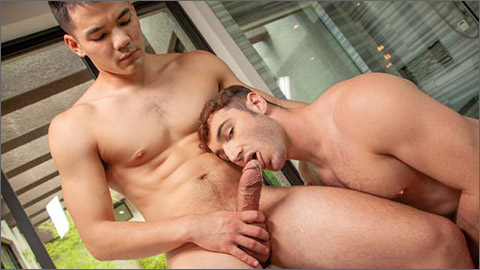 7 MINUTES IN HEAVEN: Colton Reece & Michael Boston suck cock
Colton Reece and Michael Boston are a new couple, who can't keep their hands off each other. They wander off from their group of friends, who are playing '7 Minutes in Heaven' so they find a secluded bathroom and mess around before returning to the game. Michael is eager for cock and strips Colton's shorts down to wrap his wet lips around Colton's thick cock. With spit dripping from Michael's mouth, Colton grabs the back of his head and crams every inch of his meat down Michael's hungry throat. Colton is relentless with his cock and he shoves it down Michael's throat, making him gag and gasp for air. Returning the favor, Colton pulls down Michael's shorts to bury his face in Michael's insatiable bubble butt. Michael's ass is so plump, Colton has to spread Michael's ass cheeks wide to get his tongue in the hole. When Colton has had his fill of ass on his tongue, he turns Michael around to deepthroat his cock while Michael teases his nipples. Michael decides he wants one more taste of Colton's meat and gets down to take the monster cock down his throat again. Colton can't hold back any longer and paints Michael's face with a thick load. Making sure to lick up every drop, Michael stands up and dumps his load all over Colton's spent cock. Leaving now cum behind, Michael licks up his jizz from Colton's cock.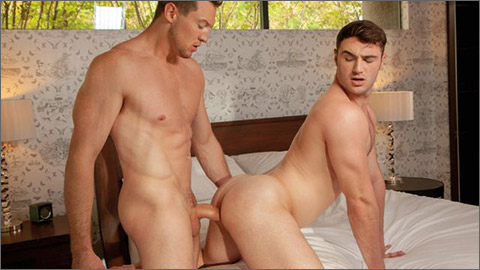 7 MINUTES IN HEAVEN: Pierce Paris fucks Michael Boston
While playing '7 Minutes in Heaven', sexually open bottom, Michael Bolton, draws top Pierce Paris' name. Pierce, who is nervous about the game, because he no longer has sex with his husband, leads Michael Boston to the bedroom where Michael strips down to his undies and gets to work servicing Pierce's monster cock. It's a tight fit, but Michael takes it like a champ and gets the whole thick shaft down his throat. Pierce wants a taste of Michael's ass and bends the hunk over to lick his hole. Pierce gets Michael's giant ass nice and opened up before he takes the next step to give Michael the stretching he craves. Pierce slides his massive raw dick into Michael's tight ass, going slow at first to make sure the eager stud can take it all. When he's convinced that Michael can handle his entire bare pole, Pierce picks up the pace and loosens Michael up even more. Pierce can't get far enough into the young stud and rolls him over to fuck him bareback even harder. Keeping a steady pace, Pierce fucks the cum out of Michael, who blasts his load all over his panting stomach. Pierce wants to finish up his way, and he rolls Michael back onto his stomach where he pounds the stud until he finishes up all over his ass. A spent Pierce fucks the cum into Michael and caps their secret tryst with a kiss and a cuddle.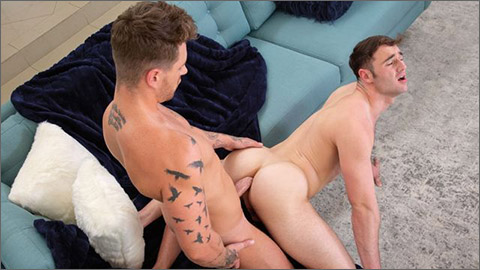 AFTERNOON AFFAIRS: Josh Moore fucks Michael Boston
When a naked Josh Moore hears the doorbell ring, he quickly covers up and is met at the door by A/C repairman, Michael Boston. Josh is impressed with the size of Michael's ass in his tight shorts and drops his wrap to show Michael his own giant asset. Michael takes a few sucks of Josh's uncut rod before they move it into the living room where Josh strips Michael naked. Picking up where he left off, Michael gets back on his knees to continue his service, polishing Josh's knob. Josh keeps pushing Michael's limits, seeing just how far down on his cock, making him gag on the thick pole. When Josh wants a taste of Michael's insatiable ass, he bends the stud over on all fours and wedges his tongue deep in between Michael's crack. The taste of Michael's hole has Josh craving more. After having an all-out feast on Michael's hole, Josh sits up on the couch and slides his thick raw cock deep into Michael. Michael braces himself with his hands on the floor while Josh drills his hard meat deep. After taking it doggy-style, Michael lays on the floor to feel the full force of Josh's cock in his hole. Josh keeps pounding Michael's tight hole bareback until its tightness causes Josh to glaze Michael's ass with a thick and creamy load. When it's time for Michael to bust, he gets on top and sits on Josh's face until he blows his load all over Josh's chest. Will the A/C ever get fixed?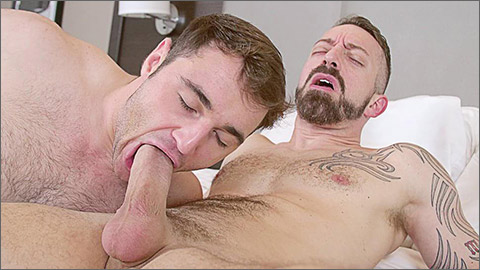 HOTEL ROOM HOOK UP
Two studs meet at the hotel for some hot anal and cumshots.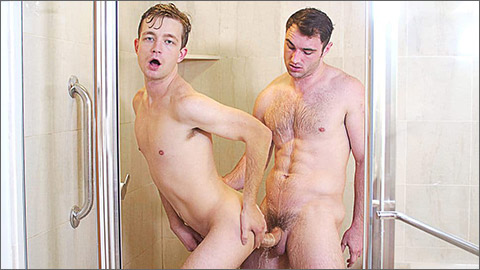 MEET ME IN THE SHOWER
Twink prepares his hole in the shower waiting for muscle stud to finish him off.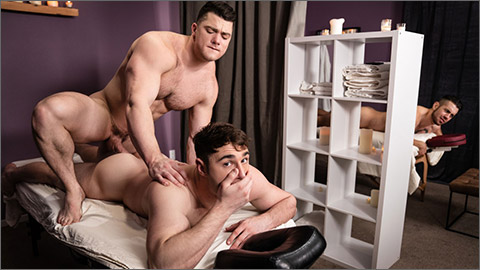 TUMBLING TOWARDS ECSTASY – PART 3
Rival gymnasts Michael Boston and Dante Colle are not pleased to discover they've been double-booked for a massage, but muscular masseur Collin Simpson assures the athletes that he can handle both of them at once. Dante gets jealous listening to Michael's moans as Collin gives him a rubdown, so he sneaks over to his robe to put in a butt plug. When Collin spots the toy in Dante's ass, he gives his booty a thorough massage before pulling out the plug with his teeth and eating his hole! Michael comes over to see what's happening, but the guys agree there's more than enough of Collin to go around. Dante sucks two cocks at once before Collin and Dante Eiffel tower Michael. Then it's Dante's turn to get fucked, and both Dante and Michael pound Collin's tight ass before they cum and the burly masseur gives them both a facial.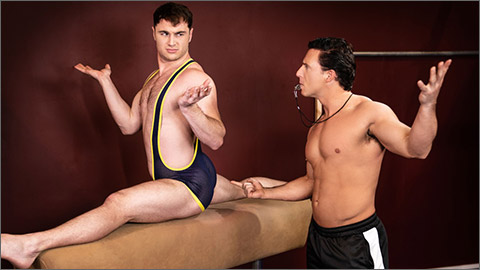 TUMBLING TOWARDS ECSTASY – PART 1: BAREBACK
Gymnast Michael Boston is doing his best as he practices his routine in a sexy low-cut unitard, but his hardass coach Reese Rideout chews him out and sends Michael to the showers. That's just a ploy for Reese to spy on Michael's naked, perfectly muscled body under the spray and to sneak a sniff of his sweaty leotard from his locker! Michael insists to his coach that he'll do whatever it takes to prove his dedication, and luckily Reese has something in mind as he gets out his hard cock. The guys stroke each other's lengths before Michael deepthroats Reese, then the gymnast does a full split lying on the bench while his coach sucks his dick. Reese pounds the flexible bottom athletically till Michael cums, then paints him with his jizz.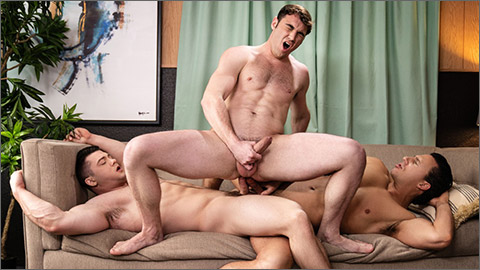 DR. WOOD – PART 3: BAREBACK
Handsome studs Collin Simpson and Michael Boston are discussing Michael's performance as a top with their muscular doctor, Reese Rideout, who suggests that Michael try bottoming to make him a better top. Wanting to lead by example, hunky Reese joins the couple as he slowly undresses, revealing his perfectly fit body, and gets on his knees to get a taste of their beautiful, hard cocks. Reese then lubes up his huge cock and slides it slowly inside gorgeous Michael's eager hole, as Michael keeps deep-throating Collin's dick. The three studs then switch positions and Michael starts riding Collin's thick cock on top of Reese's desk as Collin gets face-fucked by Reese. Collin and Reese then take turns holding Michael up in the air and take turns fucking him senseless. This incredibly hot threesome then culminates into Michael getting double penetrated by these two massive cocks until all three shoot their loads all over each other.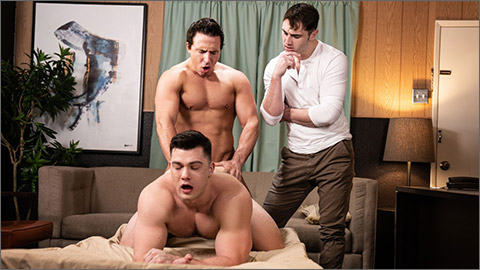 DR. WOOD – PART 1: BAREBACK
Michael Boston has come to see Dr. Reese Rideout because he's having some trouble in the bedroom. Dr. Reese calls in naked, muscular sex surrogate Collin Simpson so he can show Michael how to be more comfortable with the male form. Reese demonstrates how to stimulate the erogenous zones, rubbing Collin's nipples, ears, and shoulders, before he shows various techniques to excite the cock and balls. Michael watches intently as the doctor sucks Collin's cock and gets an unimpeded view as Reese fucks Collin doggystyle. As Collin rides Reese's cock, the treatment seems to be working as Michael starts rubbing his hard cock! The session finishes as Collin cums and Reese pulls out to finish on his hard abs, and Michael's excited to come back again soon.

TUMBLING TOWARDS ECSTASY – PART 2
Dante Colle and Michael Boston may practice their routines together, but these two gymnasts are in stiff competition. Michael disses Dante's form, so Dante reveals his secret weapon: his huge bulge. Michael can't believe his eyes as Dante's big dick gets hard in his unitard, and the bad boy hunk teases his opponent by grinding his cock right over Michael's face. Michael rips open Dante's leotard and gives him a foot job, then swallows him down, so Dante rips open Michael's outfit and fucks him doggystyle. Dante pounds Michael's ass on the vaulting horse, then the horny bottom rides Dante on the mat till they both cum.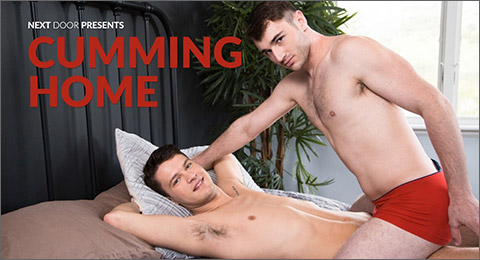 CUMMING HOME
When Evan Landers' parents discover he's into guys, it puts a damper on the weeklong getaway he just had with Michael Boston. Fighting with his bags in hand, he tells his parents he isn't coming back home, and makes his way back to Michael's place to tell him the news. Michael tells him he can stay as long as he wants and Evan smiles and tries to think of a way to show his gratitude and get back at his parents. Michael knows a way he can do both at the same time, whipping out his dick as Evan smiles. If Evan's parents could see this, they'd never let him come home, but right now, Evan is tongue deep in Michael's hole and too horny to care. He slides his cock inside Michael's ass and fucks him from behind, before switching and letting Michael have his way with him. Michael gives him a ride on his meaty cock and then flips Evan onto his back, pounding him missionary as the two of them cum all over each other in a scene that would make the parents flip the fuck out. Old Evan would care what they think. New Evan is too covered in cum to bother.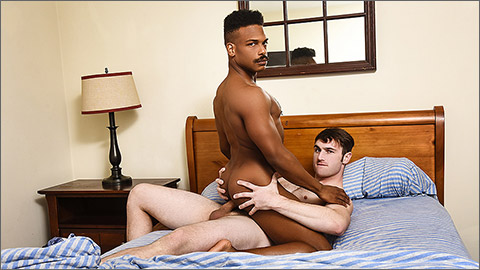 A HELPING HANDFUL
Fit cutie Adrian Hart is just trying to be helpful, offering to carry in some groceries for a woman in need. When he gets into the woman's house and meets her son, the athletic brown-eyed Michael Boston, he gets so uncontrollably horny that he starts masturbating with a cucumber. Michael spies on him, jerking his big curved cock while watching from around the corner! It's not long before these two horny dudes can't resist any longer and start fucking rught there in the kitchen, which Michael's mother is… not thrilled about.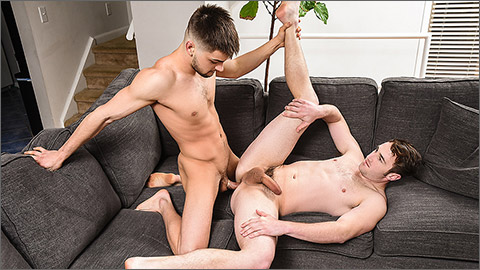 YOU'VE CHANGED, BRO
Fit hunk Johnny Rapid and boy-next-door Michael Boston haven't seen each other in years. The boys get together again for a good old fashioned movie night, but things take a turn when Michael finds the unimaginable on his old friend's television– gay porn! The unexpected surprise gives the two fit studs a chance to broach some long-standing questions about their relationship, and soon Johnny and Michael are admitting that there's always been something between them. Johnny alternates between tenderly breaking Michael in and roughly dominating him in this hole pounding reunion.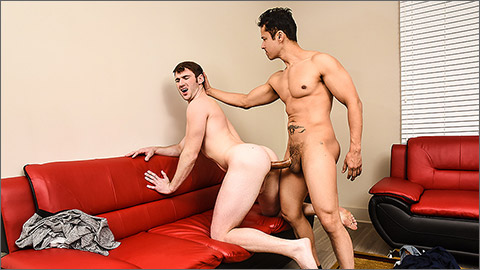 NEW COCK, WHO DIS?
Michael Boston is a size queen through and through and when Rafael Alencar shows up packing insufficient heat, brown-eyed Michael is quick to send him away. Lucky for Rafael, modern medicine has made having a monstrously huge cock possible in a matter of minutes. Newly endowed, Rafael shows up at Michael's house again to give him a classic "big mistake, huge" moment by making Michael gag on his enormous cock then shoving it all the way into his hungry ass.
CLICK HERE TO GO TO HIS NEXT DOOR STUDIOS DETAILS
CLICK HERE TO GO TO HIS MEN.COM DETAILS
VIDEO ON-DEMAND: Michael Boston @ AEBN SMUTJUNKIES THEATER
ENDLESS UNLIMITED STREAMING: Michael Boston @ NAKEDSWORD