American Muscle Gay Porn Star, Max Stone
Known Aliases / aka: Maxx Stone
Years Active: 1994

REAR END ALIGNMENT: Max Stone fists Ponyboy Spike
Shaved, pierced fisting bottom Ponyboy Spike arrives on time for his lube job with New York power-top Max Stone. Stone aggressively grabs Spike's cock and spits into his big hairy armpit, rubbing his bald head around under the horny man's arm. Stone wastes no time pushing Spike to his knees and ordering him to suck his growing cock. Next we find Spike laying ass-up on a stack of tires, ready and waiting for his lube job. Stone takes an industrial size grease toy and fills Spike's massive cavern with extra-strength lube. Stone plunges his fist, followed by his forearm, deep into Spike's hole, turning his sphincter into a bright red donut. From here Stone shackles Spike to a giant hook hanging from the ceiling and Spike thrusts himself down on Stone's muscular, tattooed arm.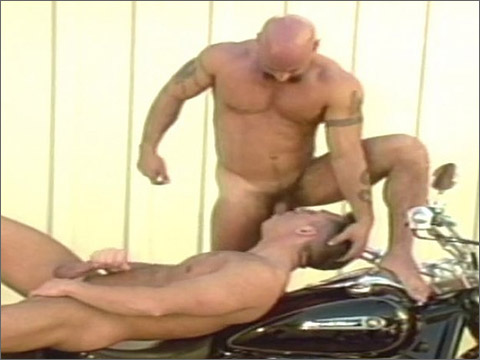 FAST ACTION: Max Stone & J.T. Sloan
Lovers, Sam Crockett and Perry James have lost the zip in their lovelife after seven years together. Perry wonders if it's time to "open" up the relationship. Sam says No. They just need to put the spark back into their lovemaking. But, it will have to wait until after Sam's nephew's (Jeremy Brooks) visit. Nephew Jeremy shows up. He's got a video camera that he's been using in his travels. He got some hot action of a couple of biker dudes. We see Max and JT having sex on a motorcycle.
ALL WORLDS VIDEO
CATALINA VIDEO