Handsome Argentine Gay Porn Super Star, Max Schutler
Known Aliases: Gustavo Munez / Gustavo Nunez, Max Shutler / Max Schulter
Years Active: 2007 – 2015
LUCAS ENTERTAINMENT INFO:
Height: 5'11
Weight: 170lbs
Dick Size: 7.5″
Position: Bottom
Max Schutler is a try anything, energetic, full of life and cumkind of guy. This multi-lingual, Argentinean aggressor has a nice uncut dick and hot round ass that likes to take it rough! Q. What inspired you to start modeling? A. Watching porn and all the hot guys in the movies, I thought I want to do that!! Q. What is your preferred sexual position? What is your favorite sexual activity? A. I don't care about position top or bottom, doggy style or missionary it always depends on your partner and on the mood… but if I'm going to get fucked, it has to be really hard!! And if I going to Top someone I will do it hard too!! 😉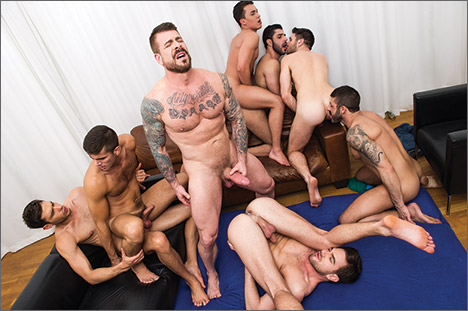 MAX SCHUTLER AND JOEY PELE STEAL THE SHOW AT ROCCO'S BREEDING PARTY
It's been years since Max Schutler has appear in a Lucas Entertainment film, so what better way to make a return than at Rocco Steele's breeding party' Rocco's gathering aside from him and Max currently consists of Leo Alexander, Raul Korso, Joey Pele, Zander Craze, Max Toro, and Craig Daniel. Max has his sights set on Rocco from the onset: around 3:20 he starts sucking on Rocco's 10 inches of thick daddy meat. And a note on Joey Pele: this guy has bulked up quite a bit, and with his increased muscle mass so too has his sex drive blown up. Zander Craze gets him started by swallowing his uncut cock, and for a while Joey gives into his submissive side by sharing Rocco Steele's daddy cock with Raul Korso. But be sure to make note of the action around 32:45, as Joey hops from hole to hole: he fucks Craig Daniel, moves to Raul Korso, and then back to Craig. Meanwhile, Rocco can't get enough of Max: Rocco focuses on Max by fucking the returning performer slowly and deeply on his back. Admittedly, it's hard keeping up with all of the incredible action, and clocking in at over 50 minutes, this is a bareback orgy of astounding quality you do not want to miss out on!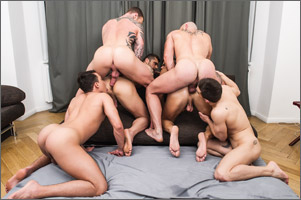 DYLAN JAMES JOINS JOEY PELE AND ISAAC ELIAD IN A SIX-MAN BAREBACK ORGY
Dylan James joins Joey Pele and Isaac Eliad in what has grown to be a six-man orgy. We had five before, but the cast alongside Dylan, Joey, and Isaac now includes Josh Milk and Max Schutler, and Bruno Fox sticks around to taste the new meat as well. And let's be upfront about something in this scene you won't want to miss: there's a row of asses ready for a licking. Isaac, Max, and Josh have their holes pointed up in the air for the tongues of Dylan, Joey, and Bruno. You cannot miss this rimming portion, which begins at 11:30. And what starts out as some harmless ass licking turns into an incredible line up of fucking, and all six guys fulfill their roles beautifully!
FRESHMEN  November 2008
[2]  Jan/Feb 2008
UNZIPPED  May 2007, December 2007
HONCHO  July 2009, August 2007
TORSO  October 2008
BADPUPPY  #23
MACHO  July 2011
BUCKSHOT 2010 CALENDAR
ON FIRE! 2009 CALENDAR
RAGING STALLION: 2009 STALLIONS CALENDAR
2011 STALLIONS CALENDAR
RAGING STALLION: 2010 STALLIONS CALENDAR
CLICK HERE TO GO TO HIS LUCAS ENTERTAINMENT DETAILS