American Gay Porn Star, Max Penn
Years Active: 2015 – 2016
TWITTER @MaxPennXXX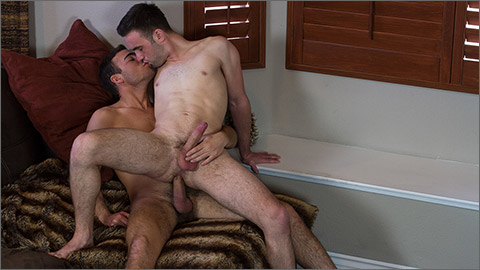 MAX FUCKS ANDREW
This video really needs no description. When I say it needs no description, it's because their chemistry and sex completely speaks for itself. Andrew likes being manhandled and fucked deep, and that's exactly what Max does to him. The whole video is essentially one take from start to finish in one of the quickest videos we've ever filmed– that's how you know it's real and good! Andrew loves a good facial, so Max fucks his brains out until he gives him exactly what he wants– a hot facial and a cum-covered cock rammed back in him. They're pretty fucking cute together too…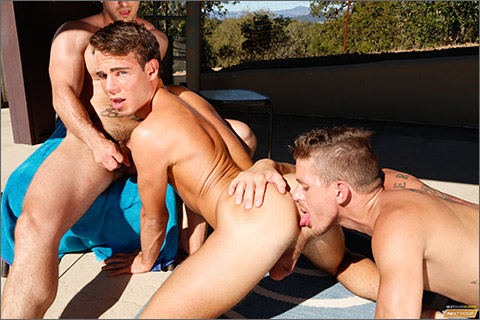 MY SISTER'S FIANCE
For Phenix Saint, life has been getting more and more crazy every day, as his wedding approaches. It's a good thing his future wife's family is so much fun and easy to get along with. His soon-to-be brother-in-law, Max Penn is always up to some kind of mischief, but Phenix loves spending time with him. And Max's boyfriend, Alexander Gustavo, is a perfect complement to Max. He's always encouraging Max to run some kind of clever scheme…often seduction is involved.
   On a sunny day, when Phenix's woman is stuck at work, Phenix decides to join Max and Alexander down by the pool for a little bonding time. They welcome him and cook up a plan as he sunbathes shirtless next to the pool. Max finally convinces Phenix to come in the pool, wearing a pair of Max's swim shorts, since Phenix didn't bring over a pair. Saying they were small on him would be a huge understatement.
   As the three casually toss around a volleyball and make wisecracks at each other, Max announces he'll be right back. He walks out of the pool slowly so Phenix gets a good look. Then, to Phenix's astonishment, Max pulls his shorts down and gives both guys a good show of his tight asshole! Alexander laughs at Phenix's nervous reaction. When Max gets back in the pool, he tries to get Phenix to take off his shorts too, but Phenix does NOT see this as appropriate. Max takes matters into his own hands and submerges, swims over to Phenix, pulls his shorts off and quickly gives Phenix's cock a little suckle.
   It all happened too fast for Phenix to realize what had happened. Max then jumps out of the pool and motions for Phenix to follow him behind the pool house. Phenix jumps out, naked and confused and goes after Max. Max grabs his arm and pulls him behind the house where they seem to be alone. There, Max convinces Phenix to let him suck his dick! It took a little convincing, but Max takes advantage of the opportunity to the full extent. And Alexander takes a prime position for watching, hidden behind a support beam, jerking his hard meat.
   After a few minutes, Max brings Phenix back poolside and Alexander joins them. Phenix figures that this has already become so out of control, he should at least finish off the whole encounter with a nice cum blast. Max continues to slurp Phenix's cock while Alexander licks Max's butthole. Then, Max lets Phenix experience his first ass. Phenix slides his fat boner into Max's sweet hole and fucks him good. Alexander stuffs Max's dick-hungry mouth on the other side.
   Join this wild pool party and see these guys really bond in the best way, just before they all become one big happy family-in-law!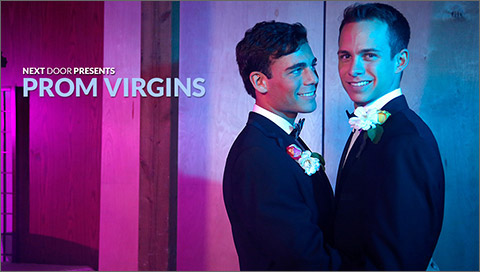 PROM VIRGINS
Max Penn is bummed out because he doesn't think he'll have a date for prom. He WANTS to go with Garrett Cooper, who's been a good friend for a while now, but neither his own, nor Garrett's parents know either of them are gay!
   When Max's dad surprises Max by telling him he already knows he's gay, and that Max should go ahead and ask Garrett to prom, Max thinks his dreams are coming true! But Garrett's parents aren't nearly as cool as Max's dad. Garrett tells Max he can't go to prom with him because his parents would surely find out and kick Garrett out of the house. Max is hurt so badly, he can barely even leave the house.
   Garrett, however, musters the courage to be who he is. He hates upsetting Max, his friend and secret crush, so he decides to tell his parents and see what happens. To his chagrin, they're OK with it! Max and Garrett have a blast at the dance, and wind up at Max's house afterwards, where things really heat up!!
   Since they're both virgins, Max and Garrett go slowly at first, even though their lust for each other is uncontrollable. Max goes down and gets a mouthful of Garrett's swelling cock. It feels even better than Max had fantasized. Then it's Garrett's turn. He enjoys slurping on Max's hard dick before flipping his date over and tasting his tight hole.
   It's pretty much the best feeling Max thought he'd ever felt! But then Garrett slid his fat, erect cock into Max's ass and it blew Max's mind! Wow, what an incredible sensation. Garrett loved how tight and warm Max's ass felt on his firm cock. Max used his gymnastics skills and did the splits while bouncing up and down on Garrett's pulsating boner. Once Garrett was ready, he let Max fuck him.
   Max pounded Garrett's hole harder than he had planned. The passion overtook him and he was lost in the moment.
   Join these young lovers and experience together with them a once-in-a-lifetime night of first-time, after-prom sex!!
NEXT DOOR STUDIOS
GUYS IN SWEATPANTS
PROM VIRGINS
A FLIP FLOP FACIAL