Slender American Gay Porn Star, Matthew Matters
Known Aliases / aka:
Years Active: 2004 – 2006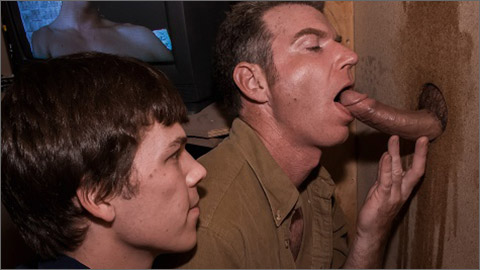 ARCADE ON ROUTE 9 – BOOTH 23
Brett Anderson and Matthew Matters suck Dominic Pacifico
Meanwhile, in Booth 23, Dad's showing Junior the finer points of arcade etiquette. Dad's pointing out the glory that lies in a glory hole, with businessman Dominic Pacifico all too eager to chow down on dad's bountiful boner. "Lemmee try," says junior, and soon slams Dominic with a young man's blasts of jet propelled spunk. Then dad and son are switch-sucking that businessman bone, making Dominic jet his jizz 'cross the booth in a real razzle-dazzle finish. "Happy birthday," says dad. "Thanks," Junior replies, wiping cream off his chin.
   The businessman has met handsome young Josh Powell in the buddy booth. They're stripped naked and stroking. Dad and Junior make the phallus-flailers a
quartet. When cashier Jody Scott comes in, things heat up dangerously. Dominic and Josh take side-by-side squat fucks atop Jody and Dad. Junior beats the jizz outta Dominic while the dude's still squirming on his dad's cock, and the rest of the guys join in on the cream fest. Then Junior gets a sight he's not prepared for—Dad's pissing all over himself!
CHANNEL 1 / RASCAL
CLICK HERE TO GO TO HIS TITAN MEN DETAILS
VIDEO ON-DEMAND: Matthew Matters @ AEBN SMUTJUNKIES THEATER
DVDs & ON-DEMAND: Matthew Matters @ TLA VIDEO