Handsome Blond Uncut Gay Porn Star, Matthew Anders
Known Aliases: Matt Anders (Men.com)
Years Active: 1997 – 2018
TWITTER @MattAndersXXX
RENTMEN ESCORT SITE
RENTMEN INFO (2015):
Age: 30
Height: 5'9″ – 174 cm
Weight: 175lbs – 73 kg
Body: Muscular
Body Hair: Light Hairy
Orientation: Gay
Position: Versatile
Ethnicity: Caucasian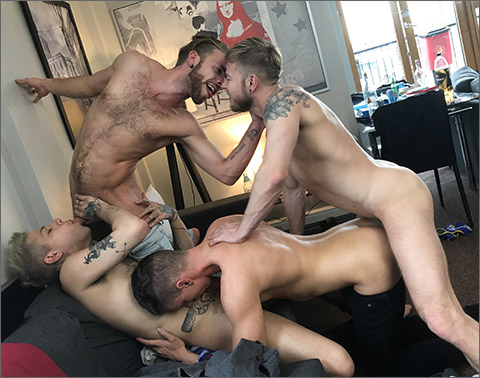 GUYSPOTTING: Mickey Taylor, Matthew Anders, Billy Rock & Gabriel Phoenix
Mickey Taylor and Gabriel Phoenix are high on love but sometimes that's not enough. When they get to their mate's flat the party is already in full swing and everyone is getting high on everything they can find. Glasses of wine and poppers lead to bumps and before you know it everyone is naked and on the grind. Mickey is on his knees sucking all three cocks then has his cock up Billy's ass. Matthew Anders and Billy Rock take turns fucking Mickey and Gabriel and they switch places. At one point all four guys are lying in a giant fuck pile and loads are swallowed. It's good to be young, gay, and Guyspotting in Manchester.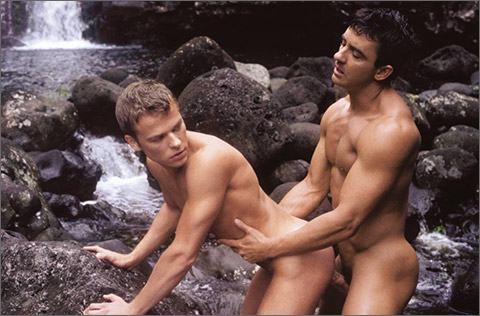 HIGH TIDE: Tom Chase fucks Matthew Anders
Seven years later, Matthew Anders is back where he belongs-with Tom Chase, the true love of his life. Time has not diminished their ardor, rather it has only strengthened their bond. Rediscovering themselves, the lovers frolic in the surf, playing in the sand, walking hand in hand. They seal their love with a kiss in the surf, while in the background a cathedral of waterfall and rocks reflects their passion. Matthew devotedly sucks Tom's huge cock drawing every rock-hard inch deep into his throat. The two transmit their undiminished love to each other with long looks; their passion steamy and sensuous. Tom lovingly takes Matthew's cock into his mouth, then meanders to his hole, massaging and priming it for a full session of fucking. They make up for lost time as Tom pumps Matthew full with his huge dick, each stroke throbbing with pleasure and passion. They stroke off and finally explode, releasing their essence. Still basking in the afterglow, they sit alone on the beach, as the waves serenade them.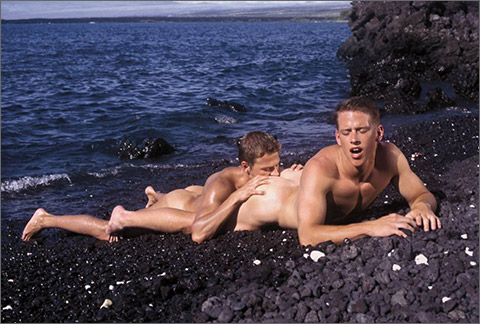 HIGH TIDE: Jeremy Penn fucks Matthew Anders
Relaxing on a remote black sand beach, Matthew Anders lies back, soaking in the sunlight. Muscled blond jock Jeremy Penn spies Matthew on the sand. Jeremy impulsively blankets Matthew's body with his own, then pulls Matthew up and into the surf. Standing naked in the shimmering water, their passion churns and swells like the surf surrounding them. Matthew finds himself drawn irrepressibly toward Jeremy's stiff erect cock, worshipping it from the cleft of the tip down to the gentle curve of Jeremy's full, protruding balls. Soon Matthew is devoting his attention to Jeremy's firm round ass…spreading his cheeks and probing Jeremy's hole with an insistent tongue…transporting Jeremy into a highly charged erotic state. The two relocate to an igneous outcropping and Jeremy slides his aching cock deep into Matthew's hole. Jeremy forcefully and rhythmically fucks Matthew until the delectable ache of orgasm expands, triggering an explosion of pearly ropes which adorns Matthew's back.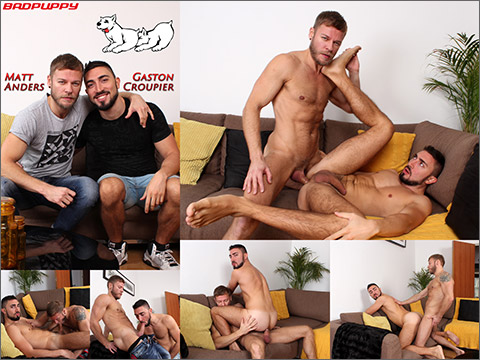 MATT ANDERS FUCKS GASTON CROUPIER
Hunky Matt Anders and Italian stud Gaston Croupier had never met. They were immediately attracted to each other and as they kiss you can see the physical passion. Gaston lifts up Mattís shirt as he pushes him back on the sofa and then he starts tweaking Mattís nipples with his teeth and lips. Mattís head goes back in ecstasy. Gaston is the first on his knees as he pulls Matt to his feet. He slowly strips Matt of his clothes before he devours Mattís cock. With a raging hard-on Matt stands, pulls Gaston to his feet and yanks his jeans to his feet. Matt pushes the now naked Gaston back onto the sofa and he goes to work sucking Gastonís large, thick cock. Gaston is next on his knees with Matt shoving his tongue deep into his ass. After some oral priming Matt slowly; but fluidly, pushes his cock into Gastonís eager hole. Matt goes to work pounding Gastonís ass and Gaston just as willingly works his legs and ass to increase the pounding. After what seems like an eternity of Matt decimating Gastonís ass, Gaston sits Matt down on the sofa, climbs onto Mattís cock and begins riding just as feverishly. Finally Gaston lies back on the sofa, pulls his legs back and Matt plunges his cock deep inside Gaston. Gaston grabs his already sore cock and begins jerking again. With Mattís cock deep inside him, Gaston shoots a load of semen all over his tight stomach. Matt pulls his dick out of Gastonís ass and with a forceful jerk of his hand, cum squirts all over Gastonís balls and cock. With a smile, Gaston reaches out with his hand to touch the cum dripping from Mattís spent cock.

GENTS
Matthew Anders may look like an impeccable business man on the outside but theres nothing more that he likes than a bit of urinal stroking action. Matthew is on a mission to find some cock and he ventures underground to a popular public mensroom to get his rocks off. But the blond hunk hasn't gone unnoticed, Dani Robles is on the hunt too and spots Matthew following him downstairs to find him dick-out at the urinal just waiting to be sucked. The men get instantly hard, watching each-other piss and jerk off, and Dani's mouth is watering at the tough of gong down on Matthew and sucking on his delicious uncut dick. But that's not nearly enough for Matthew, as he bends Dani over the washbasin before literally fucking the cum out of him. And boy does he cum – watch Danis spray a MASSIVE load all over the bathroom mirror!!
NAKEDSWORD
MEN AT PLAY
MEN.COM
COCKYBOYS
FALCON STUDIOS
CHANNEL 1 / RASCAL
CATALINA VIDEO
NAKED EYE
GENTS
SEX, LIES AND SURVEILLANCE – PART 1
ERASE AND REWIND – PART 4
FORBIDDEN – PART 1
THE ABBEY -PART 3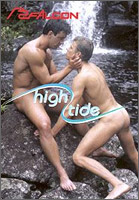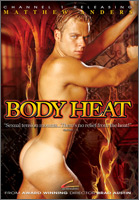 HIGH TIDE (FVP-112)
CALIFORNIA KINGS (FVP-113)
SOAKED (JVP-085)
TIGHTY WHITIES
CATALINAVILLE
BODY HEAT
DADDY PLEASE!
MEN OF MAGNUM
MECHANIC ON BOOTY
BAD ASS LIEUTENANT
TAILS FROM THE LOCKERROOM
THE CREAM TEAM
GAY FOR THE WEEKEND
UNCUT WEEKEND
MAN CRAVINGS
THE UNINVITED: OUT OF BODY, OUT OF TIME…
VIDEO ON-DEMAND: Matthew Anders @ AEBN SMUTJUNKIES THEATER
DVDs & ON-DEMAND: Matthew Anders @ TLA VIDEO