Hung Horny American Gay Porn Star, Matt Wingman / Jay Rizzing / Jay Rising
Known Aliases / aka: Ricky Dicardo, Ricky (Chaos Men), Ricky Carr (Broke Straight Boys), Ricky Woods
Years Active: 2011 – 2019
MEN.COM INFO:
Hair Color: Brown Sign: Aquarius
Eye Color: Blue Dick Size: 10
Height: 6'1″ Cut / Uncut: Cut
Weight: 185 Sexual Positions: Top
About
Favorite Foods: Pizza, chicken,pork and rice
Favorite Movie: 21 Jump Street
Favorite City: Las Vegas
Hobbies: I cook, gym and stunt on street bikes
What I like The Most: Getting head
What I Don't Like: Sucking Dick
Best Thing About Me: My cock size
Worst Thing About Me: My ass lol
How To Make Me Happy: Play with my balls and suck me
Favorite Quote: If you don't know by now, then you never will.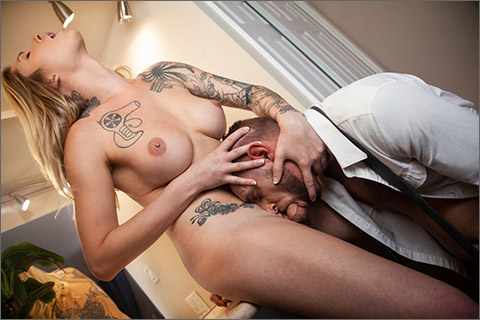 FIVE BROTHERS: FAMILY VALUES: Danni Daniels & Matt Wingman
As newly acquainted brother Nic Sahara explores his new family-home in Miami, he accidentally walks in on Aunt Danni doing "family business" of her own, with their prized ally Senator Matt Wingman, on his knees sucking Aunt Danni's gigantic cock. Nic backs up out of the room after getting screamed at and Sean Duran jumps up to see the commotion. He pulls Nic away laughing, "this family has a lot of secrets!" Back in the negotiation room, the senator is on his knees slurping down every inch of Danni's enormous cock. He starts fingering her hole and she screams out for more. Both of them strip off their clothes and dominant Danni drops to her knees to enjoy all 9 inches of the senator's thick dick. With tears streaming down her face from sucking down to the balls, she throws him on the bed and climbs on top to face fuck him and get ass-fucked by his thick fingers. After cuming a few times, she jumps back down to feast on his dick. He flips her over to suck and finger-fuck her ass pussy. She jerks her big delicious dick until both her ass and cock explode into full body orgasm. Once she cums back to life, she throws the senator back on the bed to milk a huge juicy load out of his big dick. Both quivering and wet with sweat, there's another surprise, this time for Aunt Danni. The cool-collected matriarch of this crime family loses it in a surprise ending that will keep you wanting more. Stay tuned for part 2 of this epic hardcore series: 'Five Brothers: The Takedown!'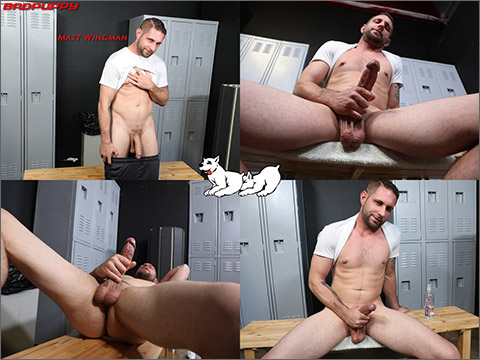 MATT WINGMAN BIG DICK SOLO
Matt Wingman has a sexy voice with a very heavy northern accent and he really likes talking about porn. All the talk gets him excited so he starts rubbing the growing bulge in his shorts about halfway thru the interview. By the end of said interview, Mattís cock is rock hard and making quite the impression in his shorts. He pulls down his shorts and out plops this long, thick one-eyed monster with the biggest balls Iíve seen in quite a while. He starts stroking and his thick, veiny cock gets longer and harder. Matt settles back on the bench, lubes up his cock and focuses on the feeling of his hand working his dick. As he gets close to nutting, he sits up on the edge of the bench, legs spread and his big oleí balls bouncing up and down. Matt starts moaning, his balls almost disappear and his cock begins squirting load after load of creamy jizz all over the floor, his cock and hand.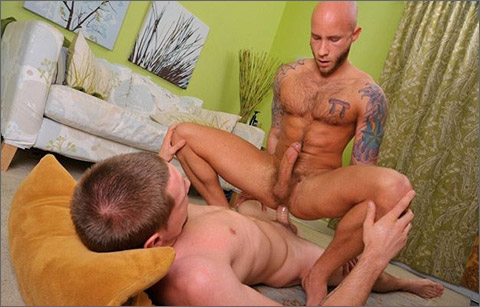 FULL MOON RIZING
Packin' more than the average hottie, Jay Rizzing is back this week on ExtraBigDicks.com to show everyone the top 10 reasons why our members love him. By 'reasons' we, of course, mean inches; and who better to appreciate such a monumental task than our good friend, Drake Jaden. Jay is squeezing his thick dick through his pants as Drake goes in to investigate. He starts to grope at that dick as they make out. Jay then stands up and puts his crotch in Drake's face as Drake pulls down Jay's shorts and wraps his lips around that horse hung dick. Jay moans as Drake takes it all the way to the hilt. Do no try this at home, boys; Drake is a trained professional. Drake shoves that dick all the way down his throat and holds it down as long as he can before gagging on it and having to come up for air. Jay is in awe as he watches Drake take his dick better than most. Drake then stands and strips to give Jay the opportunity to give back. Jay grabs Drake's throbbing meat and sucks on it.! He bobs his head up and down on that throbbing meat getting as much of it down his throat as he can. Jay then gets Drake on the floor as he kneels behind him and starts to rub his fat dick along that hot hole. Drake moans quickly turn to groans as Jay's dick starts to slide inside. "You like that big fuckin' dick?' Jay taunts 'does that fill you up?" Drake grimaces as his ass gives in and takes that fat dick balls deep. Jay is soon tappin' that ass deep as Drake starts to back that ass up onto his meat wanting every inch of it inside him. Jay then gets Drake to lie on the couch so he could fuck that ass missionary. He grabs Drake's ankles as he goes right back to laying that pipe deep. Drake just begs for more as he gets that hole hammered by Jay's str8 dick. That mammoth meat is feeling damn good as it rams inside; but wait…there's more. Jay then lies on the floor and holds still as Drake sits on that cock. He bounces up and down on that dick fucking himself harder and ! harder until it sends him over the edge as he explodes all ove! r Jay's smooth chest and abs. Jay is next as he jacks his own thick load all over his already cum-covered navel. Well, welcome back Mr. Rizzing.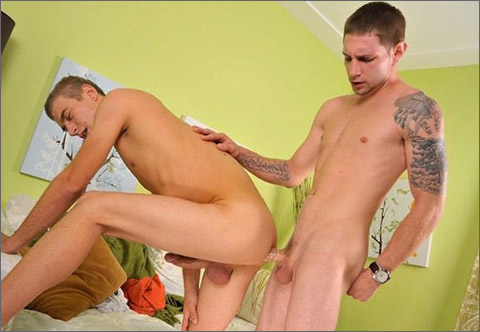 I LOVE LOOSELY
This week we have an extra big surprise for you here on ExtraBigDicks.com. To help us out with that is Jersey's own Alexander Greene. Alexander is 20 and being that this hung fan favorite is from Jersey, we thought he'd be perfect to help us welcome the newbie from the Big Apple, NYC. We actually had "10" good reasons why- but, let's not get ahead of ourselves… Ricky is kickin' back with Alexander complaining about guys always blowing up his cell with offers to suck his dick cuz "guys do it better". Alexander grins and assures him it's true. "How would you know?' Ricky asks 'can you prove it?" Alexander doesn't need to be told twice as he reaches for Ricky's growing crotch. He plays with Ricky's growing bone through his loose fitting boxers that can barely contain his junk. He hauls out Ricky's half hard cock and huge balls. He can't hold off any longer and goes for it sucking as much of it as he can. Ricky then gets up to give Alexander more dick as he starts to fuck that! mouth of his owning up to the fact that Alexander might've been right after all. Ricky then gets Alexander on his feet and helps him out of his pants and gets a closer look at Alexander's 9″ cock. He licks it; rubs his face with it and teases Alexander as he jerks his thick dick. Knowing this is out of his comfort zone, Alexander gets him back on the couch to get more of Ricky's dick in his mouth. He sucks on it some more wanting to get it as hard as he can. Once Ricky's rock hard, Alexander slides a rubber on him and sits on his fat meat. Alexander is rock hard as he takes all 10 inches deep; riding that cock like a champ. Their massive balls slap together as Alexander rides that dick reverse Alexander grunts as Ricky pounds his tight ass harder and soon they end up back on the couch where Ricky lays behind Alexander and fucks him from behind. Ricky's cock pistoning into Alexander's tight ass is only getting them both closer to cumming. Alexander jacks his meat furiously ! as Ricky fucks the cum out of him. Ricky then pulls his massiv! e dick out and unloads all over Alexander's chest.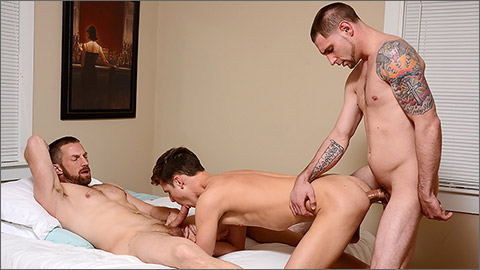 MY NEW STEPDAD IS A PERVERT – PART 3
Jay Rising stops by to visit his friend Adam Herst who has something to get off his chest. He tells Jay that he recorded his stepson, Travis Stevens, getting fucked while he hid in his closet. Jay doesn't believe it and wants to see the video for himself. The two pervy daddies start to touch themselves as they watch the video of Travis getting his cute ass ravaged by his friend. Travis walks in on them, but is so turned on by these hung daddies that he offers them the real deal.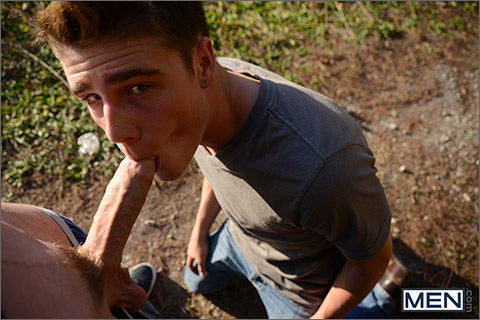 DESPERATE TEENS – PART 3
Travis Stevens is having car trouble and is stranded on the side of the road. Just when he thought nobody would stop to help, Jay Rising drives up and makes him an offer he cannot refuse. Jay says he will help Travis, just as long as he can stuff his mouth with his enormous cock and then ravage the desperate teen's hole until he delivers a massive load to his face.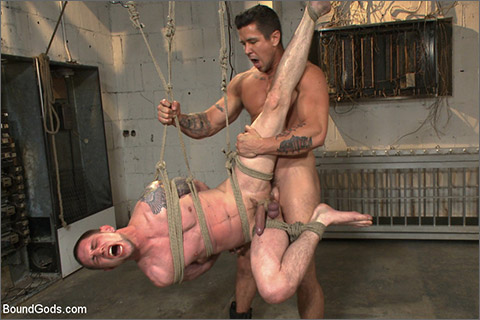 THE CREEPY HANDYMAN vs HIS NEW REPLACEMENT
Jay Rising is minding his own business at work when creepy handyman Trenton Ducati approaches him. When Jay explains that he's the there to replace the current handyman after complaints have been made, Trenton pounces on him from behind and holds Jay captive. Locked in a cage, Jay wakes up to the creepy handyman, tormenting him with the zapper before prying Jay's mouth open to suck cock. Bound in rope, Jay endures a flogging as his captor relentlessly beats him, his big cock swinging in the air as the whip hits his skin. Trenton then suspends his captive in the air and fucks him from both ends. Tied down on his back, Jay squirms in his bondage as hot candle wax is poured all over his body before his captor milks a load out of his cock. The creepy handyman finishes Jay off with a face full of cum and has him suck his cock clean.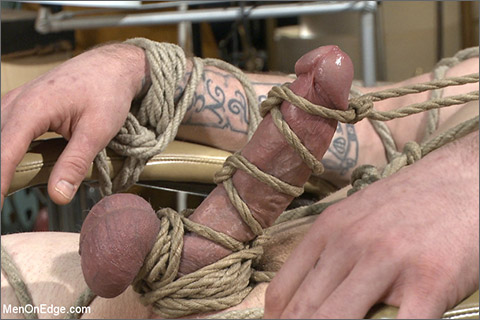 STRAIGHT STUD WITH A GIANT COCK RELENTLESSLY EDGED AGAINST HIS WILL
Sebastian is working part time in a warehouse to earn some extra money when he notices his hot straight co-worker, Jay Rising. When Jay least expects it, Sebastian pounces on him from behind and quickly ties him up. He calls up Van to come join in on the fun and the two tear away Jay's clothes as he's bound and blindfolded. The straight stud is a little feisty so the two pervs smack him around till he's ready to submit. He settles down as the two get his cock nice and hard, teasing him with hitachi's vibrating on his cockhead before going off to take their break. Tied up in the chair, Jay moans in his bondage as Van ad Sebastian enjoy a cup of tea. They torment the bound stud by taking a gulp of tea and spitting it back onto Jay's hard cock. When Jay threatens to tell on the two pervs they take some blackmail photos of Jay sucking Sebastian's cock for insurance. Jay then has a vibrator shoved up his ass as the two pervs continue to edge his cock with the fleshjack. The pervs shove a prostate massager up Jay's butt as they milk a load of cum out of his cock and give him some post-orgasmic tickling.
VIDEO ON-DEMAND: Jay Rising @ AEBN SMUTJUNKIES THEATER
DVDs & ON-DEMAND: Jay Rising @ TLA VIDEO