American Bad Boy Gay Porn Star, Matt Gunther
Known Aliases / aka:
Years Active: 1990 – 1995
Falcon Studios info:
Hair: Brown
Eyes: Green
Height: 5′ 11"
Size: 8" cut
Born: 1963
From: Garden Grove, CA

THE ABDUCTION: Matt Gunther fucks Nick Manetti
While the two captives are in confinement, two of their captors Matt Gunther and Nick Manetti help each other release some built up sexual tension in the control room. They begin by swapping blowjobs in uniform and finally strip down for Manetti to get a good ass pounding.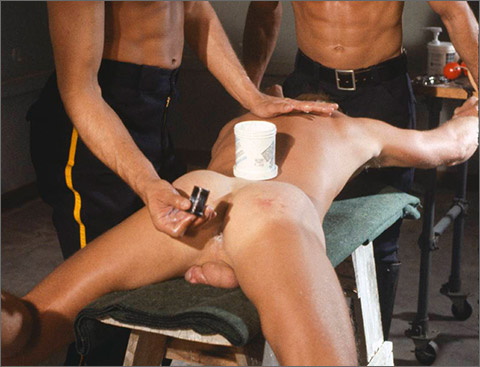 THE ABDUCTION: Chance Caldwell, Jason Ross and Matt Gunther fist and punish Craig Slater
Like Hogan, Craig Slater is abducted and brought before taskmaster Chance Caldwell. He orders two cronies – Jason Ross and Matt Gunther – to restrain Craig and search his ass for the film. The two henchmen find the film and punish Slater with candle wax and fill his ass with various sex toys before Matt Gunther fills it up with his fist.

CRUISIN' 2: Three-way with Matt Gunther, Dcota and Brian Peterson
Matt Gunther and Dcota invite Brian Peterson for a ride and a three-way. Once inside these sex-craving studs fill every hole over and over again with forceful intensity. They work each other over in every conceivable way before shooting their loads and relaxing in each others embrace.

CRUISIN' 2: Matt Gunther fucks Brad Mitchell
Matt Gunther spies military man Brad Mitchell in SF's Lincoln Park. The two men take cover indoors and Matt give Brad a thorough workover in his uniform. Matt and Brad massage each other…working out of their clothes and enjoying every reveal. Soon Matt's on his knees…dutifully worshipping Brad's cock. Brad returns the favor and soon the men are sucking each other's cocks. Matt rims and probes Brad's hole…preparing him for the ass-fucking to follow. But once isn't enough and after Brad pops his load Matt flips him over and gives him another pounding and another blast of cum.