Staxus Czech Twink Gay Porn Star, Martin Rivers
Known Aliases:
Years Active: 2016 – 2018
STAXUS INFO:
Date of birth: 20th October 1998
Height: 5'11" / 180 cms
Cock size: 7.5″ / 20 cm
Ethnicity: Czech
Role: Bottom
Interesting Fact:
Martin is a bit of a technophobe and doesn't even have a mobile phone, which makes contacting him for shoots a little more difficult than with most other models.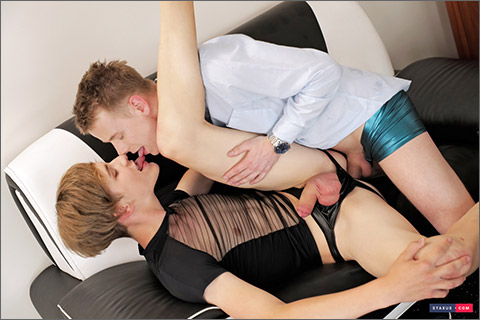 HUNG JURY: Mega-Hung Brief Makes A Spunky Proposal To His Indecent Pup
Floppy-haired beauty, Martin Rivers, is in trouble with the authorities for public indecency; but whilst the powers-that-be might not appreciate his very skimpy shorts and flesh-revealing shirt, Milan Sharp is clearly all in favour. And not just because the young lad's regular court appearances are clearly boosting his bank balance! No, Sharp evidently appreciates every inch of his client's flawless body – a fact that he makes plain by means of a knowing twinkle in his eye, whilst at the same time admonishing the twink for his feckless ways. After all, even a dusty-eyed lawyer can appreciate a pretty boy when they he sees one; and the donkey-dicked attorney certainly makes no effort to rebuke the lad further when Rivers buries his face into his crotch!
   Then again, what fucking right-minded guy ever would? Nor does he show the slightest reticence when it comes to going over the finer points of the case with his horned-up client; feasting off the lad's badly swollen dick, before feverishly rimming and then fucking Rivers' arse and revealing quite a snazzy taste in underwear in the process! Unless you've got a particular fetish for pants, however, it's the table-top fornication between these lads that's gonna grab you most by the balls; with Sharp ramming every inch of his oversized knob into his bud's derriere, before bundling the winsome puppy over to a nearby sofa to complete his violation. No doubt about it, this is one pumped-up brief who's determined to work every ounce of cum out of his client; before blasting what can only be called a tsunami of goo all over Rivers' face!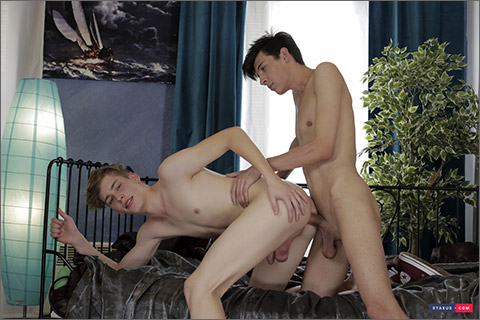 BAREBACK FUCK DATE: BLOND CONTESTANT CHOOSES A MEATY, UNCUT COCK TO RIDE HIM RAW!
It's tongue-in-cheek mayhem as TV-host Titus Snow introduces us to arguably the hottest date-show ever imagined – by inviting handsome contestant Martin Rivers to eye the three faceless cocks on offer, and to decide which one he'd like to have stretching his arsehole before the end of the show! It's definitely like absolutely nothing else you've ever seen broadcast; but the blond beauty takes it all in his stride as he examines the dicks and finally plumps for the thick, uncut shaft of Andy Scott.
   Introductions over, and it's definitely a case of the lads getting down to business – Snow making his excuses, leaving Rivers to get to know the horny young bachelor he's chosen. It's all parody, of course; but believe us when we tell you that there's absolutely nothing comical about the manner with which these two newfound buddies proceed to take full advantage of the situation by slurping on each other's ramrods. Indeed, both lads are like a couple of dogs on heat – most notably Rivers, who's soon outstretched on his back inviting Scott to rim and finger his hairless little pucker.
   It's unquestionably the kind of invitation that no self-respecting top is ever gonna decline; and it's no time at all before Rivers is taking inches of hard flesh in his guts as a result. It marks the start of a truly terrific set-piece that sees the young blond twink fucked to high buggery in a whole series of positions, culminating in Scott giving the boy's now nicely worked fuck-hole a severe dousing of hot spunk. All nicely topped off by the sight of Scott working his mate's shaft to ecstasy in return!
CLICK HERE TO GO TO HIS STAXUS DETAILS
VIDEO ON-DEMAND: Martin Rivers @ AEBN SMUTJUNKIES THEATER
DVDs & ON-DEMAND: Martin Rivers @ RAD VIDEO