Cute Uncut European Gay Porn Star, Martin Dejdar / Thomac Cruise
Known Aliases / aka: Lukas Redic (Higgins), Thomas Barton (FIC), John Cruise (Higgins), John Cruse (Handsome), Mario Remek, Jan (Radioactive), Jan Krasny (CzechBoys)
Years Active: 2006
LUCAS KAZAN INFO:
Year of birth: 1985
Country of birth: Czech Republic
Sign: Aries
Height: 5′ 6"
Cock: 5 1/2"
Sexual Role: Bottom
WILLIAM HIGGINS INFO:
Model Name: Lukas Redic (age 22)
Zodiac Sign: Aries
Home City: Havirov
Height: 168 cm / 5'6"
Foot Size: 8 (convert)
Weight: 63 kg / 140 lbs
Penis Size: 16 cm / 6.3"
Profession: Waiter
Hobbies: Fitness, Sex, Sport, Family
Favorite Sports: Fitness, Sex, Box
Active Sports: Fitness, Sex, Box
Favorite Movie/Music/Sport Stars: Mike Tyson, Steven Seagal
Visited Countries: Italy, Slovakia
Lukas certainly is NOT your usual Page 5 material. He's a fantastic model.  This is a great little shoot we did with him back in our shower room. Lukas has many fans, this one is for you, guys!
CZECH BOYS INFO:
Jan Krasny is one aptly named twink – "krasny" means "beautiful" in Czech, and this 18 year old bisexual student is truly gorgeous. His perfect baby face is just the beginning – Jan also has a fantastic muscular body with great shoulders, smooth pecs and a sexy treasure trail that draws the eye down across his toned stomach to his very strong and hairy legs. Easy-going and up for anything, Jan was not at all shy about stripping naked in the lovely Czech countryside, showing us his great bubble butt and jerking off for the camera. And he lost his concentration only for a moment when a lady on a horse passed by and asked him what he was doing!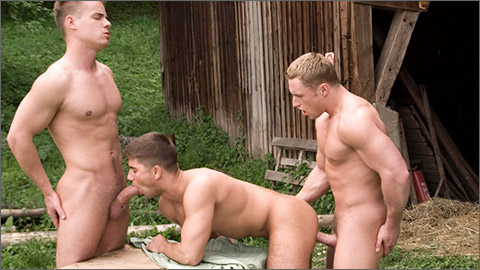 FARM FRESH: Petr Majer & Jak Black fuck Thomac Cruise
Blond, smooth and strapping Petr Majer's hard at work splitting wood, gearing up for one of those cool Czech nights. It's hard work, even for a guy as sturdily built and brawny as Petr. He's got a he-man of a helper in Jak Black, who's busy bringing him more wood, but one glance at smooth, hunky Petr is enough to make Jak forget all about bringing more wood for Petr's chopping block.
   A little playful roughhousing leads to some skillful cocksucking, as Petr and Jak dive down on each other's throbbing tools. They're not alone for long. The farm's crawling with young studs like Thomac Cruise, who brings a hunk of wood of his own to add to the pile and quickly finds himself kneeling on the floor of the barn, sucking the fat, uncut cocks of his buddies. It's just too much, and before long, the guys join together for a sensational jack off session, with Jak's huge meat busting open in spectacular sprays of jizz. So creamy and juicy, you could fill a milk bucket with it.
   The guys saunter outside for the next round, with Thomac a fertile field to plow for Jak and Petr, who take turns filling him up with their mammoth tools. Petr and Jak bust out gigantic loads of hot man-juice over Thomac, who adds his sweet spunk to the gooey mix.
TITAN MEN
LUCAS KAZAN
WILLIAM HIGGINS
WILLIAM HIGGINS STR8HELL
HIGH OCTANE PRODUCTIONS / HERVÉ HANDSOME
CLICK HERE TO GO TO HIS TITANMEN FRESH DETAILS
VIDEO ON-DEMAND: Martin Dejdar / Thomac Cruise @ AEBN SMUTJUNKIES THEATER
DVDs & ON-DEMAND: Martin Dejdar / Thomac Cruise @ TLA VIDEO