Kristen Bjorn Spanish Gay Porn Performer, Mario Dura Domenech
Years Active: 2009 – 2017
TWITTER @MarioDomenechX
Spaniard Innocent boy pampered and very perverse. Adult Model, Porn Actor and Performer.
KRISTEN BJORN INFO:
Nationality: Spain
Height: 5′ 9″
Weight: 175 lbs
Dick: 8 (20.32 cms) uncut
Position: Versatile
Mario is a Spaniard, he looks like a boxer, or a rough guy who won't take "no" for an answer, who would pull down your pants when you're off guard, and give you the fuck of the century. His ass won't displease you either, and I can assure you that he knows how to use it. Behind this rough guy image hides a personality full of nuances; friendly, extroverted, and a lover of fame and the pleasures of life. His body is marked an infinity of tattoos, homage to people he admires. He has been in a relationship with Antonio Miracle for nine years, and they are going to get married in October, 2014. Who says there is no romance in porn?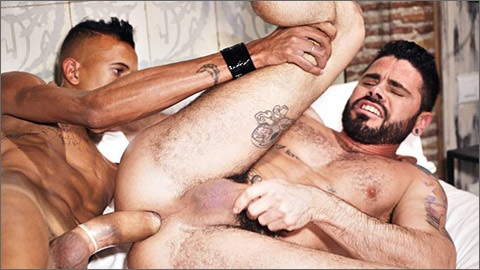 EDUARDO PICASSO FUCKS MARIO DOMENECH
Flashback to Eduardo Picasso's first ever shoot with Timtales. Oldie but goodie. I ended up releasing this scene since Tim loves it. We teamed up the biggest, most massive cock with an expert bottom. Mario Domenech couldn't believe his eyes (and mouth). It's the biggest cock he ever took and probably will ever take!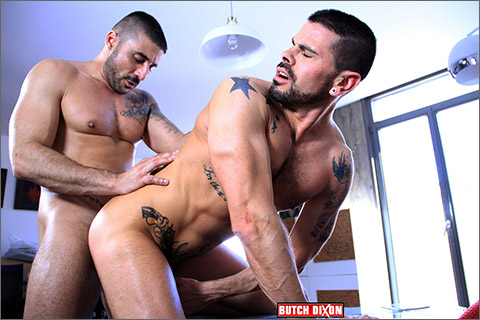 MAX TORO FUCKS MARIO DURA
There's definitely something in the water in Spain to produce such a crop of strapping, swarthy, sexy, super-sized, uncircumcised studs. Max Toro is back ( I can't deny I've got a fucking massive crush on this guy, he's just such a confident, sexy, smiling guapo, and when he peels his pants off you'll fall in lust too) – this time he's with an equally sexy Spanish hunk – Mario Dura and when these two masculine men get together its electric. Mario and Max like to play RAW, Mario can't wait to take that kilo of pulsating, bareback cock up his fuck-hole but when Max slides it all the way in – so his balls are squashed against Mario's hard arse, the lucky sub boy is gasping between pleasure and pain, Max is packing a fucking whopper! The men fuck rampantly until Max is begging to cum and Mario is begging for that creamy load, and he wants it in his mouth so he can suck every glistening, steaming drop our of Max's thick, meat tool. This ones a spunkalicious winner, big men, big, uncut cocks, all bareback and very sticky!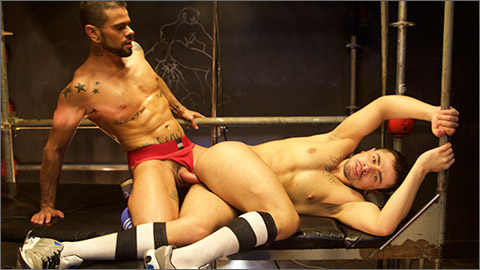 FUCKING FABIAN: ROUND TWO
Insatiable Fabian is back for more and this time it's up to Mario Domenech to teach this little whore a lesson he won't soon forget. Mario sucks and fucks like his life depends on it and sends Fabian into new realms of submissive ecstasy.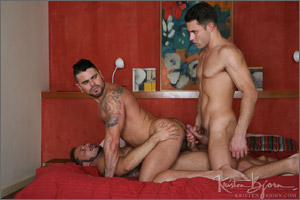 ON THE PROWL #15: JAMES CASTLE, ANTONIO MIRACLE & MARIO DOMENECH
Antonio and Mario notice James on the street and persuade him to join them at their place. James is more than eager to join the couple and they get horny and naked real fast. James takes Antonio's huge cock into his mouth as Mario sucks on James' hot cock. James and Mario move into a savage 69 as Antonio eats out James' pink hole. Mario moves into position over Antonio's throbbing raw cock and slides it deep into his ass. As soon as Mario takes all of his lover's cock in his ass, James rams his hard raw cock deep inside of Mario as well. Antonio and James pummel Mario's ass hard as Mario fights to control his breathing. Mario and Antonio move James into the middle as Antonio fucks James' ass and Mario fucks his mouth. The intensity of the fucking reaches a feverish pitch and the guy's testosterone levels rise causing their cocks to spasm with anticipation. Mario reaches nirvana first and feeds his creamy load into James' hungry mouth. With his mouth coated in cum and Antonio's ferocious cock pounding away at his raw hole James' cock explodes with a huge load of cum. Antonio has been teased and taunted with all the cum flying around that he blows his load all over James' balls and then shoves his cum slicked cock back into James' hole.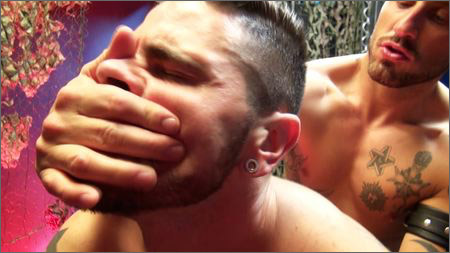 RAW SLEAZE
Antonio and Mario get down, dirty, and sleazy in this week's update. You can feel the couple's chemistry explode in their maddenly passionate, lustful fucking — this is not a scene to be missed.
BULLFIGHT EDITION – VOL 2
ANTONIO MIRACLE BAREBACKS MARIO DOMENECH
JORGE BELLANTINOS, CARLOS PEREZ & MARIO DOMENECH
MEN IN THE CITY
MEN IN THE CITY 2
STREET DOGS EN CHUECA
TIM TALES
KRISTEN BJORN
DARK ALLEY MEDIA
BUTCH DIXON
CLICK HERE TO GO TO HIS KRISTEN BJORN DETAILS