Horse Hung and Handsome Cuban Gay Porn Star, Mario Costa
Known Aliases: Mario Acosta
Years Active: 2007 – 2015
TWITTER @MarioCostaXXX
FABSCOUT INFO:
Hair Color: Black
Eye Color: Brown
Height: 5'10"
Position: Top
Body Type: Swimmer
Body Hair: Moderate
Endowment: 9.5″
Foreskin: Uncut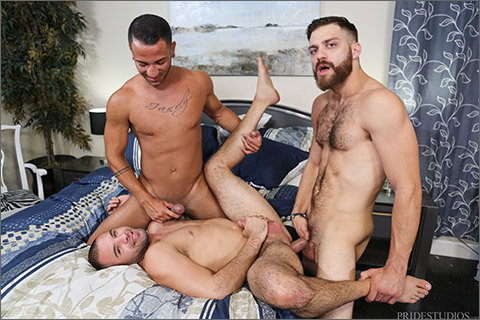 TOP AFFAIR – PART 3
Mario and Tommy have both realized that they fucked the same guy in the same week. They agree to set Braxton up with a text message from Tommy saying he'll come over but Braxton won't know about Mario coming along until it's too late. Tommy sends the text out and they head over to Braxton's. Braxton answers the door and immediately sees both of them and tries to shut the door but Tommy pushes it open and they both charge in and pull their cocks out and Braxton goes down on his knees to suck both of the massive cocks staring at him in the face. Braxton goes from cock to cock and even puts both of them in his mouth but not far long as Tommy pulls him up onto the bed spreads his legs and watches Braxton twerk his big round ass. Tommy gets first dibs on breaking in that tight hole. Braxton has Mario's thick uncut dick in his mouth as Tommy pushes deep inside that ass. Mario is standing above them watching his cock get slobbered on as Tommy pounds away. Not wanting to hog all the fun Mario gets a turn at that rumptious ass as Tommy plays with his nipples and Braxton enjoys his cock going in and out of his mouth. They fuck Braxton is a couple positions and finish off by covering his chest in cum as it slowly drips down and they all plan another hot three-way.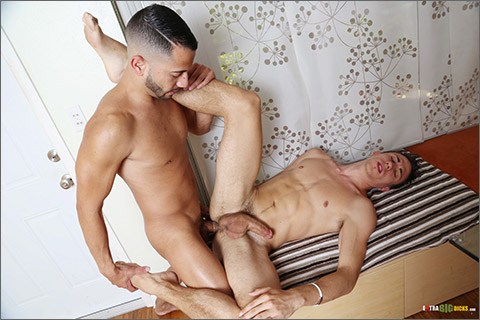 A HUGE COMMISSON
It's open house day for Mario and he's getting everything all set up for the day. Shane is jogging down the street when he sees Mario putting up signs for the house so he jogs over to him and lets him know he's very interested in seeing the inside of the house. Once inside Shane reveals his true intentions and pulls Mario's huge thick uncut cock out and begins to worship it. Mario has a sexy thick cock and Shane loves the uncut dick and so he spends much needed time with Mario's lovely cock. Mario is so hard that he can't take it anymore and he has Shane ride his fat dick up and down slow and steady. Shane takes it all in for this one and leaves a huge creamy load all over his chest.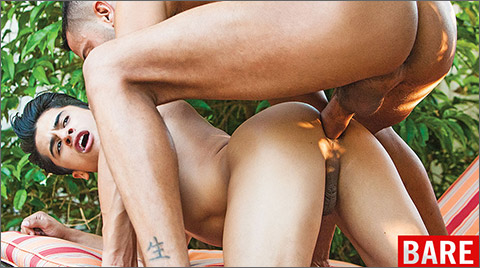 RAW LATIN HEAT: Armond Rizzo Bottoms For Mario Costa's Raw Uncut Latin Cock
These little Latin boys sure are size queens. Armond Rizzo is back, and he puts us all to shame with his skills wrangling ridiculously large penises. Whose ridiculously large penis is in the running this time, you might be wondering' It's Mario Costa, who is new to the set of Lucas Entertainment, and with any luck he will be making a return appearance in future films… with endowment like that, it would be a shame not to. And judging by 16:25, I think Armond Rizzo is in agreement. Clearly, Mario Costa is a skilled top — it must all be in the Cuban breeding.
BUCK shOts: MARIO COSTA
GOLDEN GATE SEASON 4: TOURIST SEASON
MARIO COSTA & RICKY MARTINEZ
COASTAL EROSION
MY MAN MUSCLE IS BIGGER
A HUGE COMMISSON
I'M THE BOTTOM?
WET INCHES
ISAAC HARVEY & MARIO COSTA
HUNTER PAGE & MARIO COSTA
CHRIS COX & MARIO COSTA
MARIO COSTA & SHANE FROST
ANTONIO KAVA & MARIO COSTA
COSTA RICA
EL COSTA GRANDE
BLONDE AMBITION
TURNER THE BEST AROUND
THE BIG TOP
SUPER MARIO, BROTHA!
MEAT GRINDER
STICK BALL
MARIO COSTA BAITS AL CARTER
RACE FOR THE COCK
COLLIN O'NEAL FUCKS MARIO ACOSTA
BIG THINGS IN SMALL PACKAGES
LUKE'S FIRST BIG COCK
SETH TAKES IT BIG
TYLER'S FIRST HUGE COCK
DIEGO'S FIRST HUGE COCK
CUTE GUYS WITH REALLY BIG DICKS
GROUP BIG COCK FUCKING
CALVIN'S FIRST HUGE COCK
MONSTER SIZED COCK!
MALE ROOMMATES GET PHYSICAL
BAD BOY DICK DUOS
TRUCK STOP FUCK
999 – BAIT BUS VICTIMS
MARIO'S GOT A BIG ONE
IT'S STILL GONNA HURT
THE NEW SLUGGER IN TOWN!
OFFICIALLY CRACKED IN HALF!
KILLIN THAT ASS!
KEN TANNER'S ASS FUCKING
DOUBLE YOUR PLEASURE OR PAIN?
INTRODUCING SAUSAGE PARTY!
ANOTHER VICTIM FROM BAASTON (BOSTON)
OUR BOY JIMMY
IMPATIENCE COULD LEAD TO AN UNGLORYHOLE
MARIO COSTA SOLO
LUCAS VITELLO FUCKS MARIO COSTA
DALLAS REEVES & MARIO COSTA
MARIO COSTA & RICHIE SABATINI
TOMMY DEFENDI FUCKS MARIO COSTA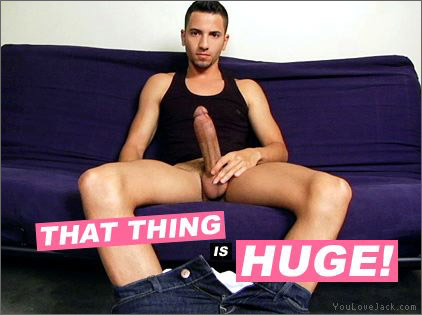 MARIO COSTA – THAT THING IS HUGE!
GOING TO THE MALL?
BIG DICK: A LOVE STORY
SWORD FIGHTING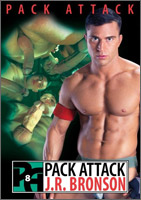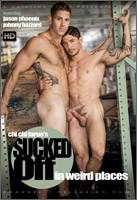 RUMPER ROOM
ONE TWINK AT A TIME
REAL BIG: BOYS MEASURING UP!
LAYOVER – LOS ANGELES, VOL. 2 (JVP-140)
LAYOVER – LOS ANGELES, VOL. 1 (JVP-139)
ROAD TRIP VOL. 2 – SANTA CRUZ (JVP-125)
FRAT BOY FUCK DOWN
PACK ATTACK 8 – J.R. BRONSON
RAW LATIN HEAT
MIAMI SPICE 2
SUCKED OFF IN WEIRD PLACES
GIO CARUSO'S BAIT BUDDIES
JAKE CRUISE'S COCK SURE MEN
MEN.COM
PRIDE STUDIOS
GAY ROOM
SUITE 703 / MEN HARD AT WORK
TWINKS
FALCON STUDIOS
RAGING STALLION
HOT HOUSE
LUCAS ENTERTAINMENT
BIG DADDY
BANG BROTHERS / BAIT BUS
CLICK HERE TO GO TO HIS LUCAS ENTERTAINMENT DETAILS