Handsome Slovakian Gay Porn Star, Marian Borovy / Thomas Lee
Known Aliases / aka: Balaz, Tomas Lee, Olaf Anderss, Balou, Martin Cielsar, Martin Soukup, Ramzi Berry, Rastislav Balaz, Rasto Balaz, Ros, Rosta Balaz, Ross Barclay, Rasty Balog, Rusty Balog, Russel Bare, Tom Lee, Tom Backman, Warren Beaumont
Years Active: 2005 – 2007
WILLIAM HIGGINS INFO:
Model Name: Marian Borovy (age 21 (2004))
Zodiac Sign: Taurus
Home City: Zilina (Sk)
Height: 182cm / 5'12"
Foot Size: 43 (convert)
Weight: 83kg / 184lbs
Penis Size: 18cm / 7.1″
Profession: Unemployed
Hobbies: Rock'n'Roll Acrobatic Dancing
Favorite Sports: Billiard
Active Sports: Rock'n'Roll
Visited Countries: Frace, Italy, Sweden
Our repeat from BadPuppy is Marian. He's is really good looking. Marian is from Slovakia. I'd really like to seem in in duos. I did a search for him and he did one duo Marian's Duo Unfortunately, it was very, very soft. I'll ask Misha to contact him again. If I were to venture a guess, I'd have to say, Misha need to be very persuasive.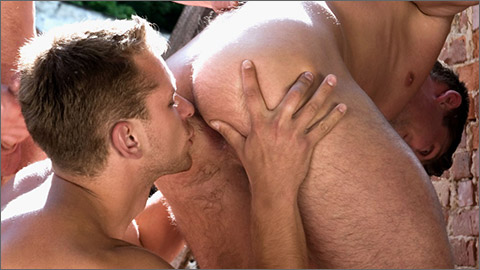 FARM HANDS: Thomas Lee & David Novak fuck Igor Martinek
Thomas Lee, David Novak and Igor Martinek jerk on, suck, fuck and enjoy each other's hard bodies. Handsome, clean-cut Thomas Lee—with lube in hand—stumbles across a dilapidated farm house, pulls out his cock, lubes up and starts stroking away. He's soon discovered by sexy David Novak and big muscle man Igor Martinek who waste no time in horning in on the action. David sucks down Thomas, getting a hold of plenty of foreskin, while Igor massages Thomas' pecs, then David takes Igor's dick in hand and mouth while Thomas shoves his head down on Igor's dick. David swallows, licks and strokes both Thomas' and Igor's mighty cocks while Igor and Thomas suck face and massage each others pecs. Thomas bends over and swallows Igor's dick while David continues swallowing down Thomas' meaty shaft and licking his bulging balls.
   Igor gets behind Thomas and manhandles his pecs while David strokes and sucks them both. Finally, David leans back and offers up his hot body as a spooge sponge for his two buddies who both send a shower of hot jizz raining down on his sexy pecs and abs.
   The guys regroup for even more fun! Thomas and David pry Igor's meaty ass cheeks apart for each other as they take turns burying their faces in his crack and eating out his hole. David mounts eager Igor's ass from behind as Thomas feeds him dick from the other end. Then Thomas grabs Igor' bubble butt and bangs his brains loose, fucking him deep and slow while Igor gags on David's massive dick. Igor lies on an old table top, puts his muscular arms behind his head and David fucks him good and hard while horny Thomas strokes and watches. Thomas goes in for Igor's ass, holding one leg over his shoulder and rocking the table with his energetic thrusting while the cock-hungry Igor makes a meal of David's tasty cock. Moaning and groaning with lust and pleasure, Thomas dumps a load of jizz all over Igor's crotch as David, gasping and stroking his dick, explodes all over Igor's bulging chest.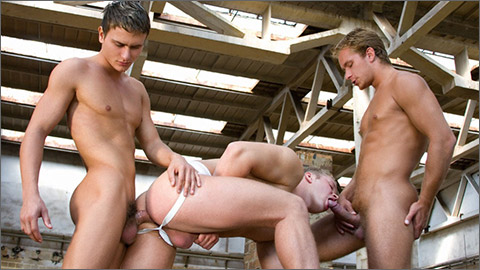 FACTORY FRESH: Jason Jackman and Honza Banan rip off sleeping sexy Marco Mark, then watch as Thomas Lee and Dion Philips spit lube each other's dicks and fuck Justin Corner.
As handsome Marco Marc stretches out on an abandoned factory floor for a quick nap, cute Jason Jackman (in a white tank top) and sexy Honza Banan steal Marco's briefcase and rifle through the wallet they find in it. They've got a fantastic view of the factory floor and catch sight of handsome Thomas Lee and sexy Dion Philips kissing while beefy Justin Corner swallows their stiff dicks. Justin divides his attention between their two massive cocks, gagging and spitting as he deep throats them and licks their tight balls. Justin drops his pants to show the guys his jockstrap-clad bubble butt and grants Dion a turn at sucking him and Thomas.
   Justin and Dion then jam their cocks down Thomas' throat until they blow their sticky wads all over his hard, ripped chest, covering his pecs with their jizz; Thomas then jerks himself off, dumping his own big pool of cum into the mix.
   If you think that satisfies these young guys, think again—they've got energy to spare! While Thomas crams his dick down Justin's throat, Dion lubes up Justin's hole, pulls on a condom and mounts him like a bull, his balls slapping against Justin's hard butt. Dion and Thomas switch off and Thomas grabs Justin by the waist and pounds his ass while Dion facefucks him. Justin squats over and rides Thomas' cock before flipping on his back and letting Dion crack his ass open with his dick while Thomas feeds him his cum-filled ball sack and throbbing rod. Thomas takes over fucking Justin's butt with long hard strokes, pushing deep into his ass and pulling all the way out until he finally blasts his load all over Justin's butt; Justin squirts a creamy load onto his abs and Dion shoots a thick load of spunk onto Justin's pecs.
TITAN MEN
WILLIAM HIGGINS
WILLIAM HIGGINS STR8HELL
BADPUPPY
HAMMER ENTERTAINMENT
RAWBOYS / BARE ADVENTURES
IKARUS STUDIOS / SWEET AND RAW
JAKE CRUISE'S COCK SURE MEN
CLICK HERE TO GO TO HIS TITANMEN FRESH DETAILS
VIDEO ON-DEMAND: Thomas Lee @ AEBN SMUTJUNKIES THEATER
DVDs & ON-DEMAND: Thomas Lee @ TLA VIDEO