William Higgins Czech Gay Porn Star, Marek Borek
Known Aliases: Alex Bach (Jake Cruise), Alex Ham / Alexx Ham (ManAvenue), George, Bohuslav
Years Active: 2014 – 2016
WILLIAM HIGGINS INFO:
Marek Borek is from Zamberk. He is a sturdily built guy, with a good body and a great smile. He looks good in this casting, with a reasonable sized cock and a nice big ass.
Model Name: Marek Borek
Age: 24
Home Town: Zamberk
Height: 184cm/6'0″
Weight: 104kg/228.8lb
Foot Size: EU45/US9.1/UK8.6
Penis Size: 17cm/6.69″
Profession/Student of: Self-emloyed
Hobbies: Gym
Favorite Sports: Martial Arts
Active Sports: Fitness
Movie/Music/Sport Stars: Guy Ritchie
Visited Coutries: Germany
Want to Visit Coutries: Italy
Dream of My Life: I dont know.
Zodiac Sign: Libra (September 23 – October 22)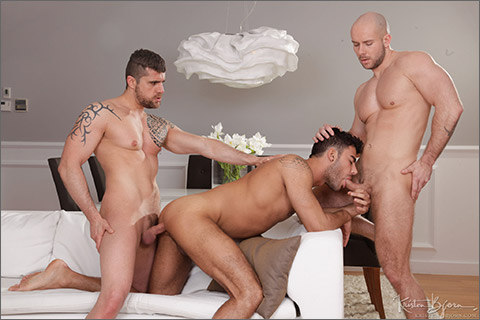 SKINS – 3SOME: ISAAC ELIAD & MAREK BOREK FUCK JARED
1, 2, 3Some, everyone loves to be the center of attention sometimes. Isaac, Jared and Marek slowly strip away their clothes and begin sucking each other's cocks in as many positions as possible. Jared is the first to get his ass fingered, spat on, probed and tongue fucked. Since his ass is already lubed up Isaac shoves his fat, raw cock in Jared's hot hole as he sucks on Marek's pounding cock. Jared is then flipped onto his back and Marek plunges his raw cock deep inside of that wet ass. Isaac enters into a hot 69 with Jared and enjoys the view of Marek's cock disappearing in and out of Jared's hungry hole. Jared is so turned on by all the attention that he blows his hot, creamy load all over Isaac's greedy lips and tongue. Isaac shares some of the load and lets it drool onto Marek's cock as lubricant. Isaac is the next to move to center stage and begins riding Marek's cock for all he can get out of it. Marek takes full advantage of the fact that Jared's cock is still hard and sucks on it as Isaac rides his cock. Isaac demands Marek to fuck him and no sooner are the words out of his mouth that he is shooting his thick load of cum. Marek continues his fucking before he erupts a huge, thick load of cum onto Isaac's smooth balls and ass and then deposits the last of his load inside of Isaac's ass. 1, 2, 3Some is always about sharing center stage.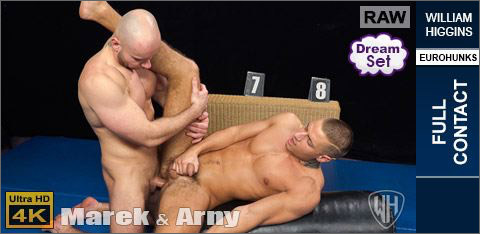 FULL CONTACT: MAREK BOREK FUCKS ARNY DONAN RAW
In another lovely Dream Set we have two very hot studs, Marek Borek and Arny Donan all hot and sweaty as they end their wrestling match. Then Arny is pulled onto his knees to suck Marek's big, stiff dick. His hot mouth works that fat cock licking and sucking it. Then Marek slaps it against Arny's face before shoving it back into his mouth. Arny has a voracious apetite for cock and really gets to work on Marek's. But Marek wants more and soon as Arny bent over on the mats, and is fucking his ass deep and hard. That throbbing cock works in and out on Arny's ass, making him moan with pleasure. Marek really pounds the hole, stretching wide and spanking on the ass too. They move to missionary position and we really see that huge cock working Arny's eager hole. Arny takes it so well. Then he is back on his knees, with Marek climbing on and riding hard. His cock pounds that hot hole until he is ready to blow and he pulls out to shoot a big load all over Arny's chest. Then Arny wanks his own cock as Marek stands over him, and delivers his own load. After the all that exertion they sit and enjoya beer before going off to the shower to clean up.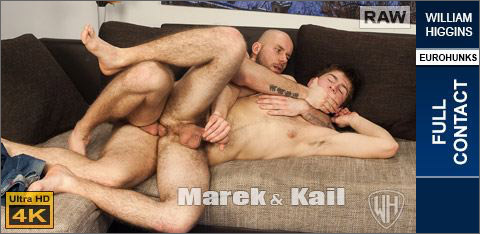 FULL CONTACT: MAREK BOREK FUCKS KAIL KOPEC RAW
In a great scene we have Kail Kopec and Marek Borek. As we join them Kail is on his laptop and Marek is exercising his biceps. But they soon forget about those things and get together for some hot action. Marek's chest is quickly bared, showing off his muscles. Then Kail's hairy chest is on view too, as Marek runs his hands over it. The kiss each other and then with Marek naked and hard Kail leans over to suck on his cock. His mouth clamps tight around Marek's dick and sucks it hard. He keeps on sucking, taking it deep into his mouth as Marek leans over to play with his ass. Kail wanks himself as he sucks and Marek's finger is deep in his hot ass. Moving to a 69 with Kail on top they suck each other's stiff dicks. Then Kail wants more, he wants Marek's big cock deep in his ass. Marek is happy to oblige and, as Kail is on his back with his legs up, his cock slides deep into that hole. Kail stays rock hard as his hole gets fucked deep. Then he changes position, bent over, for Marek to pound his hole some more. Marek's dick goes all the way into that eager hole, opening it up real good. Marek then lays on the sofa and Kail climbs onto that cock and rides it. His ass slides up and down on the throbbing cock, taking every inch. Moving to a spoon position Marek continues to fuck that ass deep and hard as Kail wanks himself and shoots his creamy load. His hot cum shoots up onto his belly as Marek continues fucking him hard. Then Marek pulls out and shoots his cum all over Kail's chest. Kail sucks the spent cock into his mouth to clean it off and then they go off to the shower to clean up.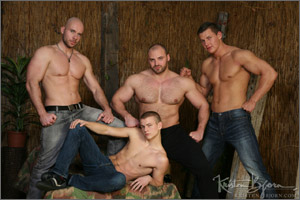 RAW ADVENTURES SCENE 3 – ABDUCTED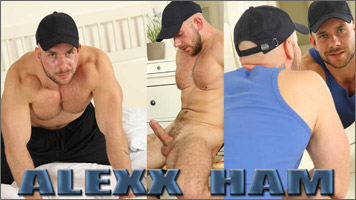 NEWCUMMER – NAKED BEEFY STUD, ALEXX HAM, BEATING HIS FAT DICK FOR YOU
Welcum our newest hunk, Alexx Ham, as he shows off his beefy and muscular body in this hot new video.
   Alexx admires himself in the mirror before starting to slowly undress. He teases us just a bit and shows his pubic hair under his gym shorts while stroking his cock through the shorts.
   Before we knew what was happening, Alexx was fully naked exposing his erect dick while posing and flexing. He jumped up on the bed, dick poking out so proudly in front of him, to give us a real show. As he moves around and shows off his hot muscle body, his hard dick is bouncing up and down in all it's glory.
   After he works up a sweat, Alexx lays back on the bed, hairy legs tensing as he beats his meat to a sticky climax.
   This is one hot fucking man I want to curl up to this winter!
WILLIAM HIGGINS
KRISTEN BJORN PRODUCTIONS
GAY WAR GAMES
MAN AVENUE
BIG DADDY
CLICK HERE TO GO TO HIS WILLIAM HIGGINS BIO PAGE
CLICK HERE TO GO TO HIS KRISTEN BJORN DETAILS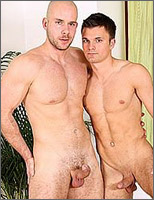 RAW ADVENTURES #12 – SMELL MEN: MAREK BOREK, PATRYK JANKOWSKI, TOM VOJAK
RAW ADVENTURES #3 – ABDUCTED: BOREK SOKOL, MAREK BOREK, ONDRA MATEJ, TOMAS FRIEDEL
FULL CONTACT: MAREK BOREK FUCKS KAIL KOPEC RAW
FULL CONTACT: RADO ZUSKA & MAREK BOREK RAW
FULL CONTACT: MAREK BOREK FUCKS ARNY DONAN RAW
FULL CONTACT: JINDRA DURAK & MAREK BOREK RAW
WANK PARTY 2014 #6
ALEX BACH BAREBACKS RYAN CAGE
ALEX BACH BAREBACKS KARL ROSSI
ALEX BACH BAREBACKS JAYDEN COOK
ALEX BACH BAREBACKS SEAN ROBSON
BEAUTIFUL ASS GETS A NICE COCK
OBSESSED
NEWCUMMER – NAKED BEEFY STUD, ALEXX HAM, BEATING HIS FAT DICK FOR YOU