Cute Asian American Gay Porn Star, Marcus Tresor
Known Aliases / aka:
Years Active: 2018 – 2020
NEXT DOOR STUDIOS INFO:
Height: 5'7″
Weight: 135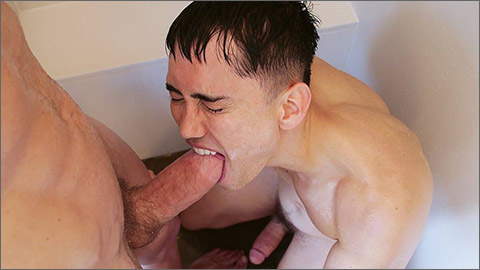 LIKE, COMMENT, SUBSCRIBE
Hot Asian underwear vlogger gets caught recording his naked bodybuilder roommate in the shower.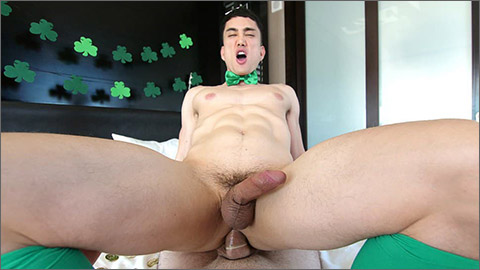 ST. PATRICK'S DAY
Gold loving leprechaun craves cum in his belly this year.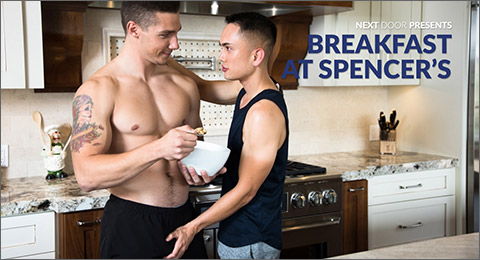 BREAKFAST AT SPENCER'S
Unaware that his brother had company over the night before, Spencer Laval is just a man trying to eat his breakfast in peace and quiet, but when Marcus Tresor finds him in the kitchen, standing alone with his morning wood raging, things become a little awkward. Marcus tells Spencer he's not really into cold cereal, and instead prefers a little breakfast sausage, eyeing the bulge in Spencer's shorts. Spencer tries to play it off, but Marcus persists, and before he knows it, Marcus is gripping his cock and staring him dead in the eyes. Spencer's mind is telling him to walk away, but his throbbing cock is telling him something else entirely, and when Marcus flips Spencer's waistband down and begins to suck him off, Spencer realizes there are worst ways to spend the morning. Suddenly, Spencer's hunger is no longer in his stomach, as his cock gets rock hard in Marcus' mouth. He bends Marcus over the island and plunges his raw cock deep inside Marcus' hole. Marcus proves this isn't his first-morning sausage, as he takes every inch of Spencer's dick willingly, fucking him all over the kitchen. They move to the floor where Marcus gives Spencer the ride of his life, then Spencer flips him over, fucking the cum out of Marcus before hosing him off with his morning load. They clean up just as Spencer's brother stirs awake upstairs.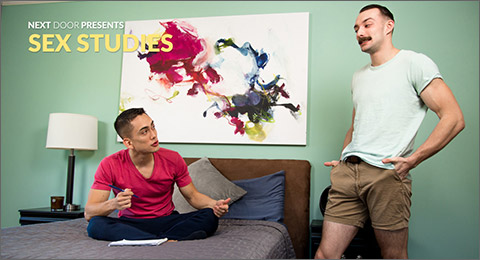 SEX STUDIES
With time running out on their group project, Marcus Tresors & Johnny B only have so many hours left until it is due. Johnny tries to convince Marcus to do his part for him in exchange for some personal attention, but Marcus tells Johnny that he's never rough enough for it to be worth Marcus' while. Johnny promises to do a better job if Marcus will do his class work, and Marcus tentatively agrees. With that, Johnny pushes him back onto the bed and hovers over him as they kiss. Johnny strips Marcus out of his clothes and begins to suck Marcus off. Marcus moans as Johnny services him and then they switch places as Johnny pushes Marcus' head down onto his cock, gagging him with his hard on. Marcus smiles and tells Johnny that's how he likes it, but Johnny is only getting started. He leaps up to his feet and spins Marcus around, perching his ass high in the air as he plunges his rock hard dick deep inside Marcus' hole. He pounds Marcus from behind, fucking him so hard he fears Marcus will break, but Marcus proves he can take the dick as Johnny fucks him all over the bed, finally making him spurt his load as Johnny pulls out and soaks him with his nut. Cum-covered and satisfied, Marucs exhales as Johnny tells him he's still got a lot of work to do.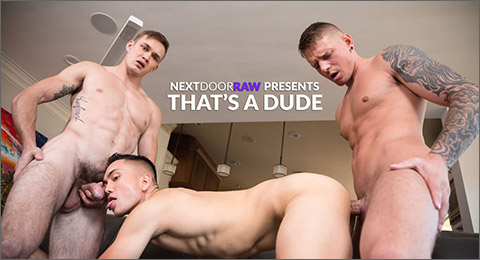 THAT'S A DUDE
Handsome hunk Gunner is used to sharing his step-brother's take home prizes, but when Jackson Traynor shows him the latest match on the way over, Gunner takes one look and has serious reservations. Jackson's latest hook up is definitely a dude, and Gunner is unsure he wants to partake, but as they argue, the date shows up, and when Gunner sees Marcus Tresors in the flesh, he decides brother knows best, and the three of them get it on. First the step-brothers have a sword fight in Marcus' mouth before bending him over and having their way with him. They fuck his ass raw and repeatedly, pounding him in every position as they stuff his mouth with the other one's dick. Marcus has all the cock he can handle, and when the brothers blow their loads all over him, he gets what he came for, and he shoots his load as they watch on. Gunner laughs and looks down at Marcus then up at Jackson, who he admits sure can pick'em.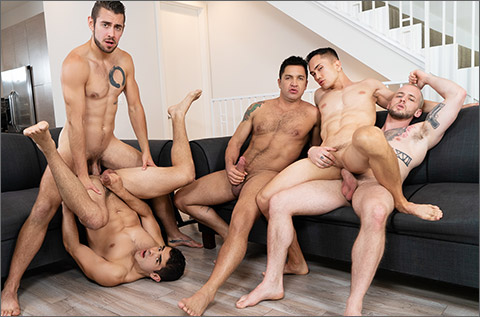 THE LONGEST ERECTION OF MY LIFE – PART 3
Tattooed, hunk Dante Colle still canít get rid of his everlasting erection, and he has a birthday party to attend. What is he going to do? He decides to stuff it in his pants and heads out. Once there, the guys notice something is off with Dante, and begin probing him until his rock hard, hung cock is revealed. Atheltic Cazden Hunter, blond-haired Colton Grey, muscular Dominic Pacifico and chiseled Marcus Tresor all have one thing in mind now, and thatís to get the party really started with some hot group sex.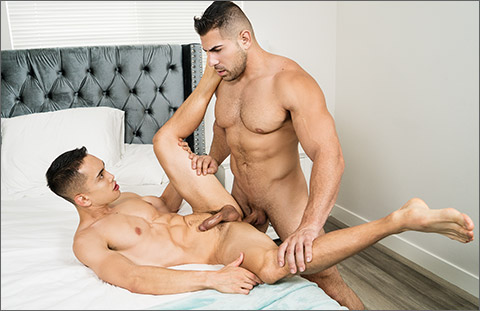 TABOO – PART 1
Ripped hunk Marcus Tresor is having some issues with his crazy soon-to-be ex-girlfriend! He has decided heís had enough, and heads into the bedroom to pack his belongings. While packing, he discovers a male blow up doll hiding in the closet which peaks his sexual curiosity. He strips down, and mounts the doll only to be discovered mid-ride by his girlfriend, and beefy hunk Damien Stone. His girlfriend runs off, and Damien takes this opportunity to give Marcus a taste of the real thing!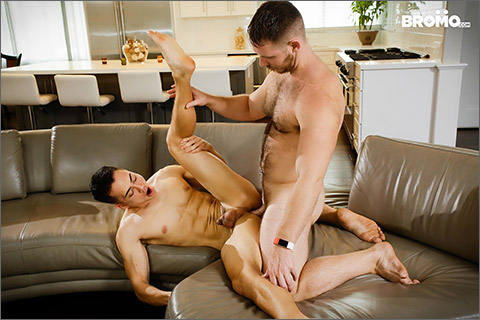 LEARNING THE ROPES
Fit and young Marcus Tresor needs to be shown how to fuck and beefy Spencer Whitman is just the man for the job. Hairy Spencer tells Marcus to undress so he can get a look at that sweet, little ass. If dark-haired Marcus is going to prove heís a good boy, heís going to have to do exactly what Spencer says. In the end, Marcus turns out to be a perfect, obedient bottom, and hot and hung Spencer rewards him by cumming all over his tight, little hole.
CLICK HERE TO GO TO HIS NEXT DOOR STUDIOS DETAILS
VIDEO ON-DEMAND: Marcus Tresor @ AEBN SMUTJUNKIES THEATER
DVDs & ON-DEMAND: Marcus Tresor @ TLA VIDEO