Handsome American Gay Porn Star, Marcus Isaacs
Years Active: 2011 – 2016
Lucas Entertainment Stats / Info:
Position: Bottom
Dick Size: 7"
Height: 5'10
New York City resident Marcus Isaacs is a muscular hunk who joined the hardcore gay porn industry to travel, earn notoriety, make money, and have ass-pounding sex with other hot guys! He was a bartender, DJ, and gym enthusiast before he joined the industry, and now he can't stop having sex! Marcus favorite activity in bed is getting fucked, pure and simple, and he prefers men who have lots of muscles, a big dick, and have dark features!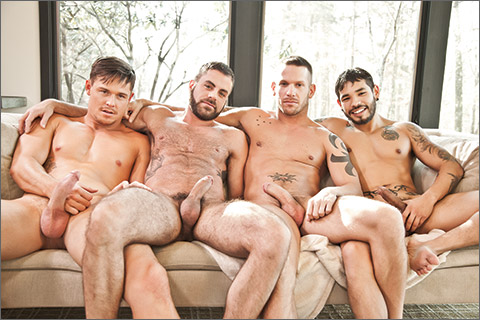 BAREBACK SEX FEST: Jed's Birthday Party Retreat Turns into a Wild Sex Party
Jed Athens and his fuck buddies Draven Torres, Shane Frost, and Marcus Isaacs retreat to a cabin in upstate New York to celebrate Jed's birthday. After he opens his presents — which all wind up to be sex toys — they strip off their clothes to give Jed his real gift. The guys daisy chain each other, fuck toys, get wet and long blowjobs, and best of all, they fuck each other raw long and hard. Jed proves his topping skills at his party, because he takes his turn on every guy in the room!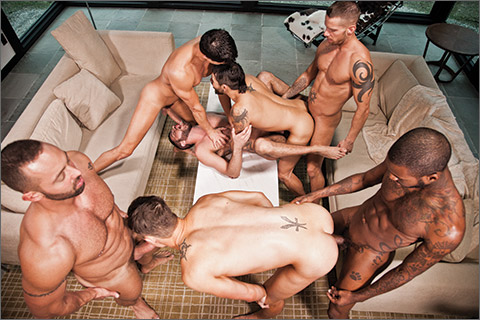 BAREBACK SEX FEST: Jed Athens Takes Bareback Double Penetration for His Birthday Gift
The gay bareback sex party has reached its conclusion and everyone is on board to make sure Jed Athens' birthday bash is a smash hit! That includes all of the guys: Draven Torres, Shane Frost, Marcus Isaacs, Rafael Carreras, Hot Rod, and Fabio Stallone. Who's going to get fucked and who is going to be doing the ass pounding' You'll have to watch the scene. But here's a hint: Jed Athens gets to enjoy raw bareback double penetration!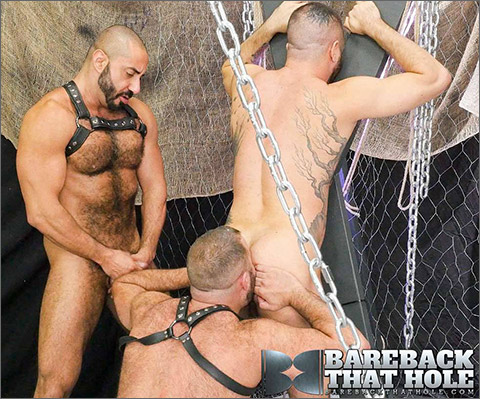 AMIR BADRI, MARCUS ISAACS AND MATTHIEU ANGEL
When you get these three hot guys, Amir, Marcus and Matthieu, in a scene together you can expect nothing less than fireworks. Amir and Marcus begin and Matthieu quickly adds in. Soon cocks and hot holes are dripping with spit getting their bodies ready for hot fun. Then it's time to pull out the toys! Major cock sucking and ass play is just the warm up to part 2 of this session. Enjoy!
   Last we left we were deep into ass play. Now we are just deep in ass. Amir slurps up Matthieu's thick cock while Marcus sits in the sling waiting his turn for some raw dick. But not before Amir turns over and gets drilled first! I love watching these boyfriends fuck. Always a pleasure. Now back to Marcus who's ass is ready for whatever Amir is giving him. I love seeing Amir fuck. He is usually a bottom, but even a bottom can't resist Marcus' sweet hole. It isn't long before Amir shoots his load all over it and then uses the dildo to push it in deeper. What a conclusion to a production weekend!
FISTING CENTRAL / FETISH FORCE
CLICK HERE TO GO TO HIS LUCAS ENTERTAINMENT DETAILS