William Higgins Hunky Czech Gay Porn Star, Marcelo Menzez
Known Aliases: Ryan Mondo
Years Active: 2015 – 2016
WILLIAM HIGGINS INFO:
Marcelo Menzez is aged 22. He is a handsome straight guy who is a student. In his spare time he enjoys sports, football and fitness. He looks very good indeed, smartly dressed as he starts his shoot. Then Marcelo removes his shirt and shows off a very good chest. Opening his jeans he teases us with a glimpse of cock before turning and showing off his sexy ass. Then he turns again, jeans off, and lowers his underwear to reveal a beautiful, semi hard, cock. Taking hold of the cock Marcelo pulls on the foreskin before getting it even harder. He poses with that dick nice and erect, flexing his biceps too. Then he turns again to give us another look at that sexy ass. He lays down and lifts his legs in the air and spreads his cheeks to really expose his tight hole. Turning over, onto his knees Marcelo reaches back and spreads the ass again. That hole looks so inviting as he pulls it apart. To finish a lovely shoot he turns again and gives us more of his beautiful hard cock.
Age: 22
Home Town: Prague
Height: 178cm/5'10"
Weight: 72kg/158.4lb
Foot Size: EU43/US8.7/UK8.2
Penis Size: 17cm/6.69″
Profession/Student of: University student
Hobbies: Sport
Favorite Sports: Soccer
Active Sports: Tennis
Movie/Music/Sport Stars: Ellen Page
Visited Coutries: Germany
Want to Visit Coutries: Canada
Dream of My Life: I don't know.
Zodiac Sign: Leo (July 23 – August 22)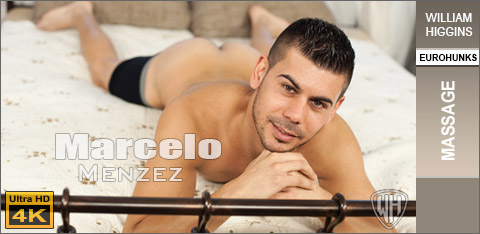 MASSAGE: MARCELO MENZEZ
The handsome, and very sexy, Marcel Menzez agreed to a massage. He walks into the room and strips to his underwear and then lays on the bed. The masseur, also just in underwear, moves onto the bed and gets right to work. He oils his hands and starts massaging Marcelo bad and shoulder. Marcelo's sexy body starts to glisten as it is coated in the oil. The hands work all over the back and then concentrate on the shoulders and upper arms. His underwear is pulled off his sexy as so that the hands can glide on to the sexy cheeks as they work. Marcelo's ass lifts off the bed as the hands glide over the ass cheeks. His underwear is pulled off and the masseur reaches under Marcelo to pull his cock, which is already rock hard, back between his legs. Oil is applied to that sexy ass as the hands really get to work on it. The cheeks are spread to expose Marcelo's tight hole and he feels a hand rubbing oil onto his stiff dick too. Finger, all slick with oil, soon begins to probe Marcelo's tight hole. Marcelo's ass gyrates against the bed as he feels his hole played with.He moves onto his knees and rubs his cock and balls as his ass cheeks spread to show his hole. The masseur takes hold of Marcelo's big, stiff cock and wanks it as the other hand rubs over his sexy ass. The hole is fingered again as his dick is wanked. Then a vibrator slides into the tight hole as Marcelo wanks himself. The vibrator continues to probe Marcelo's hole and the masseur wanks the cock some more. Then Marcelo turns over onto his back. He is positioned by the masseur who applies more oil and then lifts Marcelo's legs in the air. He grabs the cock and wanks it while continuing to rub that sexy ass and to probe the tight hole. His big cock is rock hard as the masseur keeps wanking it hard. Marcelo's hips work as his cock seems to swell with hardness and then erupts with his creamy cum. Marcelo's hand moves to grab his own cock and milk it. But the masseur takes over again and rubs the tender, swollen, cock head. Marcelo's legs come together as he feels the tingling caused by the rubbing of the head. After a very good scene he goes off to the shower to clean up.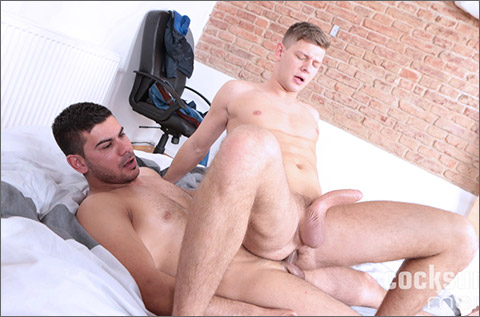 RYAN MONDO BAREBACKS MIKY BOLTON
Miky Bolton plays with his huge, thick, uncut cock when Ryan Mondo sneaks up behind him. They kiss & Miky stands up showing us how hung he is. They remove their clothes & take turns sucking, ending up in a 69 position. Miky, on his back with his legs skyward, gets a great rim job from Ryan. Ryan slides his lubed raw cock into Miky's ass bareback. Ryan is very flexible & sucks Miky's long cock while still fucking him. Ryan gets on his back & Miky sits on his raw cock. Ryan pumps upwards barebacking Miky's hole. Ryan lays behind Miky, spooning him, & plows his raw cock back into Miky. Ryan strokes & sucks Miky's pole as he screws him. Miky goes for another bareback ride on Miky's rod. Ryan Mondo pulls out & cums, then Miky pushes Ryan's cock back his hole, seeding himself. Miky Bolton kneels next to Ryan & shoots his load on his chest.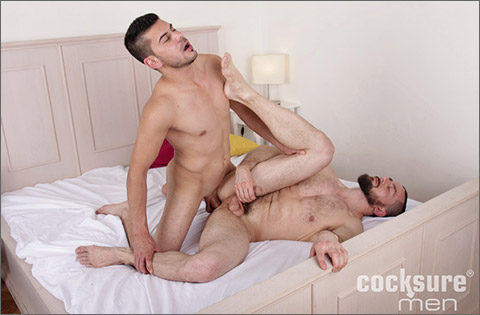 RYAN MONDO BAREBACKS STAN SIMONS
Ryan Mondo and Stan Simons make out and feel each others bodies. Stan unbuttons Ryan's shirt, then nips at his nipples. Ryan stands on the bed and Stan wraps his lips around Ryan's prick while jerking his own. They both suck each others cock in a 69 position. Ryan fingers Stan's hole, getting it nice and open for his raw cock. Ryan barebacks him doggy-style, making Stan's balls swing back and forth. Stan sits on Ryan's raw cock, riding his pole bareback. Ryan pounds his rod deep in Stan's hole from the bottom up. After a long bareback fuck Stan takes a break to suck Ryan's cock. Ryan barebacks Stan in the missionary position, ramming his raw cock deep into Stan's wet hole. Ryan hits the right spot and Stan shoots his load on his stomach. Ryan Mondo pulls out and blasts his juice all over Stan Simons' ass.
WILLIAM HIGGINS
STR8HELL
JAKE CRUISE'S COCK SURE MEN
CLICK HERE TO GO TO HIS WILLIAM HIGGINS BIO PAGE
CLICK HERE TO GO TO HIS COCKSURE MEN BIO PAGE