Randy Blue American Gay Porn Star, Malachi Marx
Years Active: 2008 – 2015
RANDY BLUE INFO:
Have you ever had this happen to you? You get a present from a friend and at first it appears to be something very nice, but it turns out to be incredible beyond belief. Like tickets to a show you wouldn't think to see but once you see it you go back again and again, or a shirt that looks cool in the box but then once you have it on it totally accentuates all your best features and makes you look wicked hot. This is how I felt about Malachi Marx. I saw his photos and thought he was absolutely adorable. He had a great body and, from what I could tell, a handsome face. Then I met him. His photo didn't come close to capturing everything about this guy that makes him so damn sexy. First, he has the most beautiful eyes. They remind me of the first time I saw Brent Diggs and how I couldn't stop looking into those bright blues of his. Then he smiles and you can't help but fall in love with him. He's got such a bright and friendly personality, and to be so good looking and so nice is such a great combination. Then he takes off his clothes. His body is amazing. Hard pecs with a light dusting of chest hair, six-pack abs you just want to run your tongue over, and a thick, meaty cock that'll make your mouth water. I asked him how he got such a great body. He got this mischievous smile, backed up a bit, and suddenly flipped his entire body into the air landing on his hands in a perfect handstand. He's very active, loves working out and doing lots of outdoor activities such as running, camping, mountain biking, rock climbing and something he calls 'Ultimate Frisbee'. He also says he's a big fan of eating delicious foods, which could make me totally hate him if I didn't adore him so much. And while I love his friendly, playful side, he goes through quite a transformation when he's naked and has his cock in his hand. This guy feels sexual heat throughout his entire body. It's so hot the way his hips lunge forward as he's jerking his cock, so he's not just stroking himself, he's fucking his hand. But his whole body language shows off the pleasure he's feeling, the look of wicked determination on his face, the soft, sultry breaths that escape his beautiful lips, and the way his free hand roams his perfect body, outlining the indentations of his sculpted abs, running along his pecs and down his muscular legs. This guy knows how to enjoy himself and I can't wait to see how well he gets on with other guys. And when he reaches climax, his energy, and his massive load, doesn't just shoot, it explodes all over the bed and you can see it build and built until it reaches a massive crescendo. I let the camera linger for just a few moments afterwards because once he cums, it's so intense that he needs to come back down and it's a thing of beauty to watch.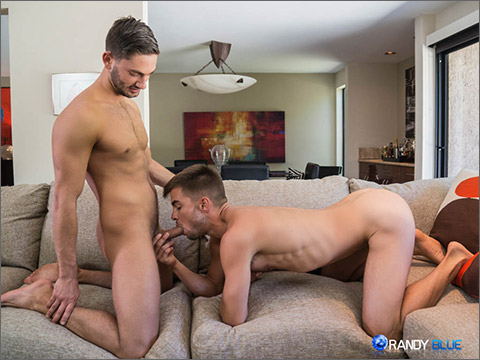 BIG DICKED MALACHI MARX BAREBACKS BIG DICKED PRESTON COLE
Malachi Marx and Preston Cole both have huge long dicks. They decided to compare who was bigger. They both started to make out to get each other hard. Then they whipped them out. They were almost the same size. Both uncut, long and thick. Malachi bent down and started to suck it, then he flipped Preston over and rimmed his ass. Then Preston showed off his cock sucking skills. Then Malachi began to bareback Preston in almost every position possible. Malachi was practically swinging Preston around the room and plowing his raw dick deep inside of him. Finally Malachi pile drived Preston and unloaded a hot load into him. Be sure to check out the free gay porn trailer of the hot action here at Randy Blue.
RANDY BLUE
RANDY BLUE LIVE CHAT & PRIVATE SHOWS
CLICK HERE TO GO TO HIS RANDY BLUE DETAILS