Blond Cute Czech Gay Porn Star Twink, Lubos Zeman / Robin Palmer
Known Aliases / aka: Cory Wilde, Jacob Waterhouse, Roberto Sanchez, Sanchez Paolo
Years Active: 2016
WILLIAM HIGGINS INFO:
Lubos Zeman is aged 18 and lives in Prague. This sexy straight guy is s student who enjoys sports, cycling and jogging. He is very handsome and looks so good as he poses for the camera. Lifting and removing his tee shirt he shows off his sexy, smooth and slim, chest. Then he turns and lowers his jeans to reveal his pert little ass. As he turns again we get a glimpse of the base of his cock and his pubes. The Lubos reclines on the bed for some more posing, before kneeling on the bed and showing off that ass again. After a series of shots laying on the bed with that sexy ass exposed Lubos stands and shows off his soft cock. Fully naked he poses to let us enjoy his sexy, naked body. Then he gets his cock hard for us. He poses with that hard cock and lays on the bed, pushing it up towards the camera. Then he lifts his legs in the air to expose his hot ass and its' tight hole before finishing with more views of the beautiful, hard, cock.
Model Name: Lubos Zeman
Age: 18
Home Town: Prague
Height: 171cm/5'7″
Weight: 62kg/136.4lb
Foot Size: EU41/US8.3/UK7.8
Penis Size: 16cm/6.3″
Profession/Student of: High School
Hobbies: Sport
Favorite Sports: Cycling
Active Sports: Jogging
Movie/Music/Sport Stars: Drew Barrymore
Visited Coutries: France
Want to Visit Coutries: Mexico
Dream of My Life: I don't know.
Zodiac Sign: Cancer (June 21 – July 22)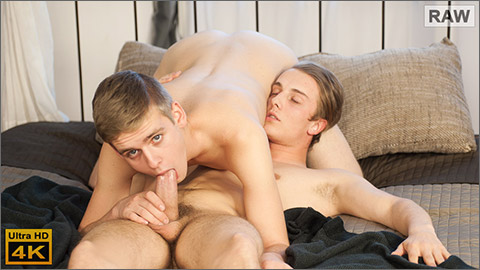 FULL CONTACT: MIREK MADL & LUBOS ZEMAN RAW
We have a lovely Dreamset today, which was suggested by Mario, a great supporter of the site. He wanted to see Mirek Madl and Lubos Zeman getting it on together, with Lubos giving up his sexy ass. Mirek is on the bed when Lubos arrives and joins him. They begin kissing each other and Lubos feels all over Mirek's body, pushing up his tee shirt. He soon has Mirek's jeans open and his swelling cock in his hand. Lubos sucks the cock into his mouth and works it so well, taking time for more kissing too. He keeps sucking on Mirek's stiff cock and then climbs over into a 69, with both of them naked. Mirek suck Lubos too, so both of them have their mouths full fo cock. Mirek really enjoys Lubos' dick and sucks it some more as Lubos kneels before him. Then Lubos straddles Mirek and slides his sexy ass down onto the throbbing cock. He starts riding that dick before Mirek takes over and thrusts it deep into Lubos' eager ass. He fucks that sss nice and hard, stretching the hole. Then Lubos lays down and wanks himself as Mirek's dick pounds into his tight hole. Mirek really works that hole good, slamming his dick in as deep as it will go. Lubos keeps wanking and shoots his hot load as Mirek's cock keeps fucking as hard as it can. Then Mirek pulls out and Lubos moves onto his knees, presenting that hot ass again. Mirek's cock slides back into the hole and fucks it hard and fast. He keeps up the fucking until he is ready to blow his load. Then he pulls out and shoots his creamy cum all over Lubos' ass. After milking all the cum from his cock Mirek takes Lubos off to the shower to clean up.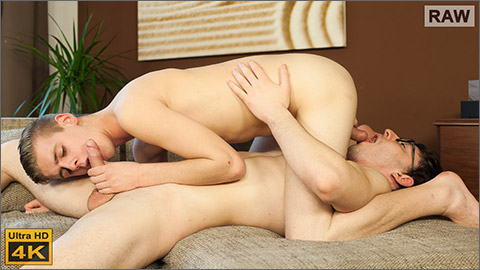 FULL CONTACT: LUBOS ZEMAN & PETR CISLER SCREEN TEST RAW
We brought newcomer Lubos Zeman in for a screentest. He is paired with Petr Cisler in a very hot video. Sitting on the sofa they start off kissing each other and then Petr helps Lubos off with his tee shirt. They keep up with the kissing as Petr's tee shirt is removed too. Lubus kisses Petr's chest as well before Petr opens his new friend's jeans, releasing a rock hard cock. He leans over and takes the cock in his mouth and sucks on it. Then Petr frees his own stiff cock and Lubos returns the favor, sucking on the rigid pole. He sucks on the fat cock a while and then Petr stands up and shoves the dick back into Lubos' mouth for more. Lubos takes off his jeans and they move to a 69 position with Lubos on top. He really sucks Petr's throbbing cock as his own dick is pulled back between his legs for sucking too. Petr then moves Lubos onto his back and gets between his legs to work on his dick some more. He pushes Lubos' legs up and rims his hot hole. It doesn't take long before they move to spoon position with Petr's dick deep in Lubos ass. He fucks that ass deep and hard, opening it up real good. Lubos wanks himself as Petr fucks him and he quickly shoots his hot cum as his ass takes that fat cock. Then Lubos turns over, onto his knees, with Petr behind him fucking some more. He really pounds that ass so deep, speeding up with the fucking until his cum is ready too. Pulling out of the ass Petr shoots his cum up Lubos' back and dripping the cum all over his sexy ass. After a great screentest they both go off to the shower to clean up.
WILLIAM HIGGINS
STAXUS
EAST BOYS
BOY FUN COLLECTION
CLICK HERE TO GO TO HIS WILLIAM HIGGINS BIO PAGE