Hairy Hunk Venezuelan Gay Porn Power Bottom, Louis Ricaute
Known Aliases:
Years Active: 2015 – 2022
KRISTEN BJORN INFO:
Nationality: Venezuela
Height: 6′
Weight: 180 lbs
Dick: 8" (20.32 cms) uncut
Position: Versatile
TIM TALES INFO:
A hot new Timtales Man today. Louis Ricaute from Venezuela is a young and hairy Hunk who likes to take big dick up his ass. In his first scene he has some fun with Tim and shows us that he can really take cock and he looks fucking good at the same time. You will notice that the camera (Me, Grobes) can´t get enough of his beautiful face and eyes and i´m sure you will like what you see as well.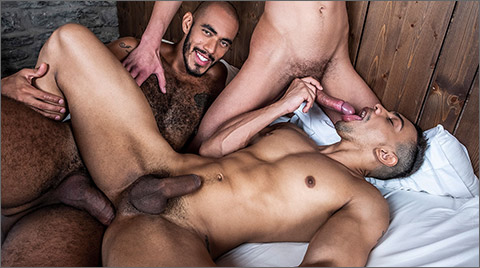 SEEDED MAN WHORES: Braxton Boyd And Louis Ricaute Double-Penetrate J Anders
While Braxton Boys and J Anders have beautiful smooth skin, the macho Louis Ricaute shows off a down of course black hair on his chest and stomach. Both Braxton and J are attracted to body hair like Louis', but J Anders especially wants to be in the middle of the rugged Louis and the beautiful Braxton. J Anders services them both, and eventually gives his ass to the both of them for some deep double penetration.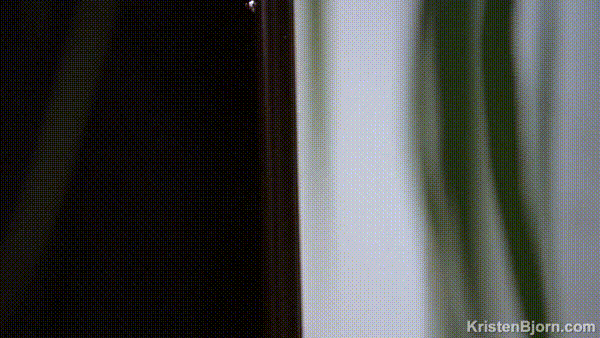 THE NIGHTSTICK
Louis Ricaute is working his usual beat when a call comes in about 2 suspects in his area, when he arrives to the location, he finds Marcos Oliveira and Oskar Ivan engaged in some tantalizing behavior. Not to miss out on an opportunity, Louis begins disrobing and instructs Oskar to suck Marcos' long, steely cock. Louis is impressed with Oskar's cock sucking skills and pulls out his burly cock and begins stroking it to attention. Marcos is then instructed to rim Oskar's furry ass as Louis continues stroking his massive cock. Enjoying the show, Louis continues stripping off his uniform and stroking his fat cock while exposing his huge, muscular body covered in a dense coat of fur as his nipple rings hang precariously from the tips of his nipples. Louis walks over to the action and both Marcos and Oskar are excited to explore the imposing, muscular body of the hot cop that works their neighborhood. Oskar and Marcos are eager cock sucking pigs as they eagerly swap turns sucking on the huge cock in front of them. Louis and Marcos take a seat on the sofa, but it is Oskar that takes the best seat in the house, on top of Marcos' throbbing cock. Oskar doesn't miss a beat as he leans over and begins sucking on the hot cop's cock while his buddy fucks his ass deep and hard. While Oskar is riding Marcos' cock, Louis shoves his nightstick up Marcos' ass. As the nightstick penetrates deeper, Oskar slams his ass down hard onto Marcos' rock-hard cock. Not to miss any of the fun, Oskar gets both the cop's nightstick and Marcos' cock shoved up his talented ass. Changing positions, Oskar mounts Marcos' back while the hot, hairy cop has his choice of two hot holes to fuck as he goes back and forth from one tight ass to the other. Marcos and Oskar can both feel that the hot cop's cock has reached it full girth and is about to explode when they jump off and position themselves to lap up the thick globs of cum erupting from the fat mushroom cock head of Louis. With the fresh taste of cum on his tongue, Marcos is the first to shoot a huge load of cum that flies everywhere. Oskar follows right behind Marcos as his giant load of cum coats his hairy thigh. This is one stop this hot cop will be making more frequently.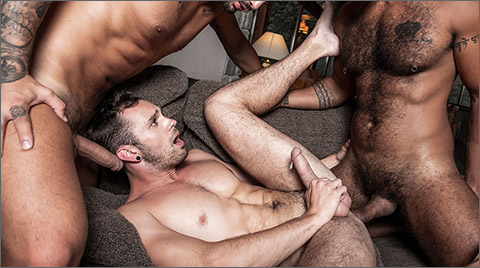 FUCKED WIDE OPEN: Louis, Apolo, Drake, And Andrea's Ass-Splitting Foursome
Drake Rogers has the house all to himself, and as soon as everyone is gone he invites his friends Louis Ricaute, Andrea Suarez, and Apolo Fire over to hang out and fuck around. It doesn't take long before the guys become a bundle of twisted limbs as they suck and fuck, and in a surprise topping encounter, Drake Rogers (who is usually taking dick) lubes his cock up after getting turned on hardcore seeing Andrea ride Louis' cock. Drake slips his hard-on inside Andrea too for some fucked-wide-open double penetration, all while Andrea is blowing Apolo!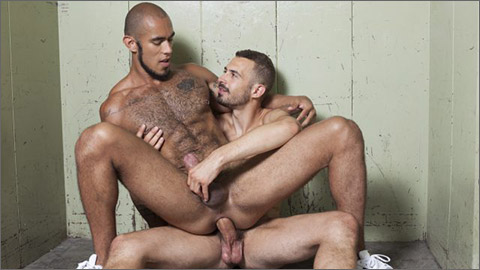 LIFT ON FIRE – KOLDO GORAN FUCKS LOUIS RICAUTE
This week we bring you a hot interracial encounter with our hung topmate Koldo Goran and Louis Ricaute, one of the hottest Latin mates that you have seen on Fuckermate so far. The two guys meet in the hall, taking the elevator to go up to their flats. When Koldo notices Louis' big toned ass and winks him, hot action starts inside the lift. The sexy hairy stud gives his best and Koldo enjoys the vision of his huge cock disappearing inside that hungry mouth. But then he goes completely crazy when he fucks Louis' warm and welcoming ass, first in the lift and then in his bed, when the two guys end this hot fucking session that we bet you don't want to miss!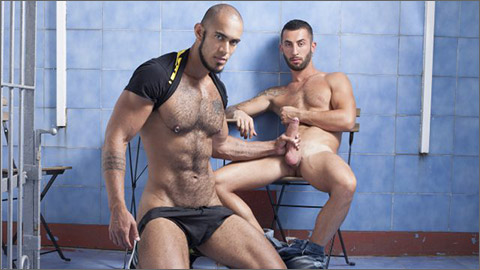 TERRACE ON FIRE – ALEJANDRO TORRES & LOUIS RICAUTE
We know many of our fans have missed our hot Venezuelan mate Louis Ricaute and this week it's time to have him again with us. Together with sexy top Alejandro Torres, he is in the terrace, enjoying a sunny hot day in Barcelona. The sun warms their toned eager bodies and soon our two mates get off all their clothes. They know nobody can watch them in that hidden place and in a moment Louis in on his knees to take Alejandro's big and hard cock deep in mouth. First the topmate returns the favor but right after he focuses on Louis hungry ass, giving him a rimming lesson. The two guys move inside the house and Alejandro, now horny as fuck, puts Louis doggy style, sticks his pole deep inside his open ass and pounds him with no mercy. After having his ass destroyed Louis deserves a reward and he'll take a creamy load all over his face and mouth!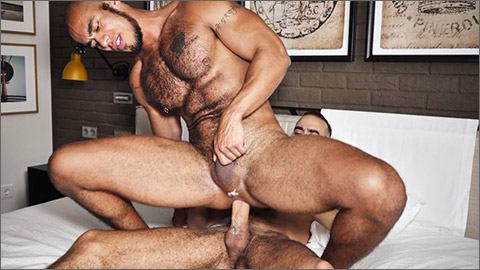 FOSTTER RIVIERA BAREBACKS LOUIS RICAUTE
Timtales Exclusive Portuguese big dick Fostter Riviera barebacks the massive ass of Louis Ricaute. He raw fucks that hole and lets Louis mount his cock to perfection. What a great muscular body! Finally, Fostter kindly cums twice in Louis' greedy mouth.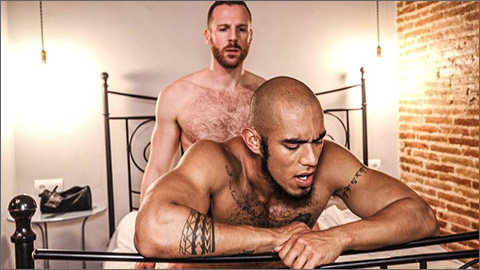 TIM KRUGER FUCKS LOUIS RICAUTE
A hot new Timtales Man today.
   Louis Ricaute from Venezuela is a young and hairy Hunk who likes to take big dick up his ass. In his first scene he has some fun with Tim and shows us that he can really take cock and he looks fucking good at the same time.
   You will notice that the camera (Me, Grobes) can't get enough of his beautiful face and eyes and I'm sure you will like what you see as well.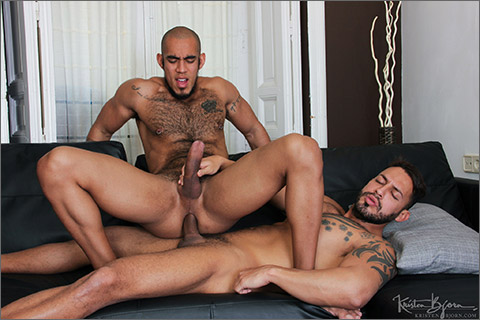 MEAT MEN – FOLLOW ME: VIKTOR ROM FUCKS LOUIS RICAUTE
Viktor Rom finds that having a dog is very rewarding in so many ways, as picking up hot men like Louis Ricaute. Viktor invites Louis back to his place where he immediately begins sucking on Louis' succulent milk chocolate cock. Louis moves in and slowly savors the delicacy of Viktor's mammoth cock, running his tongue up and down the huge shaft and swirling his tongue around that beautiful head. Flipping over, Viktor spreads Louis' muscular ass and begins to fuck that hot, pink hole with his tongue. With Louis's ass completely saturated with spit, Viktor plunges his hefty cock deep inside of that bare ass. Viktor flips Louis into a variety of positions to drive his cock deeper inside of him before Louis lands on his back and Viktor goes balls to the wall deep. Viktor pounds away at Louis' hot ass before he unleashes his huge, creamy load all over Louis' abs and ass. Viktor coats his cock with his own cum and shoves his cock back into Louis and Louis rips off a huge load of cum that lands all over his furry chest and abs. Time to walk the dog, you never know who will follow you home!
CLICK HERE TO GO TO HIS KRISTEN BJORN DETAILS