American Muscle Hunk Gay Porn Star, Lorenzo Flexx
Years Active: 2015 – 2017
TWITTER @Lorenzoflexx
TITAN MEN INFO:
SAN FRANCISCO, March, 31st, 2016
TitanMen today announces it has signed Lorenzo Flexx as their newest exclusive performer. The 24 year old bodybuilder packs 200lbs of rock-hard muscle on his 5'6″ frame. Lorenzo swarthy good looks, dark soulful eyes and quick smile are evidence of his Puerto Rican descent. He currently resides on Chicago and is collared to two Sirs, industry vets Aleks Buldocek and Jonah Fontana. An active gay-mer, this hot bulldog pup loves to play and can be seen performing in venues across the U.S.
   "When I first saw Lorenzo's pics online I saw something right away that I knew was special" said Keith Webb, Vice President and managing partner of Titan Media. "My 20 years of instinct told me to get this guy cast ASAP. Once he was on-set and we experienced his amazing good looks, off the charts body and ass, and the sexual chemistry he had with exclusives Jesse Jackman and Dallas Steele we knew we'd found a perfect fit. "
   "Working with TitanMen has been a lot of fun so far and I'm really excited to be working alongside such great guys as Jesse Jackman, Dallas Steele and all the other TitanMen exclusives" says Lorenzo. "I'm looking forward to making some great movies and appearing with all the TitanMen at the 2016 Grabby Awards in Chicago."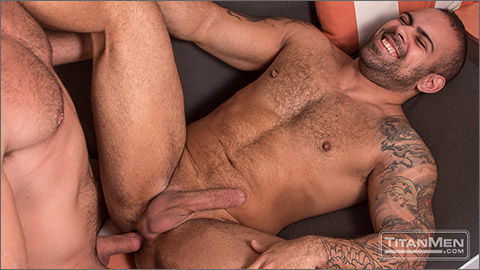 CUM LAUDE: Jonah Fontana fucks Lorenzo Flexx
Voyeurs Lorenzo Flexx and Jonah Fontana grow huge wood. Jonah guides Lorenzo down to his big dick, slapping it on his face and spitting into his mouth. Jonah pulls him up, staring into Lorenzo's eyes as their noses touch, kissing him as they passionately embrace. Jonah fucks his face, then sucks Lorenzo's thick slab while fingering his hairy hole. Jonah munches him, stroking the sub's boner before pounding him from behind ("Gimmie that dick!"). The tattooed bottom sits on Jonah ("There you go! Ride that fucking dick!"), then gets on his back for more before shooting a thick load. "Open that mouth!" demands the top, who blasts a rocket onto Lorenzo's face.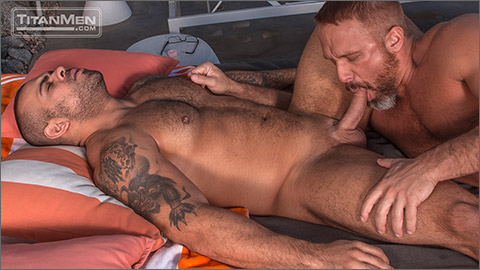 CUM LAUDE: Dirk Caber fucks Lorenzo Flexx
A lounging Lorenzo catches the professor's attention from across the pool, eliciting a smile from Dirk. Lorenzo rubs oil on his own huge pecs, asking "Can you get my back?" Dirk obliges, the growing bulge in his swimsuit grazing Lorenzo's ass. Dirk helps himself, rubbing, fingering and tonguing Lorenzo's hairy hole before turning him over – feasting on his chest and cock. Lorenzo then makes Dirk's dick disappear, the professor moaning as his knob gets slobbered. Lorenzo's ass shakes as he gets slammed from behind, the bottom then sitting on Dirk before getting on his back – unleashing his load and then yelling "I want your cum!" before he gets a messy facial.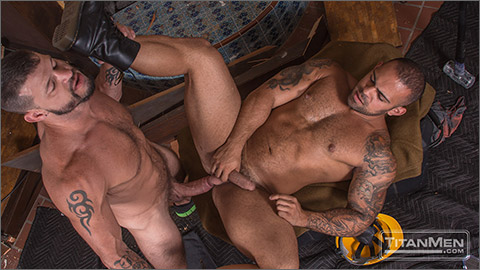 DEMOLITION: Tex Davidson fucks Lorenzo Flexx
After breaking ground on their latest site, two hard hat studs decide to celebrate—and beefy Lorenzo Flexx knows exactly what he wants, dropping to his knees to worship Tex Davidson's monster. "Fuck yeah!" moans Tex as his knob gets slobbered. Lorenzo works up steady streams of spit that cling from his mouth to the shaft, dripping down to the floor from his scruffy face and Tex's sac. "Get down on that mother fucker!" moans Tex as he whips his dick on the sucker's chest. "Yeah baby!" Tex sucks his bud back, his own dick throbbing in excitement. He then fucks Lorenzo ("Gimmie that big dick!"), whose cock twitches as he gets pounded before they squirt.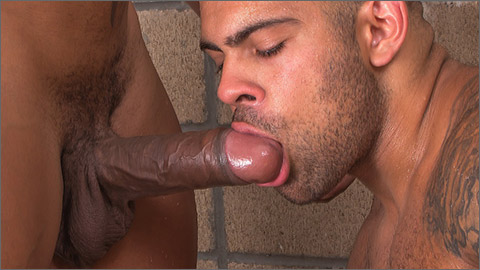 2 MEN KISS: Jason Vario fucks Lorenzo Flexx
In the pool, muscle men Lorenzo Flexx and Jason Vario kiss as they wrap their arms around each other before hitting the outdoor shower. They continue to lock lips, cocks pressed against each other, as the massive Jason towers over Lorenzo—who feasts on Jason's uncut throbber. He takes it all in, water cascading down their built frames. Lorenzo gasps for breath as his face gets fucked, the two soon toweling off inside. "Fuck, that feels amazing!" moans Lorenzo as his ass gets eaten, thumbed and fucked. Lorenzo sits on the top, balls slamming against balls, before getting on his back—licking Jason's thumb as the top grinds in deep. "Come all over me!" moans the bottom, who is soon soaked—Jason rubbing and licking it off him before one last kiss.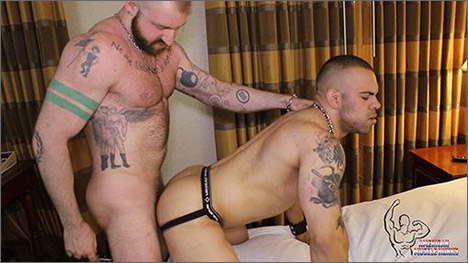 ALEKS BULDOCEK & LORENZO FLEXX
TITAN MEN
AMERICAN MUSCLE HUNKS
CLICK HERE TO GO TO HIS TITAN MEN DETAILS
VIDEO ON-DEMAND: Lorenzo Flexx @ AEBN SMUTJUNKIES THEATER
DVDs & ON-DEMAND: Lorenzo Flexx @ TLA VIDEO