Slutty Kink Men American Gay Porn Star, Logan Stone
Years Active: 2015
TWITTER @LoganStoneXXX
LUCAS ENTERTAINMENT INFO:
Body Type: muscular
Height: 6'2″
Weight: 185
Hair Color: brunette
Gender: male
Cock Girth: normal
Cock Length: 8
Foreskin: cut
Scene Role: switch
Pubic Hair: unshaved
Ethnicity: white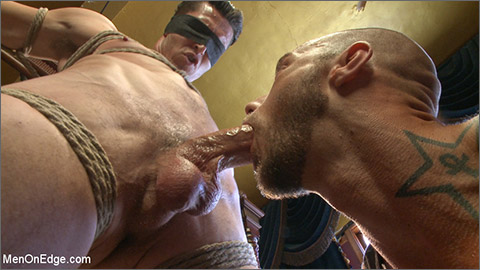 GREEDY FOR EDGING: TALL HUNK LOGAN STONE SHOOTS A LOAD IN HIS OWN FACE
Logan Stone is a hot electrician who loves getting edged. He joins Jessie and Sebastian for a session in the Armory, where they waste no time in stripping Logan to his skivvies. The outline of Logan's cock bulges prominently as Sebastian ties Logan across the front of a four-post bed. Jessie gets a taste of Logan's meaty nipples and moves to his massive dick. With Logan blindfolded, Jessie holds out a fleshjack for Logan to fuck to completion, if only he could find it. Logan's cock chases the toy, finds it, and finally brings himself to cusp of orgasm — right before Jessie tears it away. Sebastian repeats the torment with a vibrating sheath, bringing Logan to the edge and then tickling the stud at his most vulnerable moment. Jessie and Sebastian move Logan to the other side of the room and invert him. Logan has his tender cock sucked as he receive nipple suckers and a bit gag. Begging to cum through the gag, his tormentors plow his ass with a dildo before tying it off to his leg and making the stud fuck himself with it. Logan finally receives their permission to cum and blows a load all onto his face. Still in a daze from cumming, Logan is perfectly vulnerable for the last piece of torment. He twists and fights against his restraints as they tickle his body and polish his sensitive cock head.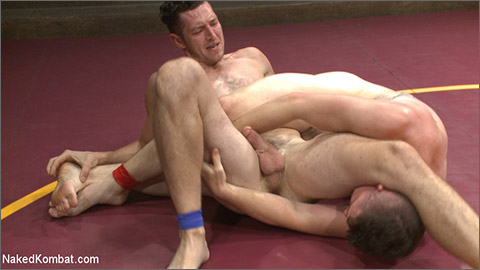 JED ATHENS vs LOGAN STONE
Military man Jed Athens goes head-to-head with scrappy Logan Stone in today's Top Cock. Jed is confident that his smarts and experience will quickly find and exploit his opponent's weaknesses, while Logan banks on his will to dominate– failure isn't an option for him. The contenders fly into brutal holds in this fast-paced match, taking each other to the limit and laying down serious smack talk along the way. The victor pulls ahead with a decent margin and brings his opponent to his knees for a punishing sex round. The champ makes the loser eat sweaty ass and take a vicious spanking. After gagging on triumphant winner dick, the loser gets handcuffed to the bench and smothered with a facesitting. The winner throws the loser to the floor and delivers a heavy piledriver fucking, pushing the loser's cock into a humiliating self-suck. For a victory lap, the winner torments the loser's nipples with clover clamps and has the loser taste his own pathetic cum. With the winner standing above him, the loser then graciously accepts the winner's hot load.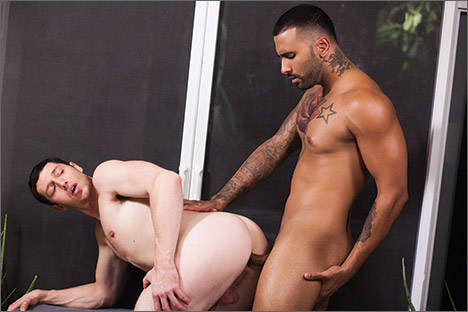 RAW & READY: Rikk York And Logan Stone Have Raw Sex
Pay attention now, all you fans of ass-to-mouth. There's an incredible fellatio shot in this scene at 29:30. It's after Logan Stone gets done pounding Rikk York in Sean Duran's summertime getaway. Logan creams in Rikk's ass and pulls out — this prompts Rikk to drop to his knees and gently nurse on Logan's cock, making sure not a single drop of his raw load is wasted. That's just a taste of what these two lean hunks bring to this sexual encounter.
KINK MEN
KINK.COM / BOUND GODS
KINK.COM / NAKED KOMBAT
LUCAS ENTERTAINMENT
CLICK HERE TO GO TO HIS LUCAS ENTERTAINMENT DETAILS